Cricut Bug Head Notebook 12 Days of Christmas DAY SEVEN GIVE AWAY
I got the Car Decals Cricut cartridge in the mail today and I just had to use it immediately.  Somehow I'd missed the fact that this cartridge had the bug head on it or I would have purchased it sooner.  Isn't he cute?  Let me show you how easy it is to make this notebook and a matching pen.
At the beginning of every school year I buy a bunch of composition books (when they are super cheap) so I can turn them into cool and interesting notebooks.  You can do this too.  It can be as simple or as complex as you would like it.  In this post I'm using my ATG gun, paper, vinyl and ribbon, but I've used Mod Podge in the past.  You could even use fabric.  You can decorate the inside of the books too.  Just do whatever you like.  That's the best part of crafting.  If you like it…it's awesome.
I drew an outline of the notebook onto the side of the paper I wanted to glue down. Then I cut it to size and taped it down using my ATG gun.
Now it's covered in adhesive from my ATG gun.
That weird little rolling thing is a brayer. I don't use it very often, but I decided it would be perfect for making sure this paper was really stuck down and as flat as possible.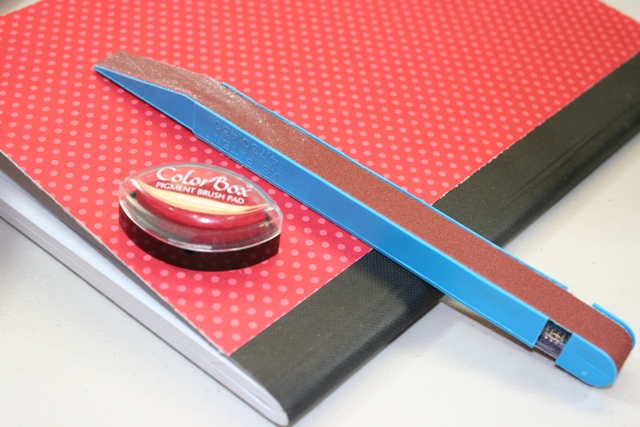 I used that file to sand the edges of the notebook. It wasn't really important to sand the notebook, what I was really trying to do was get the paper to be flush with the edges. You can use any kind of sander/file that you have. Tim Holtz has a sanding block that I hope to find in my stocking this year. (SANTA are you listening?) I inked the edges of the notebook with that small pad. I actually meant to use a liquid catseye chalk, but I grabbed the wrong thing. It worked out well, but didn't dry fast.
I used Fabri-Tac to glue the ribbon to the edge of the notebook.
After I finished everything I made a matching pen.  You know how to do that?  Just roll up a piece of paper and shove it carefully put it inside the pen.  Here's a link to the first matching pen I created and here's the 2nd pen I created.
The newer Cricut cartridge booklets have a brand new look!
I used the "I'd rather be crafting" phrase from the Car Decals Cricut cartridge and cut it out using white vinyl.  Then I applied it to the bottom of the notebook.  You could use paper and do the same thing, but I love using vinyl so I used that. 🙂  Want to learn more about vinyl and the Cricut?  Check out my Cricut Vinylology DVD!
Need vinyl? I like to buy mine from Expressions Vinyl.
There's a boy & girl bug head in this cartridge.  This one is my fav though.
All done and now … TIME FOR A GIVE AWAY!!!
On the 7th Day of Christmas Best Craft Oranizer.com Gave To FOUR Winners….
Their awesome Spool & Store Ribbon Storage and Dispenser System!
Check out my video to find out how it works.
Woo hoo! To be eligible to win a Spool & Store please leave a comment on this post. The FOUR winners will be chosen by Random.org on December 13.
SEE YOU TOMORROW FOR THE 8th Day of Christmas and a Crafty Post & Give Away!!