Wreath Ornament Card with Epiphany Crafts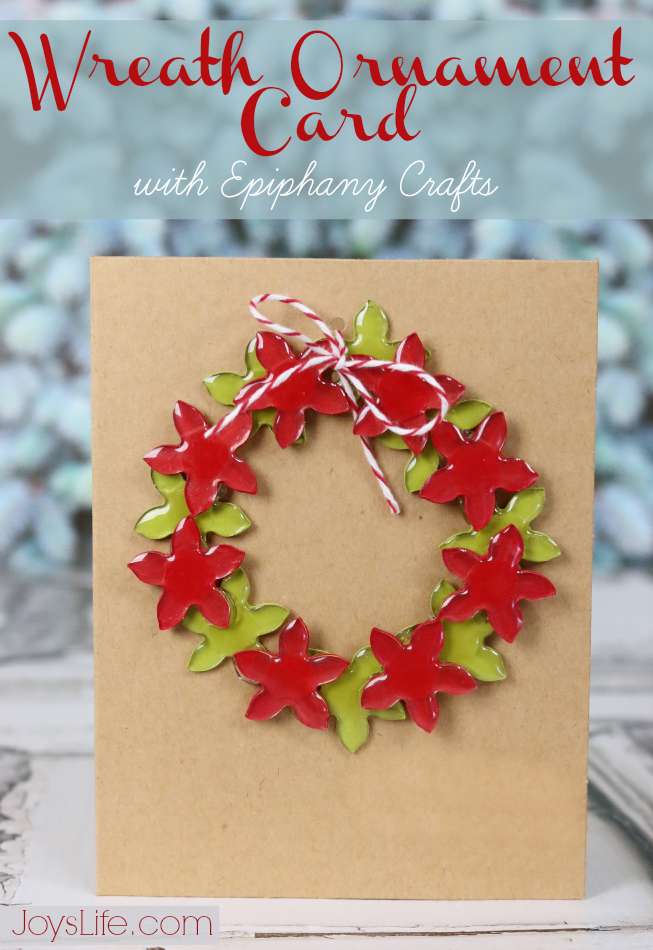 Wouldn't it be nice to receive a card that had an ornament on it?  I designed this one so I could share an ornament with a friend.  I love the way it turned out.  Best part?  It's super easy to make!
All we're doing to create this card is punching out red and green paper using the Epiphany Crafts Shape Studio Flower tool, adding bubble caps to the shapes, gluing them together and tying it to a card.  Easy!
I punched out 8 red flowers and 8 green flowers.  Layer a matching bubble cap over each flower before you punch!
I used my glue gun to glue the flowers together in a circle.  I kept the green on the bottom and held them together with a red flower in the middle of two greens.
I'm using a ready made card from Core'dinations A2 kraft cards and envelopes.  I punched two holes near the top of the card using my Crop A Dile Big Bite, any small round hole punch works fine for this.  (Here's a video on how to use the Crop a Dile.)  Next, I threaded some twine through the holes and through a gap in the wreath.  (I keep my twine in sugar containers.  More about that here.)  Tie the twine into a bow and TA DA!  Done!  I'm going to make more ornament cards.  I'm in love with the way this turned out!  I hope you have fun making one too!
Happy Ornament Card Crafting!
I created this project while participating on the Epiphany Crafts Design Team.