Make Washi Tape Magnets – Super Joy Loves Her Super Friends Day GIVEAWAY

Hey Everyone!  Today is Super Joy Loves Her Super Friends Day (on the 14th of every month) so don't miss the giveaway at the end of this post!  Thank you for being part of Joy's Life!
I haven't cut magnets with my Cricut since I made my Cricut Vinylology DVD.  I forgot how much fun it is to make them!  In the DVD, I teach you how to cut magnet material after applying vinyl.  Today, I tried something different!  I covered some magnet material with Washi tape and cut it!  Fun!
That's a photo of my first two babies when Super Husband and I graduated from college.  I got my undergrad and he got his Master's degree.  Some people go to college, get married and have kids.  I got married, had kids and went to college.  It's much easier when you do it in the first order.  LOL!  ~~ We have a word of the day calendar.  I kept chevron because of it's popularity in crafting.  I thought the calendar was giving a crafty shout out. 😉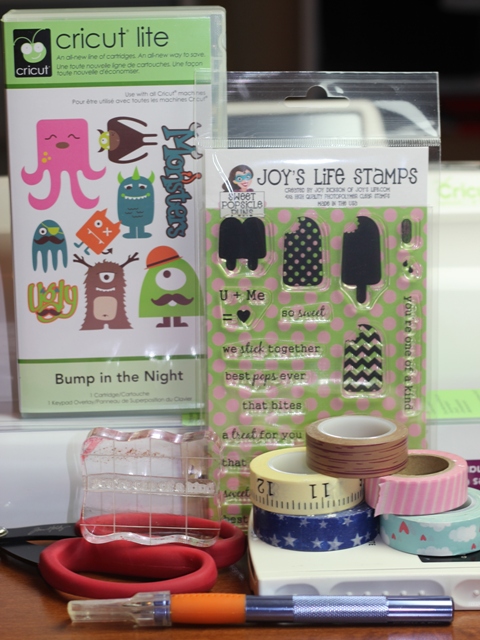 Today I'm using my Cricut Expression 2, the Cricut Lite Cartridge – Bump in the Night cartridge (for the mustache), Washi Tape from Freckled Fawn, a few stamps from my Sweet Popsicle Puns stamp set and White Magnet Material.
Do you love mustache crafts?
I made some cute mustaches using the Cricut Lite Billionaire cartridge here and a Silhouette Cameo mustache project here.
I use the Cricut Deep Cut Blade Housing
and set it to 6, pressure 5, speed 3 and multi cut 4 to cut magnet material.  That's what works best for me.  After I removed the cut mustache, I added pink striped washi tape to it.  Using a craft knife, I cut around the mustache to trim the edges.  I decided that I prefer the way I show you next.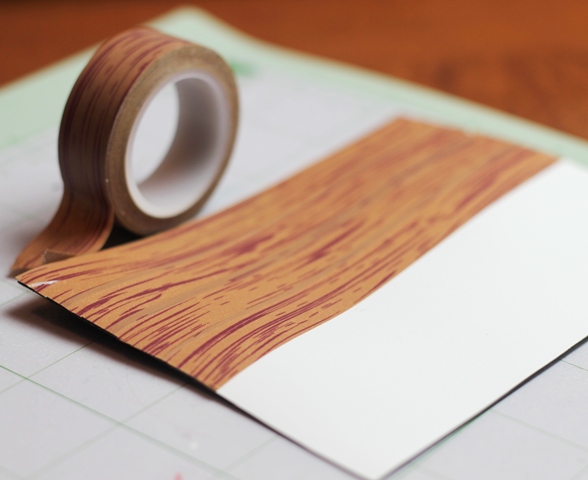 Adding the Washi tape to the magnet material before cutting it is much easier.
To cut magnet material that has washi tape already applied use the same settings I mentioned above.  One helpful hint about magnet material is that it is easiest to work with if it is flat.  If you buy the roll I link to in this post (which is the kind that I'm using) then it will come to you rolled up and in a box.  Unroll it and lay it flat with some heavy books on top of it.  After a few days, the magnet will be as flat as a pancake and ready to lay down on your mat.  YAY!  That's what you want it to do. 😉  It's hardly worth trying to cut rolled up magnet…just sayin'.
P.S.  Don't have a Cricut?  Ya don't need one to do this.  Just cut out shapes with scissors or a craft knife. 😉
I had to give it a try…stamping on washi tape.  I used a white pigment ink.  The washi is sort of slick when it comes to stamping, so keep steady.  It turned out really cute with the stamping but I'm not sure how long it takes to dry.  One of mine made it all the way to the fridge with no problem.  I stuck my fingers all over the other one and the ink rubbed right off.  My ruling?  It's worth a try but give it some long term drying time. 😉
I also used washi tape in this video.
Time for a Giveaway!!
Awesome!  Freckled Fawn.com has donated a $25 gift certificate to one winner.  YAY!  Just leave a comment telling me how you'd use washi tape in your crafty world.  I'll announce the winner on this post on August 24, 2012.
AND THE WINNER IS:
JTrapp 2012/08/20 at 1:06 PM
Awesome… I love Washi tape and have even created my own stamping on masking tape and coloring…I can't wait to try this as I have been wondering how to do this and just bought the deep blade! Yeah a new back to school project! TIA! God bless,
Janet
Good Luck and Happy Crafting!