Welcome to the Teacher Gifts blog hop!  Be sure to see the end of the post for the list of the other participating blogs AND don't forget to leave a comment to be eligible for the give away! 🙂
Kid Friendly Project!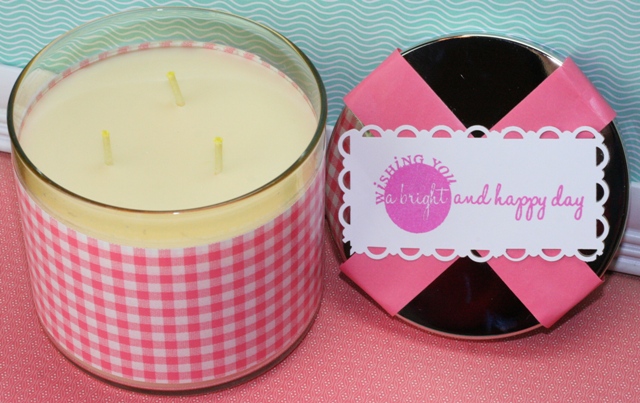 Two things that are easy to run out of: time and money.  What I like about this project idea is that it takes little time and only the amount of money you want to put into it.  Another plus?  This is something quick and easy that a child can create for their teacher, without too much help from dear ole' Mom (or Dad).  I got this candle on sale at Bath & Body Works but you can find them in your local grocery store and at WalMart.  I once gave some WalMart candles a vinyl makeover and gave them out to my guests at Thanksgiving.  See that post here.
I've used punches, Joy's Life Tag You're It Stamps, paper and Gowrite Dry Erase Sheets
(which are so cool and I just used in this post).
You can punch the Gowrite Dry Erase Sheets
out with a paper punch.  I decided that would be a fun way to write a name on a tag.  Just be sure you keep an Expo dry erase marker
on hand in case you or someone else wipes the name off.
Use any kind of paper to cover your candle.  Use tape to hold the paper in place.  Find out your teacher's favorite colors or choose paper that is themed toward their favorite things.
This is a very kid friendly project.  Think how cute it would be to give a candle to the teacher that is decorated by his/her student.  Awww. 🙂
Check out all these great blogs for more teacher gift ideas!
Joy – YOU ARE HERE…woo hoo!
GIVE AWAY TIME
Leave a comment on this post to be eligible to win a $10 gift certificate to Ginger Snap Scraps.com!  I'll post the winner here on Wednesday, April 25.
and the winner is:
ginyalynn84 says:
April 21, 2012 at 2:47 PM
Adorable candle! Would have loved to receive such a pretty gift when I was teaching. I'm so glad I stumbled onto your blog hop on facebook this morning… You creative ladies have gotten my creative wheels turning!!
Don't miss this current give away.