Silhouette Cameo 12″ Machine Photos & Information
There's a new machine out!  Don't miss this post! >>> ** The NEW Silhouette Cameo 3 Compared to the Silhouette Cameo 2 **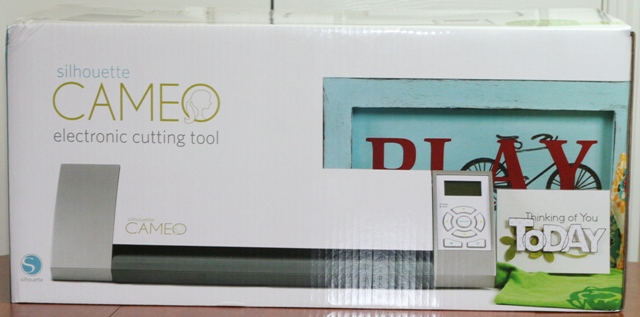 Ever since I saw this machine at Summer CHA 2011, I HAD to have one.  I used the prototype and then fell in love.  Frankly, they had me at "new, larger Silhouette" so actually using it was the icing on the cake.  As soon as they were available to order, I ordered mine!  Today it was delivered!!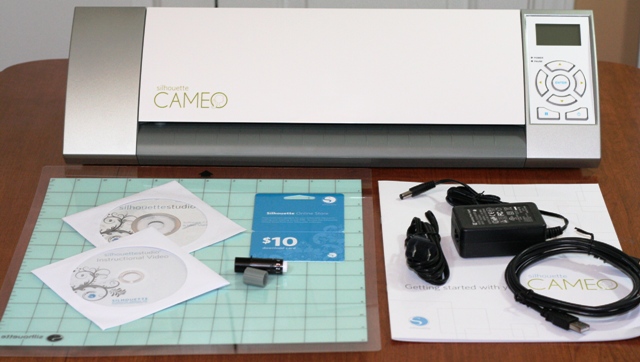 Woo hoo!  A $10 download card for the Silhouette store.  I stopped what I was doing just to go input that card.  LOL!  Then I spent more time to make my second 3D download today.  I love the 3D creations.  They're my favorite.  Also included?  A 12×12 mat, cords (as usual), a new adjustable blade, instructions and CDs to install the Silhouette software as well as a short CD on how to use the software.
After lifting the flap of the Silhouette Cameo, you'll see this inside.  One difference between this and the Silhouette SD is that the Cameo has the ability to lift the inside bar for thicker materials.  Nice!
A nice size directional pad!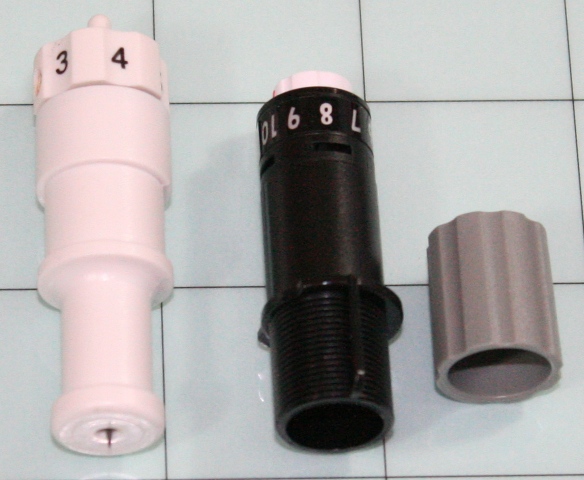 On the left is the adjustable blade of the Cricut.  You just twist it to make the blade longer or shorter.  The adjustable blade of the Silhouette Cameo has more adjustment levels and requires that little grey piece on the right to adjust it.  It's sort of a pain to put on the blade.  It takes a moment to get the gray part to fit the small white part of the Cameo's blade housing.  I wish it fit easier.  I'll probably try to avoid constantly changing it.  Just sayin'.
The Silhouette SD mat begins on the left where the light green strip of paper is and it ends on the right where the other light green strip of paper is.  I like how durable the Silhouette mats are.  They look pretty puny but they're stronger than they look (and feel).  In case you're interested the 12×12 mat is lighter and smaller than a 12×12 Cricut mat.
The Silhouette Cameo is longer than the Cricut Expression 2 but it's much lighter.  The Cameo and the CE2 could eat the Silhouette SD.  Am I keeping the SD now that I have the Cameo?  You bet.  I like that little machine.  I've kept all of my Cricuts, might as well do the same with the Silhouettes. 😉
You can certainly tell a difference between the two Silhouettes!  The sleek, modern design of the Cameo is an attractive change.  It would be even nicer if they offered different colors, wouldn't it?  That would be fun!  Well, regardless of color, I'm happy to have this cool new machine. 🙂
Here are some of the things I've made with my Silhouette SD.  I look forward to creating with the Cameo!
See you soon for a new crafty post!