How to Update Silhouette Cameo Firmware
How to Update Silhouette Cameo Firmware – Tips & Troubleshooting for Getting It Done!
I put off updating my Silhouette Cameo 3 for quite a while.  Initially, I like to wait a bit so I can let all the bugs shake out of an update, but recently, I just forgot.  So, when I finally went to do it, it didn't work…and I was like, "Whuuuutt??".  (Then I said some more words, a lot of them…or really, just a few, but repeatedly.)  So, I've got some tips for you to make it work, because I finally got it updated and there's no need for you to struggle like I did, right?  Right.
Need more help?  Check out these Silhouette Cameo Tutorials!
How to Update Silhouette Cameo Firmware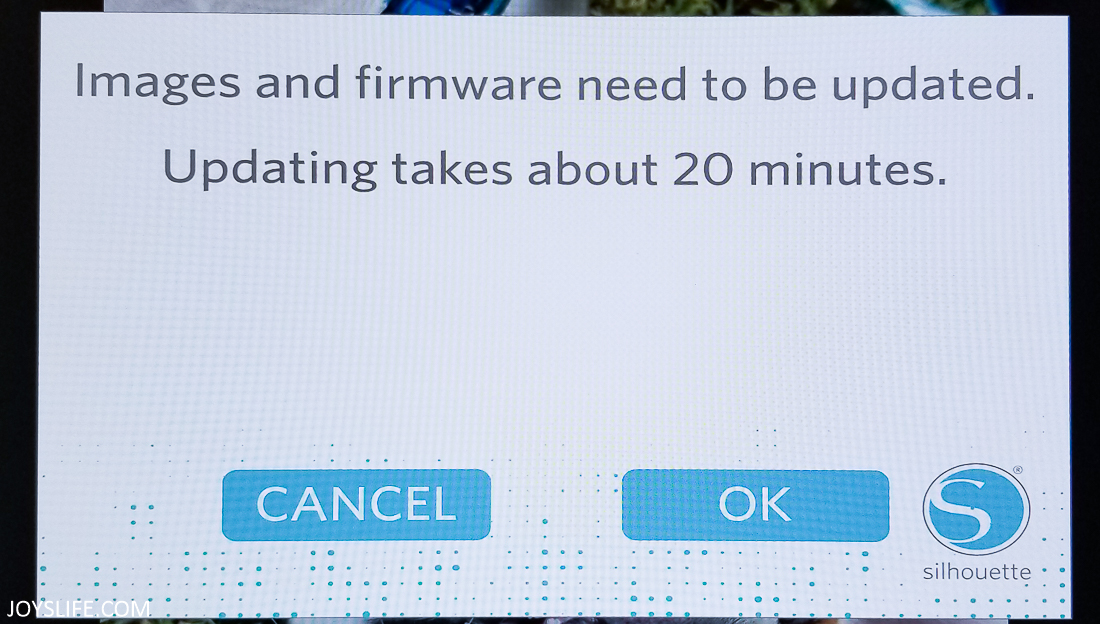 You can be super vigilant about checking your Silhouette software to see if there are any updates and it will often say no, even when there are updates.  Two thumbs down on that.  So, familiarize yourself with these two links: Silhouette's Software updates and Silhouette's Firmware Updates.
Today, we're strictly talking about the Firmware update.
Don't assume that just because your machine is new that you're up to date.  You're probably not.
Fact.  You're going to need that 20 minutes they're claiming.  So, don't try this when you're about to rush off somewhere.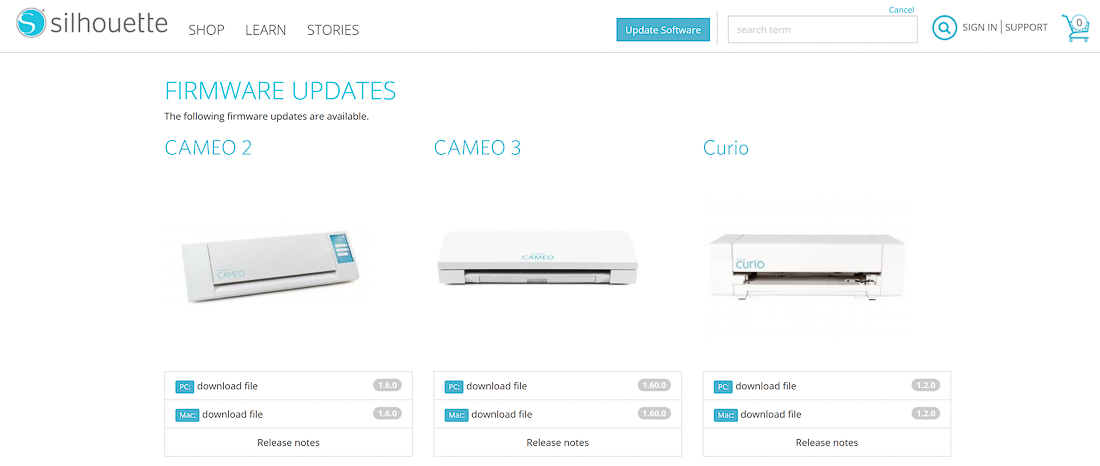 1. Download the firmware update that's right for your computer.
2. Restart your computer before you update the firmware.  Trust me.  This helped.
3. Follow the on screen instructions…unless and until you have a problem…see the bottom of this post for a "bricking"/Firmware Update Connection Issue fix.
During the update process the Cameo screen will change colors
Blue (the one above – Screen 1) > Yellow > Green > Dark Blue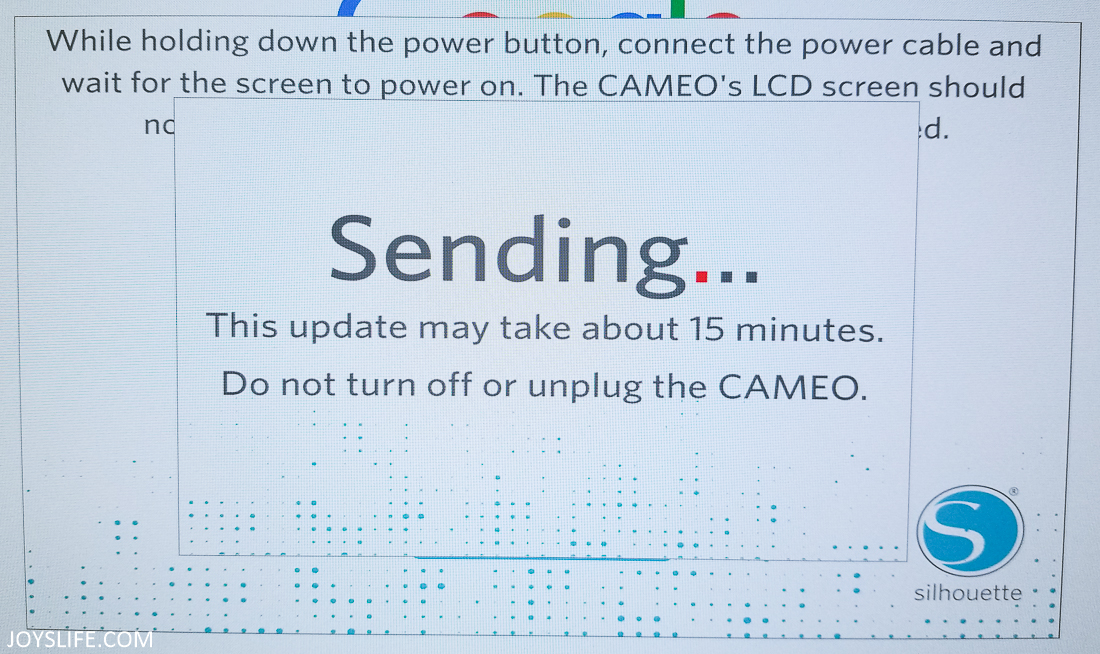 At this point, you're looking at 15 more minutes of screen colors changing and HOPEFULLY a Firmware Version screen update at the end.  IF YOU HAVE A PROBLEM, scroll to the bottom of this post.
Update process: Screen 2 is yellow, like Mountain Dew Yellow.
Update process: Screen 3 is green, and I totally missed a photo of it.  Sorry.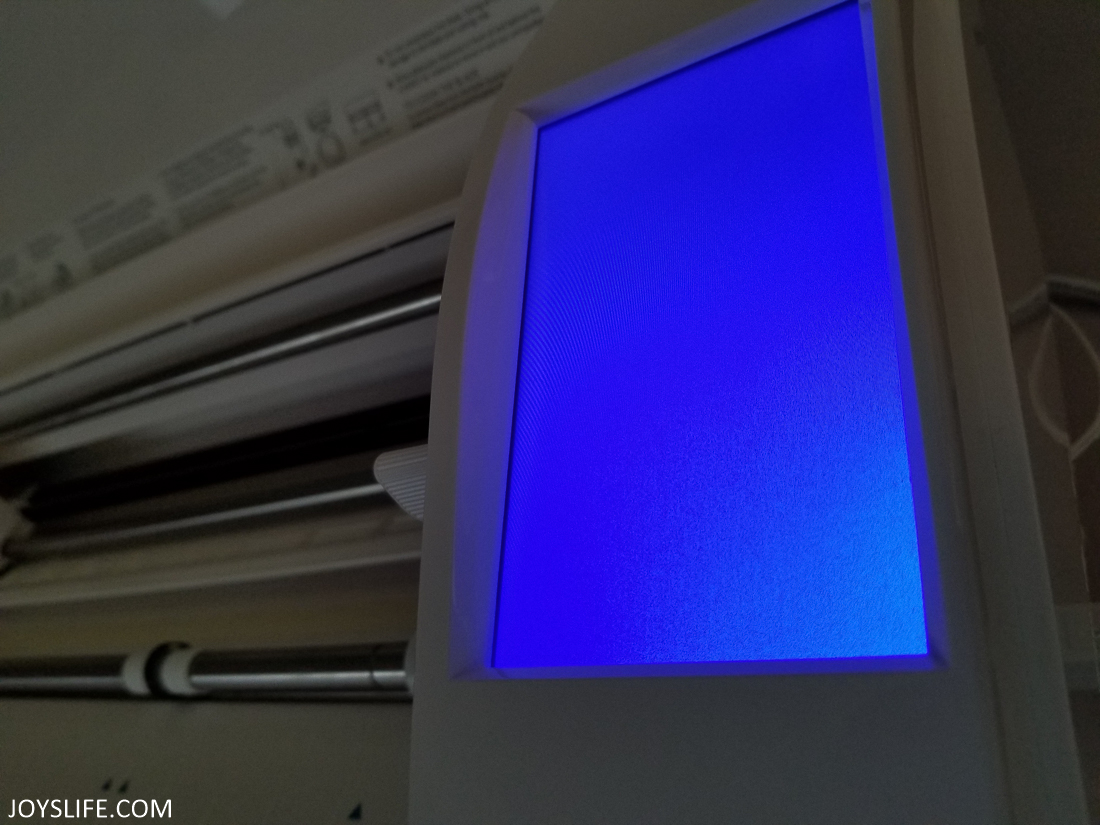 Update process: Screen 4 is dark blue, see above.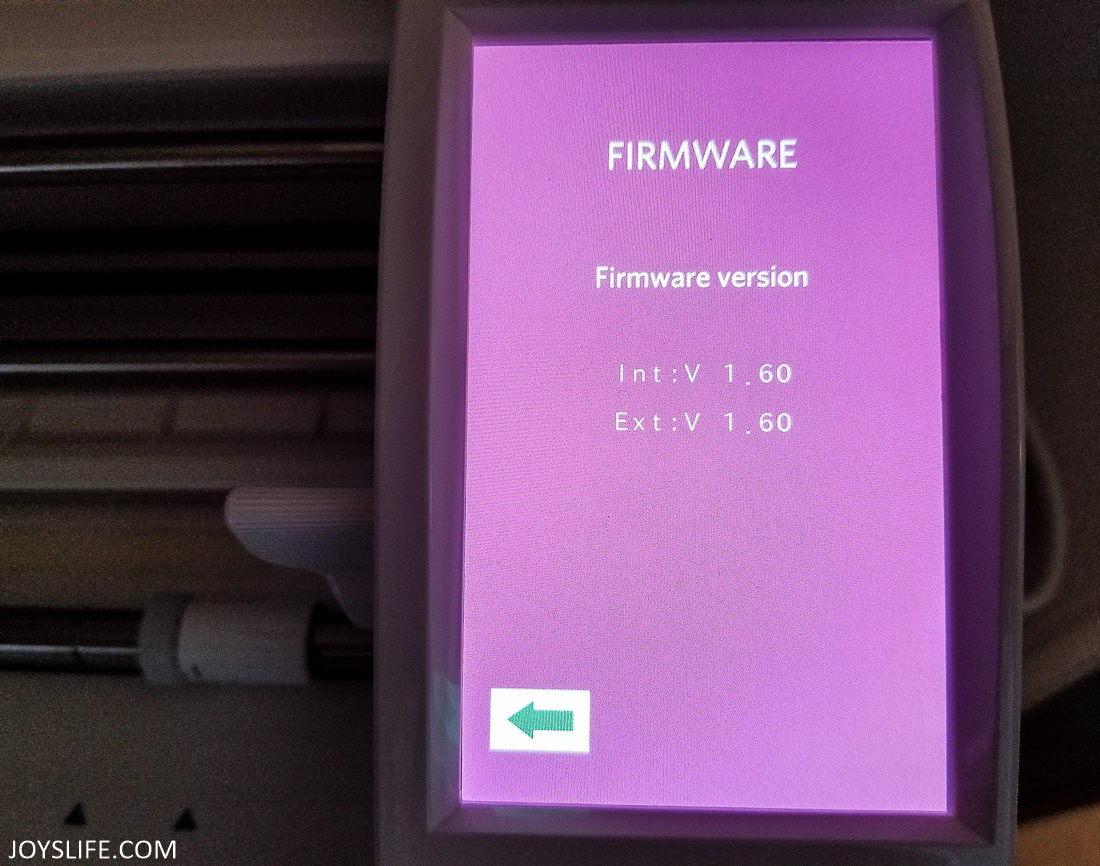 If you got to this screen, you're all done!  Congratulations!  This shows the version that was recent upon my last update.
If you're having a "Bricking" / Firmware Update Connection Issue:
When updating, I DID have this issue.  How to fix it is straight from the horse's mouth with Silhouette being the horse, here's what they say:  If, during the firmware update process, you are experiencing any concerns with connection or the process has stalled on one step for greater than 30 minutes, please do the following to reset the process and reinstall the firmware anew:
Unplug the CAMEO 3 power cord from the machine.
Hold the power button down on CAMEO 3 and then plug the power cable into CAMEO3 . Continue to hold down the power button until the LCD screen turns light blue.
Launch the Firmware Update Tool.
Once you see the window "Please connect the CAMEO and power it on", press [Ctrl]+[Shift] on your keyboard and then click the [OK] option on the screen as these keyboard buttons are being held down.
This will send the firmware update to the machine again and should resolve the concern.
Here's a link to Silhouette's Firmware Update info.  Here's what they have to say if your Silhouette won't connect to your PC.
I hope that seeing the screens and having these links and info help you as you update your Silhouette firmware.
Happy Crafting!
Check out these Silhouette Cameo projects & tutorials!
You might also be interested in this post: