Homework Station for Teens
This is a sponsored post written by me on behalf of  Dollar General for  IZEA. All opinions are 100% mine.
You know how you have those areas in your house that you ignore?  Well, if you're like me, you have those areas.  You know the ones, they only exist when you're having company, otherwise that part of the house goes unseen by you and everyone under your roof, right?  Well, that's how it works in our house and this is just such a space.  Wait until you see the before and after.  It's clear that I have no shame or I would have hidden the before shot from the world forever.  LOL!
Oh. My. Goodness.  I have no defense regarding the "before".  My only admission is that it was actually worse before I cleaned it up.  Yes, there are things I just shouldn't admit.  The reason I finally decided to "see" this area is that I was inspired to give it an actual purpose for one of my teenage sons.  Here's why: I have two sons in high school and a daughter in college.  My oldest son is very self-motivated.  I don't have to tell him to study.  My younger one?  He needs more structure, fewer distractions…and a fair amount of reminders.
To get the area ready for him, I removed the TV, DVD and Blu-ray player.  I cleared away all the miscellaneous stuff and found new places to store the boxes.  I brought in a few sports trophies to make the area more specific to him.  I brought the chair back from the dining room, where it was filling in for a chair that broke.  Oh!  I finally removed that vinyl decal that I made back in 2010, when I used this shared office for crafting.  I now have my own space for that.  Gosh, I can't even fathom the amount of junk that I turned a blind eye to.  Do you want to hear the amazing part?  This makeover only took some cleaning effort and $30, thanks to Dollar General.
Here's a space with few distractions.  That's PERFECT for my youngest son!  I everything in this photo, except the printer, textbook, shelf and desk from Dollar General.  To go along with my son's sports interest I chose a football themed folder.  We desperately needed a lamp for this area.  The little green one I have on the floor in the "before" photo got so hot to the touch that I'm sure it wasn't safe.  I'm thrilled to have replaced it with this pretty lamp for only $12.  Awesome!  The clock can help keep him on task without me having to deal with, "I need my phone so I know what time it is."  Sorry, not falling for that one.
Tick tock!  Time to get that homework done!  This clock fits the style of our home and is exactly what this homework station needs.  Plus, it's super budget friendly!  I got the basket to hold necessary school supplies.  That way he does't have to "go looking" for something that leads him to a more exciting activity than homework.
Dollar General has a wide variety of school supplies (even poster board and things for school projects) but I stuck with the main things he always needs.  The prices were so good that I threw in some candy incentive, Mega Smarties!
Save on back to school essentials with Dollar General!
Look at the great price on this lamp and shade!  They had several different bases and shades to choose from.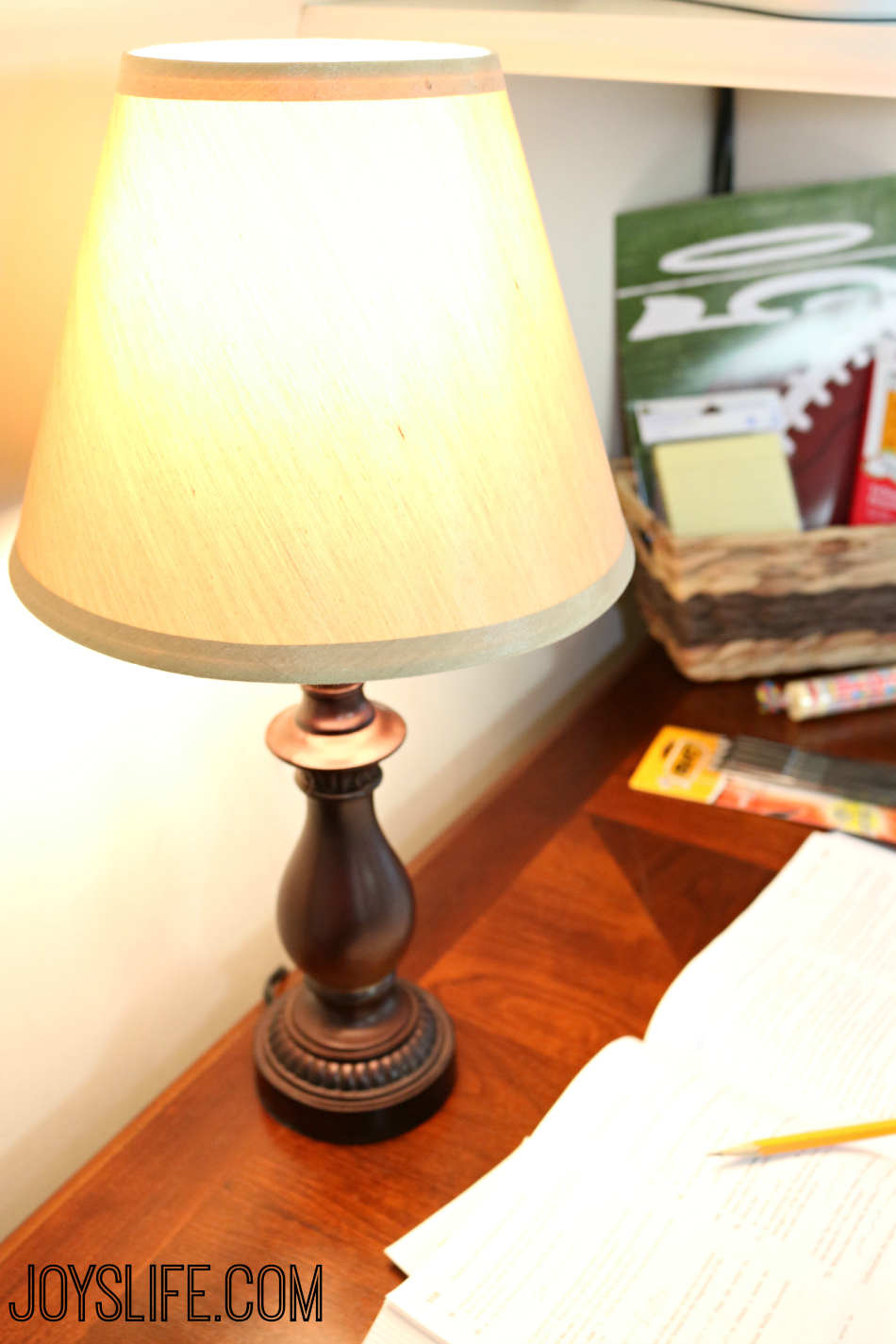 This lamp casts a warm glow over the area making the space a little more cozy and changing the tone from school  to home with its softness.
I was able to get everything I needed for this teen homework station at Dollar General and at an awesome price!
Do you have an area in your house that could use a makeover?  Tell me what space you're thinking about repurposing!
Check out Dollar General on Facebook, Instagram and Pinterest for Back to School decorating/DIY ideas and more!