Every Cricut Trim the Tree Cut
This is exactly how they are laid out on the back of the cart.
I just got the Trim the Tree seasonal 2010 Cricut cartridge 2 days ago and decided right away that I'd make every one of the things on the cartridge so I could show you how they look. Well, there they are. I'm done. Have a nice day.
LOL, just kidding! 😉
Let me tell you a little bit about this cartridge. Here's a very little bit: 2 words – difficult and pretty. It took me about 5 HOURS to cut all of these out. The most difficult parts were figuring out which papers and speeds worked best with these intricate cuts. It was a SUPER PAIN, but here's what I came up with. (Wait. First let's look at another photo.)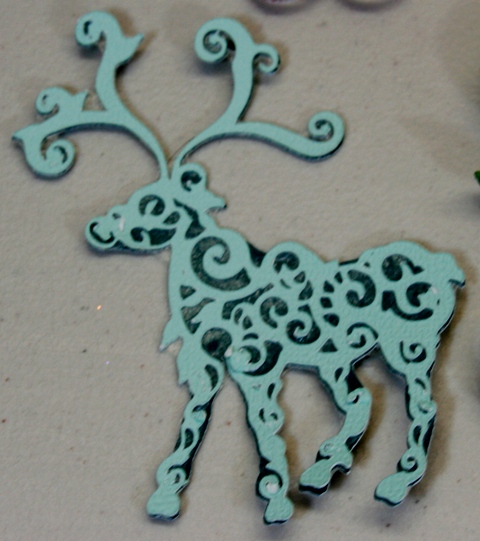 This one is my FAVORITE!! I'm going to make a t-shirt with this on it…if I ever actually use the Yudu I just got. It could happen. Or…it could happen in vinyl for sure. 😀 That gooey stuff all over the reindeer is adhesive from my Xyron. You'll also see some imperfect paper removal. Yeah. I had to let go of perfection somewhere around hour 3.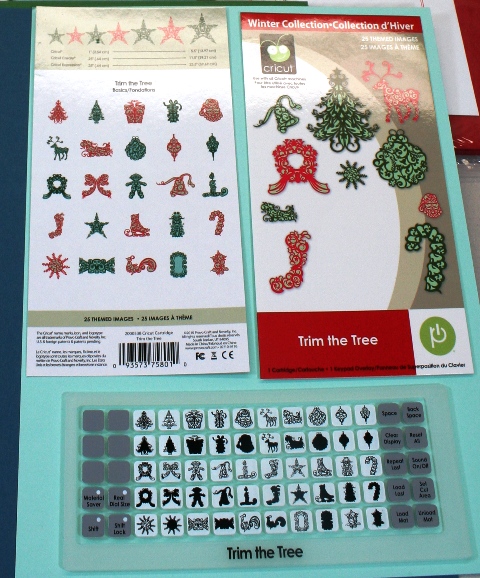 Oh yeah, I felt like I climbed the tree once I finished cutting all of these out. Notice how I exactly lined them up for you? There's no charge for that bit of obsessiveness. That's just part of the service I provide here at Joy's Life. LOL…I'm cracking myself up.
Another cartridge that's as intricate as this one is last year's Love Struck Seasonal Cart. Here is some specific info for cutting with the Love Struck cart.
Ready for the specifics? I know you are. Here goes: this is what worked for me…
Textured and Foil (American Crafts) paper – Speed 2, Pressure 5, regular blade 6. I did a multi cut of 2 on the foil.
For regular paper: Speed 3, Pressure 5, regular blade 5.
I cut everything at 3 1/4″. See how big some of the things cut out at 3 1/4″? Woah! Use the real dial size if you don't want giant candy, sleigh or partridge (bird) because that's how they came out at 3 1/4″. Crazy huh? For Real!!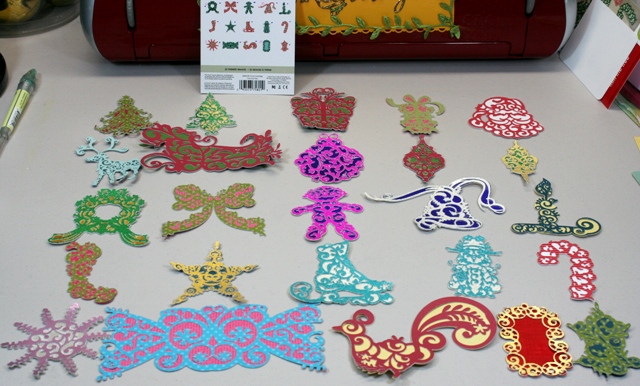 Alright, alright…enough about the 1 billion hours I spent slaving away creating all these designs. It's water under the bridge. Don't even think about it. LOL! Actually, I'm using all of these for Christmas tags. Cool! By the way, the other biggest pain in the…neck…was punching out all the tiny pieces that didn't want to easily release. Moving on to something super fun…
Time for a Giveaway!
On the 14th of every month I do a give away just for YOU! This is my way of thanking you for being a part of Joy's Life. I really do appreciate you being here. THANK YOU! Leave a comment to be entered for a super fun CRICUT CARTRIDGE…provided by…yours truly. 😉 Also, I'd LOVE it if you'd "like" Joy's Life on Facebook by clicking the like button on the left hand side of this page. 😉 I'll use Random.org to choose a winner on Nov 21. Good luck everyone! Winner Announced HERE.
Don't forget…there's FREE SHIPPING on all Joy's Life stamps until Nov. 20. 😀