Football Jersey Water Bottles & Labels – Atlanta Falcons – Football Friday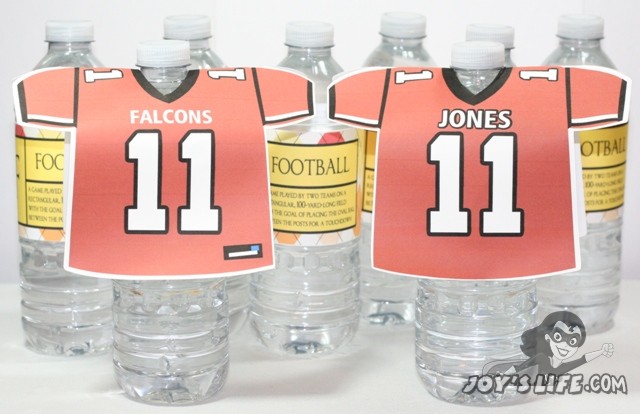 I really love this crafty football water.  You know why?  It's cheap, easy and everyone needs water.  It's perfect for football parties, b'day parties, team parties and for being the super cool snack Mom (or Dad) at practice. 😉  I used my Silhouette SD
to help me create these labels and jersey's, but you could do something similar by creating labels using whatever software you have and printing them out.
This is the image I purchased from Silhouette.  Then I totally customized that bad boy to turn it into the MOST AWESOME FOOTBALL PLAYER EVER Julio Jones' jersey.  He plays for (I'm sensing you've figured this out) the Atlanta Falcons.  Julio became my favorite player a few years ago when I first noticed him playing for Alabama.  Well, Cutie Pie aka John Parker Wilson and "Mount Cody" were my favorites, but when they went on to play pro ball, Julio was still there.  I enjoyed watching him play so much that I never missed a game.  I think he's an amazing athlete.  He's the reason I started really enjoying football instead of just humoring my husband by watching it.
A lot of changes and creating went into taking that plain jersey and turning it into this one, but I enjoyed every minute of it.  Overall, it's just a few basic lines, color filling and text.  You could make one for any team.  I even changed the red to match the Falcon's color a bit better than the original jersey that I downloaded.  I made it as long as I could while still keeping it in proportion.
I welded and made an outline of the jerseys.  I used this file to cut them out.
More Cool Water Bottle Labels!
I downloaded the football label wording from Silhouette.  Then I drew a rectangle and filled it with that argyle pattern.  That fill pattern is part of the Silhouette software.  I thought it looked pretty cute.  I printed these out on my favorite cheap Wausau 110 lb cardstock
(love that stuff!) and glued them onto the water bottles using my ATG
.
Perfect for any football fan, regardless of team preference. 😉
You don't need too much to make water bottle labels.  You could even draw them yourself!  One tip?  Tear off the label to use as a guide to cut your labels to the right size. 😉
I looked at photos of the actual jersey so I could make it as close as possible (within reason) .  I love the shoulders!  You can fold the sides down if you like.  They look good both ways. 🙂
What about the party you mentioned?
In last weeks newsletter (see left side of page to sign up) I said that I was going to create a Football party for this weeks Football Friday, but then I started thinking about it and realized that we're partying waaay too soon for only week 2 of Football Friday.  I like a party as much as the next person, but we've got to save something for the wrap up at the end, right?  So, we'll build up to the party at the end of the season.  Is that good with you?  Great!  A couple of you didn't say anything, but I clearly heard a few shouts of agreement from the back of the room. 😉
I hope you enjoyed this week's Football Friday!