Silhouette Gift Bags and 2 Million Hits Celebration Give Away

Welcome to DAY ONE of the 2 Million Hits Celebration!  Be sure to scroll down and see what today's give away is…and I hope you'll check out this crafty post too. 😉
I've said it before and I'll say it again…I love creating 3D things!  This box is from the tall bracket window box cut file created by Lori Whitlock.
It AMAZES me that this easy to fold and sturdy box is all cut from a single sheet of 12×12 paper.  It is simple to assemble too.  All you do is fold on the perforated lines and use a little adhesive.  EASY!  It only took 3 sheets of cardstock to make 3 boxes.  I think that's terrific.
I got those cute and super soft socks at Walmart.  They have aloe in them and feel so nice!
I wanted to use the cut out window from the box for tags but I also wanted to create a white backing for the tags too, that way I could stamp and/or write on them.
If you need an extra piece here or there or want to take something out of a file you're using you can.  First, click on the image.  Next, click ungroup.
Now, click off of the image and select the piece you want.  I want that pretty window!  I took it and duplicated it.  Then I cut everything out with ye 'ole Silhouette Cameo.  Looking to surprise yourself with a Cameo for Christmas?  I bought mine from Expressions Vinyl.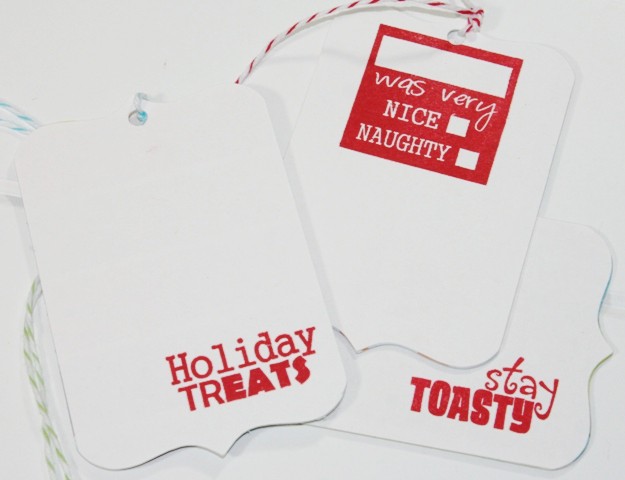 I used some of my favorite cheap and heavy weight Wausau 110lb white paper
for the backs of my tags.  My trusty ATG gun
glued the white tag to the colored one that used to be the center of the bag (see top of page).  You know what I do?  I over-glue everything.  If a tag could get by with a single line of glue, I put three.  Case in point, remember when Benjamin could hardly get the label I glued off the can of hot chocolate?  Ridiculous, but I don't see myself changing any time soon.  LOL!
All of these tags were stamped using Joy's Life Wintery Puns stamps.
I cut pieces of acetate/plastic from the outer clear box that you remove to get to your new Cricut cartridges.  I have a lot of that plastic saved up.  Too much.  LOL.  I just cut a piece to fit the hole in the box and used my ATG gun to tape it in.  I did drop the socks and the Stickles into those boxes but I put the mini M&Ms in a little bag before putting them in there.  I wouldn't want food directly touching my reused acetate.  Gross.
Alrighty, let's get to the good stuff!
I wanted to do something that had millions in it but I couldn't give away millions of anything, so let's give away BILLIONS!!  Well, the Cricut Lite Billionaire cartridge anyway. 😉
Leave me a comment and tell me what your favorite Silhouette file or Cricut cartridge is.  Either one or both will do!  I'm an equal opportunity die cutter appreciator.  LOL!  I'll use Random.org to choose a winner and will announce who won here on Saturday, December 17.  Hey, you can use the Billionaire cartridge to make things like this – mustache party.
AND THE WINNER IS:
emspel
Submitted on 2011/12/12 at 5:40 PM
Congratulations on 2 million hits!! I love your little bags – I want the one full of the stickles (my 4 year old got into mine and used them up). Your Holiday craft ideas are always amazing!
My favorite cartridge right now is the Cricut Art Philosophy cartridge.
There will be a Give Away each day this week through Friday to celebrate reaching 2 Million hits.  You're the ones I need to thank, so that's what the give aways are for.  Thank you! 🙂