Shrinky Dinks Charms Cut with Cricut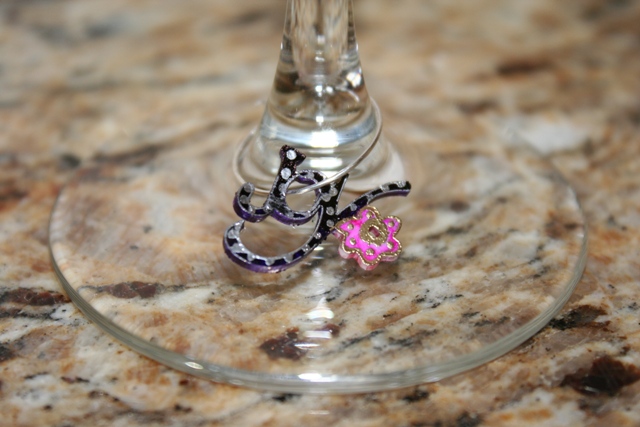 So cute!! Shinky Dink Wine Charm.
The #1 Question I got when I announced I was going to be doing a Shrinky Dinks project was, "What are Shrinky Dinks?"  Many people remember them from their childhood.  They used to even sell a Shrinky Dinks Oven, like the Easy Bake Oven.  (I had the Easy Bake, but not the Shrinky Dinks one.)  Shrinky Dinks are a thin shrink film that you color on, cut out and then shrink using either a heat gun or an oven.  Basically, you create something bigger and you shrink it to something smaller.  As the film shrinks, it also gets thicker, like the Joy charm above.  That started out as a thin sheet!
Here are some of the things I used.
You can buy Shrinky Dinks at Amazon, Michael's and other stores.  You can also buy another product that does the same thing, called "Shrink Film".  I found that the Le Plume II markers made much darker and prettier colors on the film than the Copics.  The Copics worked fine, of course!!  They're awesome!  I was just really surprised at what a good job the other markers did.
Rubber Stamp It!
You know what else I learned?  If you quickly stamp a "Shrinky" item while it's still hot from the oven or the heat gun (be careful) it will make an impression!  See…that's what I did here: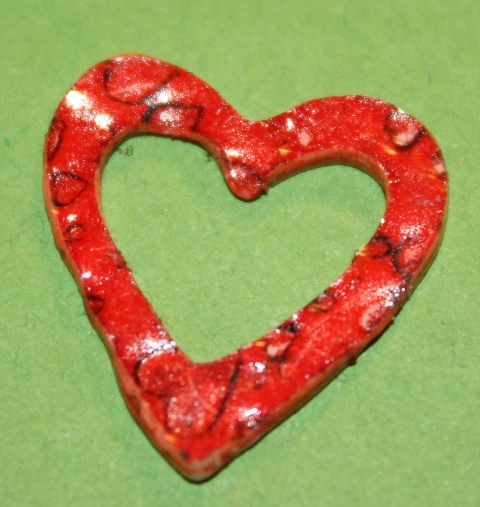 Yep, that rubber stamp still had some ink on it…but it worked!
It actually has impressions in the heart, from the stamp, but I don't think that's showing up very well in the photo.  Well, you'll have to take my word for it; it worked!
Shrinky Dinks with Cricut – How to:
You know what I did? I cut out all the designs for my Shrinky Dink charms using my Cricut! I sure did! To do that, you're going to want to make sure you use a sticky mat or the film will be moving all around and will be a wreck.
CRICUT SETTINGS for Shink Film/Shinky Dinks:
Deep Cut Blade: Blade Depth 6, Speed 2-3, Pressure 4, Multi-cut 2.
It works best to cut things that are over 1″. The most intricate cuts I made were "girl" and "joy". Intricate things are difficult to remove from the film. I'm not telling you not to do it, but you might not have great results…then again…you might! If you want certain success, stick to basic shapes. Feeling adventurous? Go intricate. You'll need to monkey around with the speed and the multi cut for best results with those delicate cuts…and don't go super small! 😉
** If you're going to make charms…you MUST punch a hole in the charm BEFORE you heat the shrink film!!!
For the charms I made I used Designer's Calendar, Gypsy Wanderings and Sweethearts Cricut cartridges.
Shrinky Dinks Before and After:
Here is the before. Before color, before shrinking.
Here is the charm with the color on it: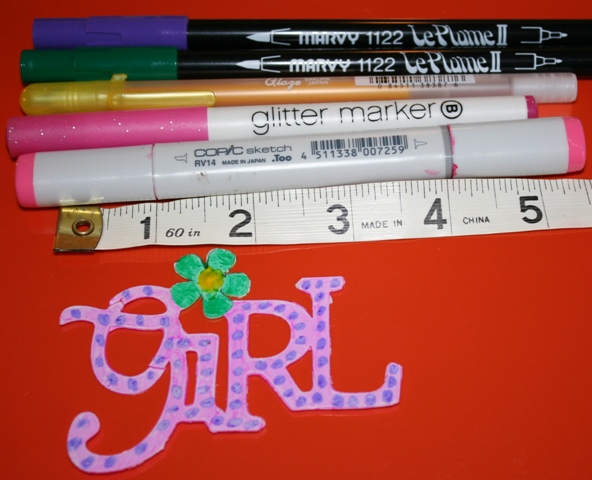 I tried all those markers and pens on this, before shrinking.  Oh, notice that "girl" has cracks in the "g"?  Yep.  I told you.  Those intricate cuts are tricky.  Those tears happened when I was removing it from the film.
Here is the After.
See how it thickened up as it shrank?  Sooo cool!  I spent 1/2 the day shrinking things.  Yeah, those cracks and tears don't get any better with heat.
So, then I shrank some more stuff!
Hey, I never claimed to be an artist.  That's why I have a Cricut, LOL!
I LOVE those rings!!!  I wish that one hadn't curled up like that.  I used Sanford Calligraphic Metallic Pens to make the silver and gold on the rings, the silver on the musical notes and the silver and gold on the "Joy" charm.
The two hearts were a heart inside a heart. That ='s the 2.
The white layer is the Shrinky Dinks film. That's the size I cut these things. Then the charms that are colored and finished are the shrunken ones that I cut from the film earlier. Amazing, huh?
So, what am I going to do with all this stuff? And better yet, what could YOU do with yours? You could use them as embellishments on cards, gifts, scrapbook pages, bookmarks, etc. I'm using some of these to hook onto the stylus of my Gypsy, because my stylus is a pain to get out sometimes. You can also make wine glass charms, like I did in the first photo. I used little jewelry hoops I found at Michael's to form my charm ring. I did have to bend the metal a little.
Whatever you make…I know it will be awesome!
Go shrink something!