Pom Pom Cheerleading Gloves – Football Friday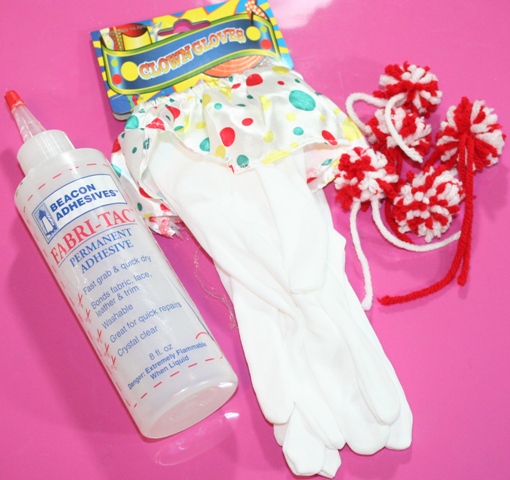 Happy Football Friday!  Today I'm showing you a way to turn your ordinary gloves into some team themed tiny cheerleaders.  Well, at least you can have cheer fingers.  As it turns out, all my gloves are leather so for demonstration purposes we are NOT going to use my good leather gloves, we're going to use Dollar Tree clown gloves that I bought just before Halloween for this very purpose.  You should use real gloves, unless you just want to be a clown.  I'm not judging.  LOL! 😉
 Remember when I made ton o' pom poms?  Click HERE for a tutorial on how to make them.  I think they're fun to make!  Well, I've found this fun way to use them to help cheer your team along AND keep your hands warm.  Simply make some small pom poms, glue them to the finger tips of your gloves using Fabri-Tac
, let it dry and TA DA…tiny pom pom gloves.  Now you can cheer without having to actually jump up and down…or get cold hands!
I feel a cheer coming on!
It's  not easy to cheer and take photos of my own hand. 😉
 I get along with all of the cheerleaders in my squad.  Sometimes the thumb likes to go out on her own doing that whole "thumbs up" routine.  She's sort of a show off but is, in general, a team player.
You could make these for a cheerleader and they would look so cute PLUS their hands would stay warm during the games!  Silly as they look, I think they are a fun and functional item.   They are definitely going to help me cheer Alabama on during this weekend's game!
Have a Happy Weekend!