Paula Deen Signed Cookbook GIVE AWAY & Savannah Trip
Paula Deen's Lady & Sons Restaurant is a Savannah Tradition.
Thanks for being patient while I took a little vacation. 😀  DH and I had a great time in Savannah, GA and Hilton Head, SC.  This is the outside of Paula Deen's restaurant, Lady & Sons.  I love to eat there when we visit Savannah.  If you want to eat there you usually need to get in line by 9:30 am to make your reservation.  Of course, this depends on season and day.
Rumor has it that the Deen Brothers will soon open a restaurant where Sorry Charlie's used to be. 😀

We got in line by 9:15am and the line was all the way around the block, past Sorry Charlie's and around the other side of the building.  It's usually a pretty fun wait because DH and I always meet some cool people in line.
I took this through my windshield, sorry for the road dirt at the top. 😉
Have you ever seen the Southern Live Oak?  I love trees and live oaks are among the most beautiful, I think.  Here are some lining the streets of Savannah.  They are covered with Spanish moss, which really isn't a moss at all and is in the same family as the pineapple!
Here's a BEFORE the container ship photo.
One of my favorite things to do is to watch the container ships come down the Savannah River. You can't really appreciate how huge they are until you see one in person.
And now look!! WOW!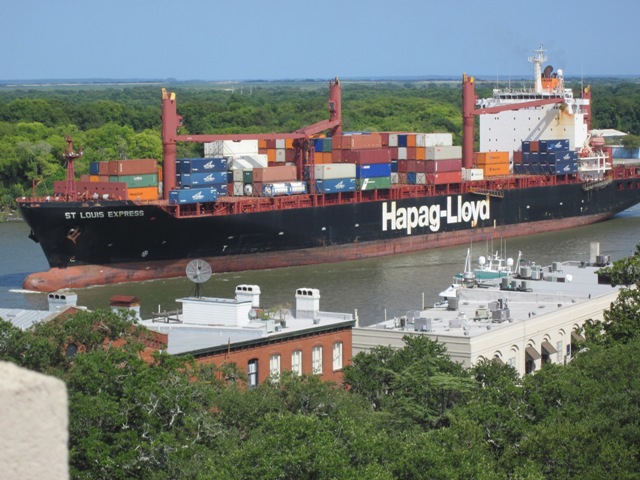 Hey, I bet some of my packages are in there!  Wait for me!!  😉
We were so glad the weather was beautiful because that meant…BEACH!!  We headed to Hilton Head, SC.
It was perfect weather.
We saw 5 starfish in perfect condition making their way back to sea.  (Don't worry, they weren't all the way back here.  They were close to the water.)
I didn't forget about you while I was gone.  I even brought you something!  It's a "Lady and Sons" cookbook signed by Paula Deen!!
Just leave a comment for a chance to win this awesome cookbook signed by Paula Deen. 🙂  I'll choose a winner Monday, October 4th, 2010.
AND THE WINNER IS:
tanyat
2010/09/27 at 9:54 AM
What a neat adventure. My mom and I are huge Paula Deen fans…for Christmas I even bought my mom all the DVDs of P.D.'s cooking show! Loved your photos…Thanks so much for sharing your Savannah trip. Hopefully, I'll get to visit there someday.
Good Luck Y'all!