HomeAway: Why I Rented a Whole House for Our Family Vacation
This is a sponsored post written by me on behalf of HomeAway, which I've loved for years.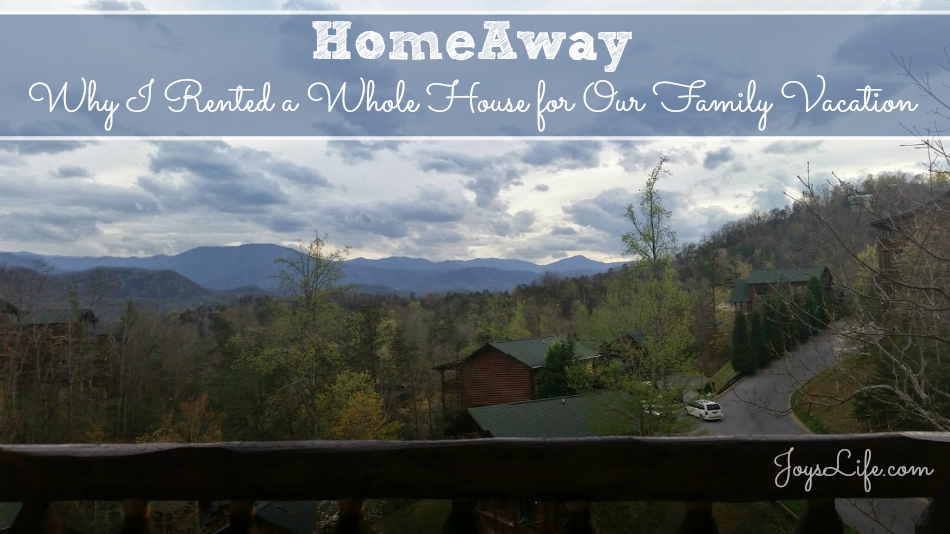 If you have more than four people in your family, you know how hard it is to travel.  Why?  Because it often means two hotel rooms.  If the kids are little it means that those rooms also need to be adjoining or you and your husband/significant other are sleeping in separate rooms.    For my family of five, two hotel rooms is almost still not enough because I have two teenage boys and a college age girl.  My boys are big and tall and need their own beds.  So, someone gets the pull out couch, which is never comfortable.  Neither boy thinks their sister should have to sleep on the pull out, so the boys take turns being miserable.  I did that when they were younger but I'm over spending money on a vacation that ends up with a coin toss on who will be most uncomfortable.  You know what I mean?  I'm sooo over it.  That's why I just rented my fourth vacation home through HomeAway.  They are the world's leading online vacation rental marketplace with more than one million listings in 190 countries.
If you follow me on Instagram, then you know how much I enjoyed the house in Gatlinburg, Tennessee recently.  We rented it through HomeAway because it fit our needs perfectly.  We wanted to relax, see the mountains and be comfortable.  Score!
This house had 3 levels, all with porches facing the mountains, plus plenty of bedrooms for everyone, a pool table, Ms. Pac Man, foosball, air hockey, flat screen tvs and a hot tub.  It was great!  Even when it rained, we had things to do.  I can't tell you how many pool tournaments we had…or how much I played Ms. Pac Man.  Seriously, that might be the main reason I rented this place.  LOL!  Honestly, none of us wanted the vacation to end.
What helped make this place affordable is that we had a whole kitchen, so we only ate out when we wanted to, instead of having to fork out money at each mealtime.  To make things easy on ourselves, we had a menu before we left home.  Want to know our special trick?  If we're driving to our vacation home, we pack all of the non perishable food (plus plastic baggies and that kind of stuff) in a laundry basket with handles.  That makes it super easy to pack into the car, carry in and out and set aside.  We started doing that back in our camping days.  Where's the brownie mix?  In the basket.  Easy.
This was my third rental with HomeAway.  Once we rented a historic Victorian house in Savannah, GA for a week.  That was cool!  When my brother got married, I rented a house on the bay in Mobile, AL.  My upcoming rental is in Key West, FL.  I can't wait!  All five of us are going and once again, each of the kids can spread out in their own bedrooms.  It was so much less expensive than renting several hotel rooms.  Plus, I love the experience of being in a home.  It's gives you more of a sense of the area and the people, which is so much of the reason to travel.  HomeAway vacation rentals are perfect for families and groups.  They offering twice the space at half the price of a hotel room.  From condos to castles, they have something for everyone and every budget.
Check out What Kids Want on Vacation & (I loved looking at these!) Favorite Unique Properties
Win a $5,000 Stay with the HomeAway Kidfluencers Contest
This summer, HomeAway is empowering kidfluencers by giving them even more control over their family's travel plans with a chance to win a $5,000 vacation rental stay to anywhere in the United States in 2015. To enter, travelers just need to create a 15 to 60-second video of their kids describing why their family should win a vacation from HomeAway. Upload the video to Instagram, YouTube or Vimeo, using the hashtag #HomeAwayVacation and complete the entry form at http://bit.ly/1c0IN33 before May 29, 2015. HomeAway will select 10 finalists that will be voted on by the public from June 8 to 12 to determine the winner. For more details on the contest, visit http://bit.ly/1c0IN33.
This is a sponsored post written by me on behalf of HomeAway.