Featured Designer – Bee Mine Card Using Lots of Pun Stamp Set
"Bee-utiful" Bee Mine Card by Joy's Life Featured Designer – Amanda Perkins
What a great card Amanda made using the "Bee Mine" stamp from my "Lots of Pun" stamp set!  It's so colorful and happy it just makes me smile.  Then it makes me think…hey, I wish I'd thought of that, LOL! Great work Amanda!!
A Note from Amazing Amanda:
I am so thrilled to be given the opportunity to work with Joy's stamps. They are awesome! The stamped images came out so clear you would have thought I printed them on my printer! "Lots of Pun" is full of cute, adorable phrases that go perfectly with the Create a Critter Cricut cartridge, however, I must say I can think of about a hundred more uses for them with other cartridges.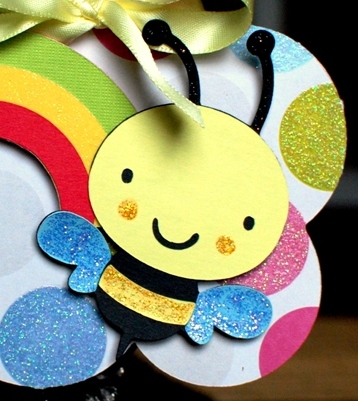 Here's How Amanda Made this Card:
For my first project I created this card.  I just love the Bee on the Create a Critter cartridge. The card base is from the Elephant button phrase feature. I welded two of them together. The rainbow is also from this same cartridge on the sun button. Cardstock is from several places including DCWV and My Mind's Eye. I added a bow and lots of Stickles….I LOVE Stickles!
Bee Mine Sentiment Stamp- Joy's Life Lots of Pun Stamps
You can visit Amanda at her blog HERE.
Thank You Amanda!! That Card is Buzzing with Cuteness!!