Dorm Sweet Dorm Printable
This shop has been compensated by Collective Bias, Inc. and its advertiser. All opinions are mine alone. #CreateWithHP #CollectiveBias
Back to school around here means back to college and the last year of high school.  Isn't it crazy how quickly time passes?  I feel like I was just sending my sons off to elementary school with little super hero backpacks, now one of them is getting his own apartment style dorm room and the other is applying to colleges.  Whaaaatttt?
Yesterday, my daughter worked from home and shared the office with me.  She graduated from college last spring and is a meteorologist now!  Behold my constant shock that she's so grown up.  I know I've watched the whole transformation from baby to young adult, but back to school always does this to me.
It was surreal yesterday when she was able to offer her brother all of her kitchen items for his dorm.  Now between you and me, that also means she plans to live here for a while and use my kitchen items … soooo.  Anyway, the one thing she didn't offer was her printer, and we're one short.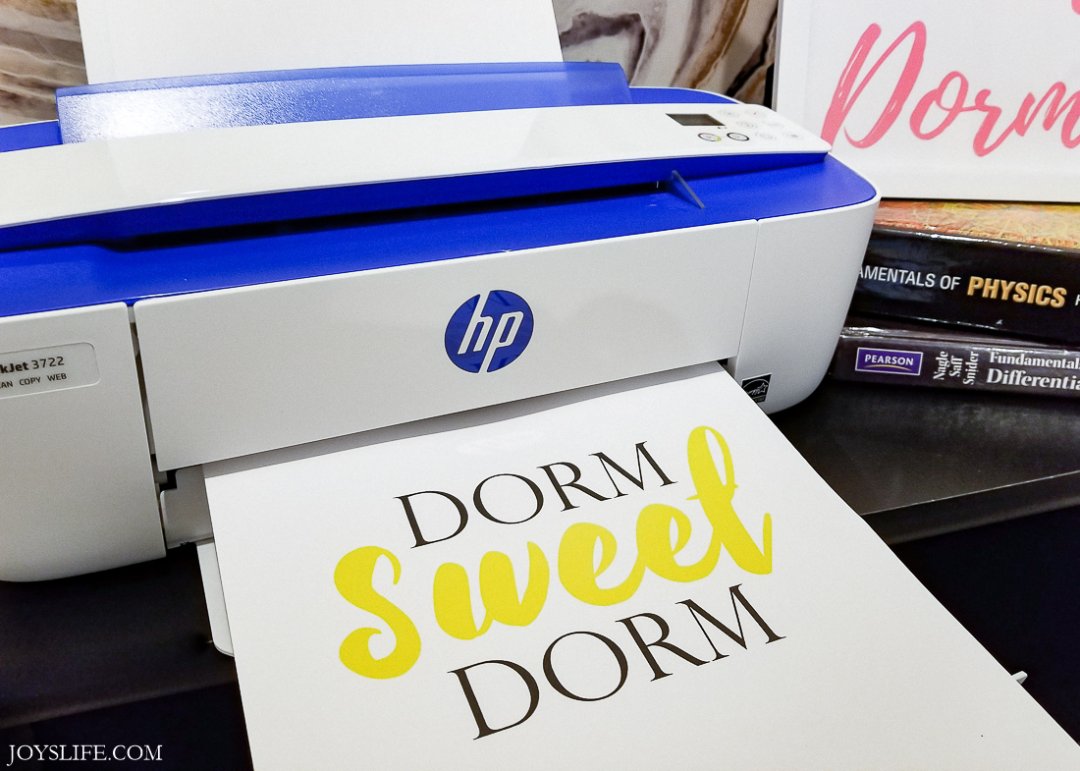 I like to buy printers that do everything, because you never know what you're going to need them for, right?  I was able to quickly swing by Walmart and pick up this HP Deskjet 3722 All-in-One Printer/Copier/Scanner.  It comes in three colors, which are only available at Walmart: Sporty Purple, Poppy Pink and Dragonfly Blue.  I wanted Poppy Pink, but it's for my son and he likes blue, so there you go.  What I like about it is that it's lightweight, so it's no problem to move it around.  It doesn't take up much room either, so it can share a desk or office with you (and it doesn't use your kitchen stuff, just kidding oldest child…but seriously…no, I'm kidding…).  The HP DeskJet 3722 is the world's smallest all-in-one printer!  Cute!  Also, it's affordable.  Gotta love that, because back to school is seriously in my wallet.
Dorm Sweet Dorm Printable
Does a dorm room you know need a little decor?  Simply print out the Dorm Sweet Dorm printables below and add them to an 8×10 or a 5×7 frame.
I have two of these yellow and black printables for you to download, (my sons college colors), one fits an 8×10 and the other fits a a 5×7, that's the one I'm using above.  Trace around the glass from the frame after you get it centered.
Cut it out and put it in the frame.  It's the quickest, cute, dorm sign!
Get Your Dorm Sweet Dorm Printables
These printables are sized to fit the listed frame sizes, after cutting down the excess from a standard piece of 8.5 x 11 paper.
Dorm Sweet Dorm Yellow Small (5×7)
I bought my printer and frames at Walmart.  They have a nice selection of affordable frames!  That's a fun thing to add to the printer purchase if you want to create some quick wall or desk art.  Some Walmart stores currently have in-store demos for the HP DeskJet 3722.  Stop and watch if you see one!
What back to school items are on your list?