Cricut Bath Fizzy Bomb Gift – Stand & Salute, Wild Card, Joys of the Season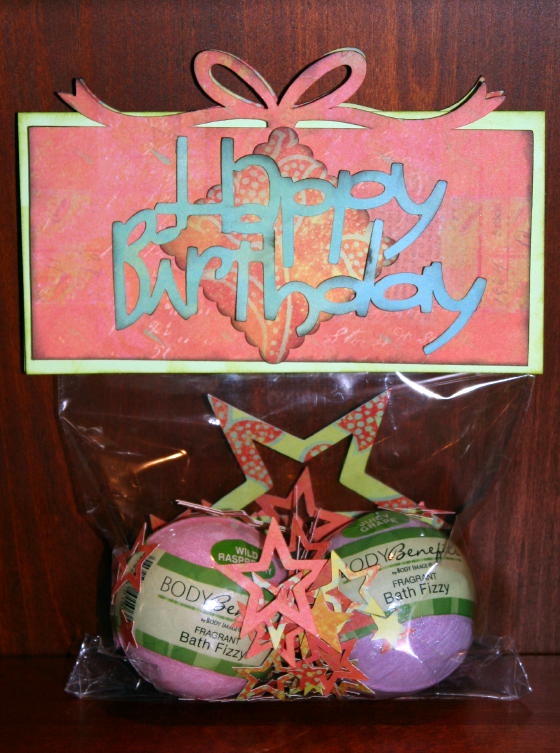 Um, you know a bath "bomb" isn't a bomb, right? 😛
You know how I love to make these little Stampin' Up cello bag gifts.  I mean, I LOVE doing it.  I've been using candy and cookies, but last night I cranked out this bath bomb one for my DS#2 to give his teacher.  I LOVE the way it turned out, don't you?  The best part?  I bought those 2 bombs at WalMart for $1 each and they helped me make a thoughtful, but inexpensive gift.  Yay to that!!  Also…this is embarrassing…do you remember that altered clip board I made his teacher earlier, when I was so sick?  Well, I thought that was her b'day.  Turns out, it's today.  What can I say?!  I was sick AND I have 3 kids!!
Here's the tag close up. I made the back like this too:
I've finally started inking things around the edges to make them pop. Hey, I'll catch on to all these techniques eventually!
How I Made This:
In order to save myself some time. (I have to get a shower, I've got 2 appts to get to.) I'm going to ask you to read those posts that are linked where the words "candy" and "cookies" are highlighted in the paragraph above (top of this post). Each takes you to a post where I have done a similar project to this one. There I explain what I did. It's probably the cookie post where I get most in depth.
What I Used:
Cricut Cartridges: Wild Card, Stand & Salute, Joys of the Season
Bag: Stampin' Up Large Cello Bag
Paper: Some kind of green solid paper from Stampin' Up Bold Brights cardstock; K&Co. Brenda Walton Specialty Paper (that's the whole name of the K&Co. stack)
Punch: Purple Marvy Uchida scalloped square
Ink: Colorbox Pigment Brush Pad in Black
Other Supplies: Glue Dots, Pop Dots, Pop Squares, Tiny Attacher by Tim Holtz
Here are the Cuts I Used from the Cricut Carts:
Present Tag –

Joys of the Season Cricut Cartridge

– pg. 75 cut at 3″ for large Cello bag topper. Use the FLIP button on Cricut Expression to make 2nd side.
Happy Birthday Sentiment –

Wild Card Cricut Cartridge

– pg. 61 I cut it at 8 3/4 (sounds big, but that's what it is)
Stars –

Stand & Salute Cricut Cartridge

– pg. 32 (Star-s). This is a GREAT cut!! You get double your cut because it cuts 2 stars at once, the outer part and the inside that is left is the solid star shape. Perfect for what I needed!! Just change sizes for a variety of star heights. Also, use Auto Fill for a whole page of stars.
Ok, I've GOT TO get going!! But not until I show you these other bags I made that I've not shown you yet. I did these in August.
Fun, fun, fun!! I LOVE the Cello bags!
Gotta Run!!
Go Make a Pretty Package for Something!! And Have a Great Weekend!!
How to Make Bath Fizz Bombs at Home Link