Cri-Kits Gel Pens Rooster Sketch Card with Sizzix Eclips

 Have you tried the Cri-Kit gel pens yet?  If you haven't, you should!  They're super fun.  I used them along with the Rustic Sketches set from Lettering Delights to make this cool card.  It makes me look like I spent a lot of money having this artist sketch something special for a friend doesn't it?  So awesome…and much cheaper than an original. 😉
 I've been enjoying the Cri-Kit gel pens for years.  Sometimes I see people shy away from the pastels because they don't think they'd use those colors.  I say…waaaait just a sec!  I think you should try them on some dark paper!  That's what I did with the rooster.  I'm using a … er… I think it's the pastel yellow … well, it doesn't matter because whichever color it is it came from the Cri-Kits Pastel Gel Pens pack.  Pastel rocked this project so keep that in mind when choosing colors…or go with the four pack.  😉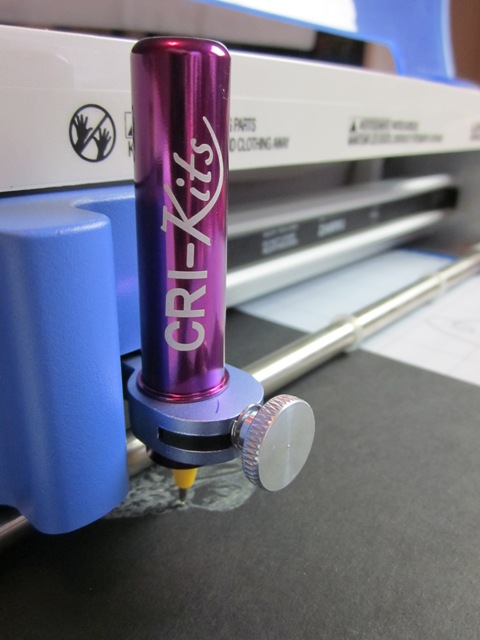 The gel pens are easy to use.  You just drop them into their holder, put the holder in your machine and tell your machine to cut.  Instead of cutting, since it has a pen in the place of the blade and blade housing, it will draw.  NICE!  Here's a link to a video I did using the pens in a Cricut.  Here's a video where I used them in a Silhouette SD.  You'll see just how easy it is.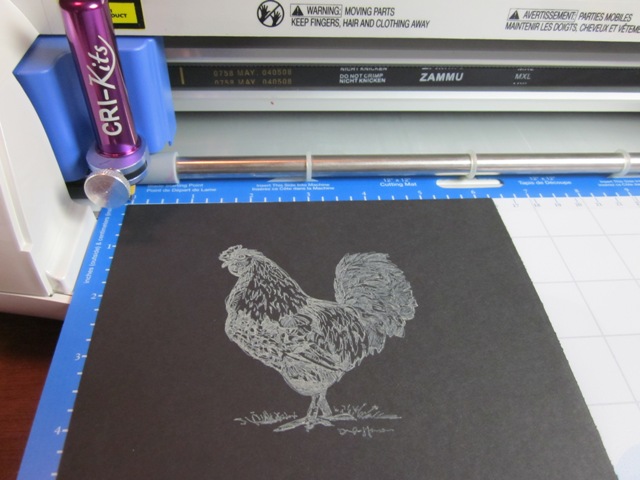 Cri-Kit's makes gel pen holders (and other cool things) for Cricut, Pazzles, Silhouette SD, Silhouette Cameo and Sizzix Eclips machines.  Check out their site for all of their offerings.
 I'm using the ECAL software that came with my Sizzix Eclips.  (ECAL is the Eclips version of SCAL if you are familiar with that software.)  I was able to import the rooster image from Lettering Delights into my ECAL software and draw it.  Next, I drew a box around my rooster because I want to cut it out using my Eclips.
 Leaving the mat in place, I simply switched the Cri-Kit pen holder out and put the Eclips blade housing back in.  I then cut that box around the rooster.
 If one square is good, then more is better, right?  LOL!  I made a few larger squares and cut them out of different paper.  I also welded two of the squares to make a card base (in red).
 Nice detail from those pens, huh?  Impressive!
To create the card I simply inked the edges of the red squares and layered them all using my Scotch ATG gun.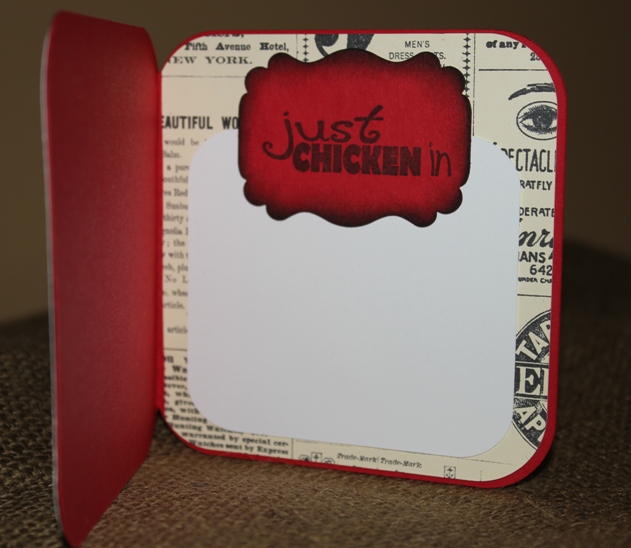 I lightened up that serious rooster attitude with this punny saying on the inside.
I must point your attention to two of the Joy's Life stamps, "Oh Barn" on Barnyard Puns and "Oh Ship" on Pun in the Sun were both thought up by my youngest son.  LOL!  I love those stamps because they make me laugh and because he thought them up.  What can I say?  Boys!! 😉
  (Just in case anyone is confused…roosters are chickens.  Roosters are the males and hens are the female chickens.  Also, many come deep fried.  That last part isn't always true.  They can come baked and BBQ'd as well.  LOL!)
 If you happen to be in Duluth, GA next week drop by the Scrapbook Expo and see me!  I'll be hanging out with my friends from Cri-Kit's in their booth.  They are super nice and I promise not to be too weird so come by and say hello, won't cha?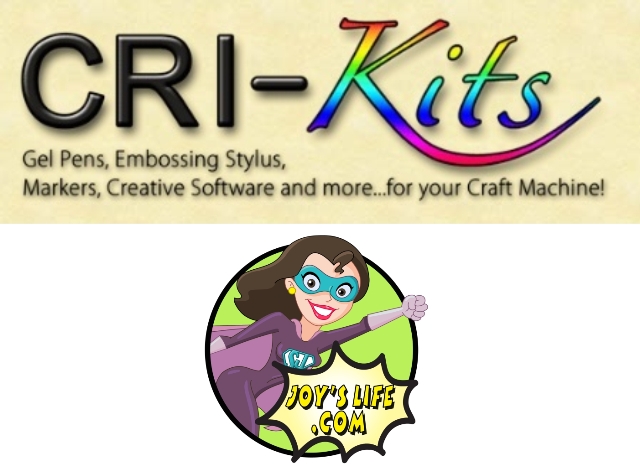 P.S.  Are you looking for a chicken recipe?  Try this one for the crock pot.  I've been making it for years.
BWAK BWAK BWAK…That means have a great day, in chicken talk.