Some days are just muffin days and there's no getting around it.  Right?!  Absolutely!  So when the muffin need struck, I found this recipe and DH and I devoted a little time this morning to whip up these delicious treats.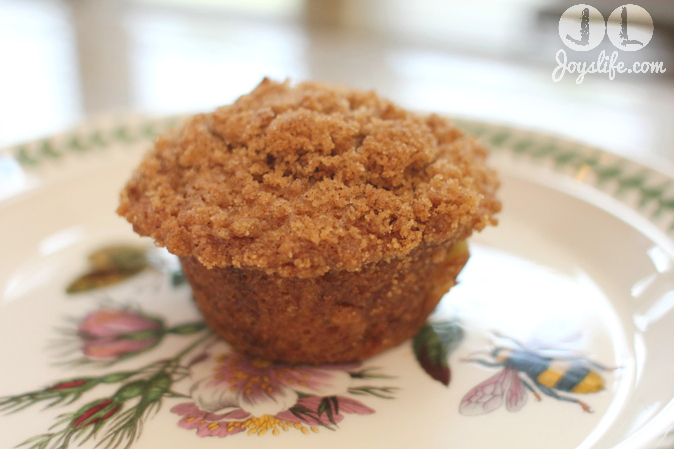 Did I tell you that DH gave me the best Christmas gift ever last year?  Well, BEST to me anyway.  He got me the Harry & David Fruit of the Month Club subscription.  I'd been asking for it for years but I think he thought I was joking.  LOL!  We've all enjoyed getting a new fruit from different parts of the country each month.  This month I received Organic Heirloom Apples and they are delicious!  I sacrificed one of them to make these Yummy Apple Pie Muffins.  ONE of them equaled TWO cups of apples!
Saban, my English Mastiff, has a very expressive face.  Here's a hilarious annoyed look she's giving me for distracting her with the camera while she stalks DH in case he drops some food.  She loves apples!  (See my flour container in the back left?  I still use it!  I vinyled it up waaaay back here.)
Those apples look great! I can't believe one equaled two cups. That explains why I couldn't finish the one I started eating yesterday. Don't worry, Saban finished it for me.
The directions say you should not over stir the batter. I stirred these to a natural peanut butter consistency and that worked out well for us. Look how even DH got all the muffins! Good job, babe!
Waiting for them to cook is the hardest part. Well, that and stepping over a giant obstacle while you're trying to cook.
We cooked them for 20 minutes, as per the instructions. They turned out great!
Here's the yummy inside of the muffin. Ahhh…they were delicious and a hit with everyone! Thumbs up to this recipe. Go give it a try!
Hope your day is as good as this muffin was!