The Birthday Boy One of My Favorite Peeps – GIVE AWAY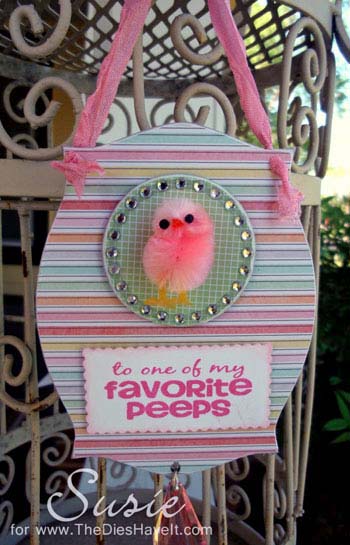 This fun sentiment comes from the Joy's Life Barnyard Puns stamp set.
When I checked out the Joy's Life Design Team page today I was thrilled to see this project by Susie. It goes perfectly with the post I wrote below about my son's b'day and his first Peep tasting.
Today is my son's birthday.  He's now 14 and over 6 feet tall!  I remember when he was tiny AND when he had his first Easter peep.
That's Baby Bear from Sesame Street behind him. I was student teaching at a middle school when I was 9 months pregnant with my first son. The kids were so sweet. Each class threw me a surprise baby shower and I had to keep acting surprised all day. LOL! They had food, drinks and presents for me. One of the gifts was Baby Bear. Super boy #1 drug BB around for so many years. At one point they became scarce and collectable and I had to compete for them on eBay when they would get lost. The things we do! 😉
DH went back to school for his Master's in Computer Science and I was getting my bachelor's in Education. I now tell my kids, college first, then marriage and children. Marriage, children, college is much harder! 😉
Tonight the birthday boy will have a group of his friends over for a gaming and spend the night party. He's really looking forward to that. I have to keep an ear out for him because I want to sing to him as soon as he emerges from his room. If I want to give him a kiss, I'll have to ask him to bend down or I'll have to stand on a stair or two above him. I'm quickly becoming the shortest one in the house. They grow SO fast.
18 months after I had Super Boy #1, Super Boy #2 was born.
That's DH, me, birthday boy, Super Daughter and Super Son #2 last July at Universal Orlando.
Happy Give Away to YOU
To celebrate the birthday boy, I'm giving away the Barnyard Puns stamp set (where I have the peeps sentiment), so be sure to leave a comment to be eligible to win.
The winner will be chosen on Wednesday, April 11 and posted here.
AND THE WINNER IS:
christineroy says:
April 7, 2012 at 2:15 PM
Happy Birthday to Super Boy #1, great pics thanks for sharing. I know what you mean about them growing fast. My baby will be 18 in May. And graduating from HS in June….Then College in the fall so I REALLY could use the stamps because I will have NO money for a few years since his sister is 19 months older than him and she is in her second year of college…(She will be at Disney for the fall semester – she got accepted to the Disney College Program- So excited for her and a bit jealous I <3 Disney!)
Don't forget, FREE SHIPPING on ALL Joy's Life stamps is over this Sunday.  HURRY!