Spellbinders Holiday Hoppin Blog Hop


Welcome to the second day of the Spellbinders™ Paper Arts Holiday Hoppin' Blog Hop!  Spellbinders, along with Post-it Craft Paper are showcasing their newest products just in time for your Holiday crafting and gift giving.  (This blog hop took place in 2010.)
Today I am using Spellbinders Nestabilities Dies, Labels 15 and Post-it Craft Paper in (lucky) green, crimson, white and black.  Here is the project I made:
SANTA'S BELT CANDY JAR!!
Prepare to be AMAZED…I only used these items to make this jar: the S4-291 Spellbinder's dies, Post It Craft Paper, a jar (LOL), some ribbon, a few glue dots and an All Around Sentiments Joy's Life stamp (which I embossed) and punched out with a circle punch!  The only paper used was Post It Craft Paper in 4 colors!
Can you believe I made a Christmas tree topper for this jar out of squares?  Well, I did!  Let's look at it close up…
I am dying to tell you how I made the tree.  Ok, dying = slight exaggeration, but still…let me tell you.  I made this tree by cutting out 3 of those pretty scalloped squares using the Spellbinder's dies.  Then I folded each one into a diamond.  I pulled off the backing of each piece of Post It Craft Paper and stuck each diamond shape to the sticky side of another.  Then I had a cool ornament shape, but that didn't work for my project, so I snipped off the bottom!!  TA DA!! A CHRISTMAS TREE!  Then I added little blingy rhinestones to every part of the tree.  Each side has a slightly different design.
This tag is strong!  First, I stuck one scalloped square to another, which was easy with the Post-it Craft Paper.  You  just peel and stick.   Next, I added some more layers to this side to give it some visual dimension.  The super dimension comes from that little end of the big tree that I'd clipped off.  YAY!  I got to reuse some scraps to make a tiny tree.  Clearly, there's no bling shortage going on here, once again every side of the tree is decorated.  I was able to stick that tree on using a glue dot. Notice that the tag was strong enough for me to punch a hole in AND add an eyelet.  I SUPER LOVE that!
Hey, I wish you a Merry Christmas!  See?  That's from my All Around Sentiments stamp set.  I stamped my stamp into a glue pad, added some embossing powder and used my heat gun to heat the powder to a nice melt.  Can you believe the Post It Craft Paper can handle all that?  Well, it can!  I even punched out that circle and stuck it to the white tag.  Cool.  That paper rocks!  Hey, see the red frame I made on the tag?  (Yes, I notice it's not perfectly lined up. LOL!)  I made that using two of the Spellbinders tags and nesting them.  Also cool!  I used my Sizzix Big Shot to cut out all of the Spellbinder's dies.
Let's see a side view of the Santa's belt candy jar!  By the way, the jar came from Target and was less than $5.  I bought the candy in bulk at a wholesale store. 😉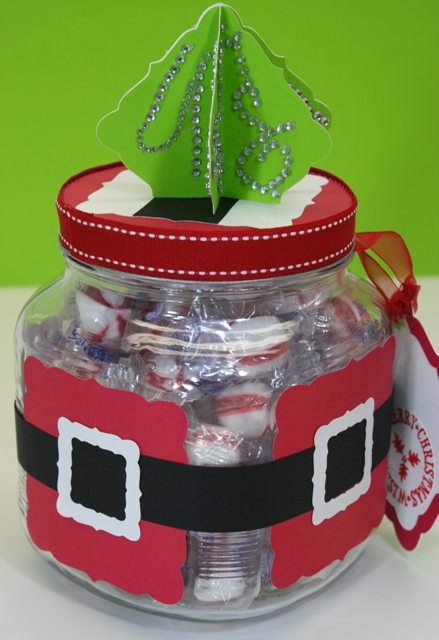 Ho Ho Hop!!  Time for you to get back on the hopping trail…  I hope you enjoyed my project! 😀
Visit all of today's Holiday Hoppin' blogs:
Mona Pendleton
Gina Hanson
Deborah Young
Becca Feeken
Julie Overby
Kimberly Crawford
AJ Otto
Margie Higuchi
Beth Pingry
Jennifer Holmes
Kerry Urbatch
Shona Erlenborn
Tammy Inman
Jessica Turner
Brenda Hurd
Julie Koerber
Rae Barthel
Rachel O'Crowley
Kellie Fortin
Kristen Cohen
Joy You're at Joy's Life right now! Welcome!
Candy Rosenberg
Laura Craigie
Stephanie Hester
Leesa Crutcher
Nina Brackett
Be sure to see all of yesterday's Holiday Hoppin' blogs for inspiring projects and another chance to win!
Simply leave a comment on my blog to be eligible to win the Spellbinders Holiday Hoppin' Prize Package!  One winner will be chosen from all the comments on all the blogs participating today.  Comments made in the first 48 hours of this post will be eligible to win.  Winner's names will be published on the Spellbinders Blog on November 22, 2010 and they will have 48 hours to reply to Spellbinders to claim the prizes.
Thank you!