Sizzix Big Shot Pro Size Compared to the Regular Sizzix Big Shot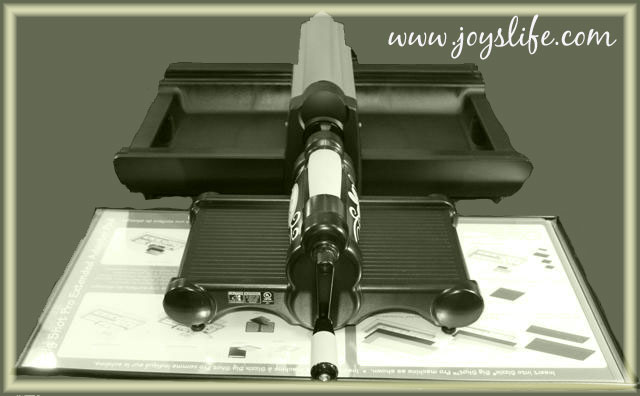 The Big Shot (in front) is sitting on top of the Big Shot Pro's two foot tray.
Ok, here's the long and short (so to speak) of these two machines.  These are both machines that I own and that's a photo that I took of them next to each other.  I'm showing you this so you can see how GIGANTIC the Sizzix Big Shot Pro Machine
is compared to the regular Big Shot.  I LOVE the Big Shot
.  I love it so much that I recently bought the Big Shot Pro which I thought I just HAD to have.  It's another terrific machine by Sizzix.  It works exactly the same way the regular Big Shot does.  The only difference?  Size.
The Big Shot Pro is 24 1/4″ x 15″ x 7 1/2.
The regular Big Shot is 14 1/4″ x 12 3/8″ x 6 5/8."

Side view of Big Shot Pro with a Pro die sandwiched on the tray. (Handle on other side.)
I am actually sending my newly purchased Big Shot Pro back.  Why?  It's just way too big.  If it folded easily for storage, I wouldn't mind it but it's just so bulky (and doesn't fold at all).  Besides the size of the machine itself, you have to have several feet of clearance on either end of it so the tray can roll in and out.  It rolls fairly easily, even though it's so big.  Don't expect to carry it to crops though, the delivered package weighed about 50 lbs.  If you feel like dealing with a machine this big, the higher cost of the larger dies, then I recommend it.  Regardless about it not fitting my needs, it's an excellent machine.  It can use all the dies the Big Shot can use as well as the Pro dies.  I'll be sticking with my regular Big Shot
though…and I'll never complain about it being heavy again.
I actually bought the Big Shot Pro Westminster, which is the same as the regular Big Shot Pro, but it's purple instead of blue.
Here's a video comparing the regular Big Shot and the Cuttlebug.