Recipe for Fun Blog Hop – Vinyl Cake Carrier
Welcome to the Recipe for Fun Blog Hop!  Don't miss the GIVEAWAY and list of other blogs in the hop at the end of this post!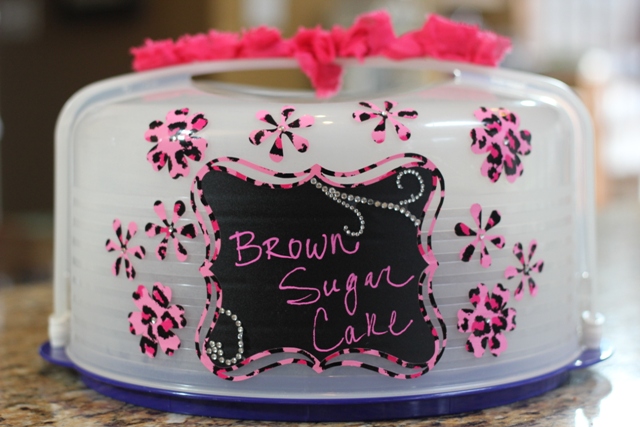 It's a fun and good idea to vinyl your cake carriers if you take them to classroom parties, church socials and/or other food friendly events. I'm preparing my Tupperware cake carrier so that I can easily change the name of the yummy contents as needed.
I'm using some fun patterned vinyl from Vinyl Couture, the Cricut Flower Shoppe and Fancy Frames cartridges, my Cricut Expression 2 and chalkboard vinyl.  I chose to use chalkboard vinyl so I can write on and wipe off the contents of the container as they change.
Using Fancy Frames, I cut out a cute frame in both chalkboard and the printed vinyl. Next, I switched the center of the pink print for the chalkboard vinyl. I didn't use any special techniques for doing that. I just eyeballed it for a good fit. I added some very basic flowers using the Flower Shoppe cartridge.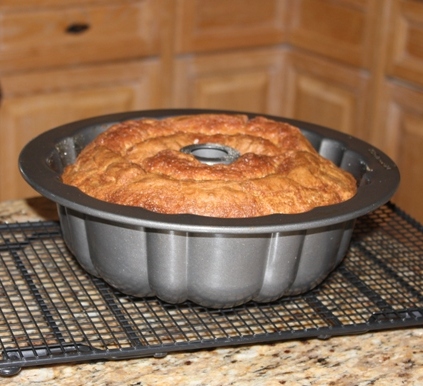 After getting the cake carrier ready, it was time to make a cake. This is one of our family favorites. We got it from this recipe at Food.com. I've been making it since 2006. It became known in our family as the "You Had Me at Brown Sugar" cake after DH started telling his friend at work what was in the cake to see if he wanted a piece. "You Had Me at Brown Sugar" was his response. LOL!
  I'm using Bistro Chalk Markers to write on the chalkboard vinyl.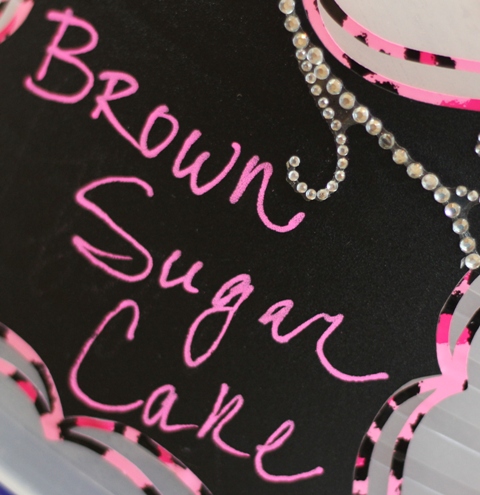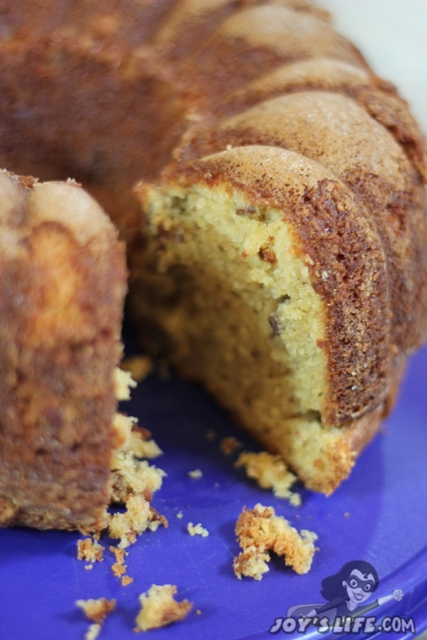 GIVE AWAY TIME!
Please leave a comment to be entered for a chance to win a copy of the Cricut Vinylology DVD (created by yours truly) including a vinyl application tool!  The DVD has over 3 hours of instruction teaching you how to use vinyl like a pro!  There will be TWO WINNERS!  YAY!  If you already have this DVD or don't have a Cricut, let me know and I will dream up another crafty prize for you!
AND THE WINNERS ARE:
sunbun143 says:
July 14, 2012 at 2:04 PM
Great idea! I have a plain chalkboard label on my bread box (so I will always know the date I started eating it) and on my dome covered glass cake plate. But I never thought about layering vinyl or using patterned vinyl. I do have patterned shelf contact paper I've been meaning to try.
debbajean says:
July 17, 2012 at 3:19 PM
I love your blog…I bought some chalkboard vinyl last week & I think this is just the project to use it!!!
Now go check out these talented ladies to see what yummy things they've created!
Joy: YOU ARE HERE (welcome!)
Stacey: http://staceyscreativecorner.blogspot.com
Megan: http://thoughtsoftraveling.blogspot.com
Cyndy: http://arcyscraps.blogspot.com
Ashley: http://marklandandmain.blogspot.com
Maria: http://joyfulstamper.blogspot.com
Patty: http://craftykitten1.blogspot.com
Amy: http://redheadedcrafter.blogspot.com
Jeannie: http://www.polkacabana.wordpress.com
Nina: http://waffleflower.com
Lori: http://got2bcrafting.blogspot.com
Sarabeth: http://www.chroniclesofsarita.blogspot.com
Laura: http://www.laurascraftsandmore.com
Jennie: http://earthyscrap.blogspot.com
Now, I think it's time for more cake! LOL!