Isn't it amazing what a difference something seemingly small can make to a space?  Not only did I replace all of the 30+ knobs/pulls I had in my kitchen, which was a huge change, but I also had DH install this new faucet.  After much cussing, he was able to get it done.  Cussing and installations of things into small cramped spaces go together like peanut butter and jelly.  You can't have one, without the other.  Unless you go with peanut butter and banana, which actually is another viable option, but that thinking really ruins my analogy.  Home repair = bad words.
OLD FAUCET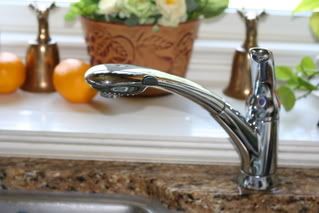 NEW FAUCET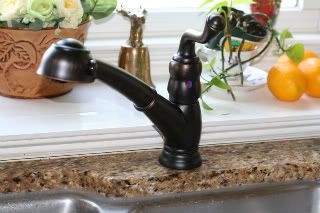 Excuse those water drops that are making the sink look dirty.
Doesn't that faucet look better with the granite?  I think so.  Not just that, but it goes MUCH better with the other redo's I did, like the new knobs which are black (because I bought and installed them before I found the ones that I really needed — brushed copper…so sad.)  The faucet also goes well with my new staircase balusters which I had changed out from the white wood country look, to wrought iron brushed copper.
Also, for those frugally minded…Although I wanted to replace the faucet, serendipity actually stepped in one morning when my silver faucet broke and had to be replaced.  Ahhh, sweet timing.
I saved a bunch by buying this new faucet online instead of locally!!  Yay to that!!
Here's where I bought my faucet:  Faucet Depot.com