5 Tips to Make the Morning Easier
This shop has been compensated by Collective Bias, Inc. and its advertiser. All opinions are mine alone. #StartWithSmithfield #CollectiveBias
Hey friends! Guess what I did? After years of being a stay at home mom, I recently took a part time job outside the home and I'm loving it! I love getting up in the morning and having something beside my usual stuff, to do. I will say that I had absolutely no wardrobe for working, so it was a hard press to quickly put some things together, but now I'm remembering how fun it can be to work on a wardrobe. I mean, over the years it's just been "house casual". LOL! It's nice to get up and get ready for the day. That being said, today I forgot to set my alarm and overslept by an hour. An ENTIRE HOUR. My husband was out of town, but he thankfully still left his alarm set, which saved my day. Amazingly, I was still on time! Here's why … I use these 5 Tips to Make the Morning Easier and it keeps me on schedule.
5 Tips to Make the Morning Easier
1. Prepare the night before by getting clothes ready, packing book bags and totes and getting a good night's sleep. Uh, this tip is EVERYTHING. This is such a time saver. I either pick my clothes out the night before, or on the weekend prior to the upcoming week … AND … I even invested in brightly colored clothing rack dividers to separate my clothes so I can easily grab what I'd planned to wear. A good night's sleep is soooo important. I don't mess around with that anymore. I used to be like … I'll sleep when I'm dead. #no that's not a plan.
2. Eat breakfast! If you and yours are flying out of the house like you're on fire, stop that. If you'd just back your day up a few minutes, you'd have time for breakfast. I promise, I did it and it's definitely a thing. Smithfield Breakfast Sandwiches save my day! Hey, isn't that mug cute? My daughter gave it to me. It helps to have a festive name because you're sure to find your personalized items at least once a year. That's the Smithfield Southern Style Breakfast Sandwiches on my plate.
Yes, you do have time for breakfast! It's just a few minutes. I also have a few ideas about how to get back your time.
Keep a variety of Smithfield Breakfast Sandwiches on hand. You can find them at select Walmart locations! They are individually wrapped, fully cooked and microwaveable, so before you know it, breakfast is ready.
They have three kinds: Hometown Original, Maple and Chicken Biscuits. They're all made with real buttermilk for a made-from-scratch taste. Today is my day off and as I write this, I just finished the Maple biscuit. I love it so much! I found all of these varieties at my local Walmart.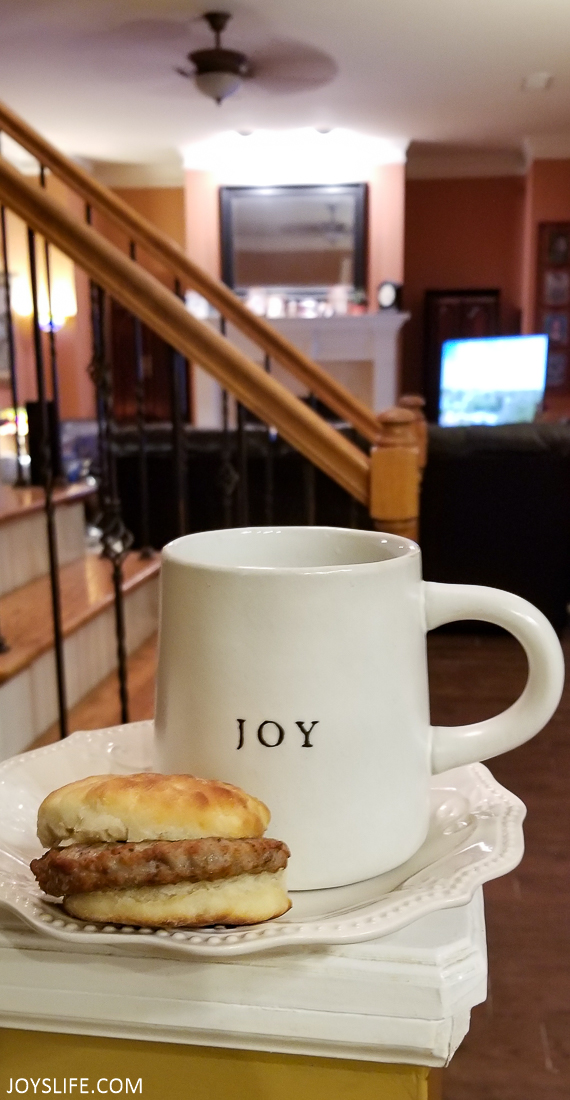 3. Get up a little earlier for "extra" time to enjoy your breakfast time the way you want. I like to enjoy my breakfast sandwich with a bit of my favorite show while the house is quiet, before cannon blasting into the day. I also use the time to check my email and do my banking. It makes me feel more in control of my day if I can approach the morning my way, instead of being rushed.
4. Make shopping easier by having someone else do it for you. I've been using Walmart's Online Grocery Pickup Service since it started, but now that I have less time than I did, I appreciate the service even more.
Shopping takes a TON of time, but if you do it online, it's no different than making a list, which you have to do anyway. The people that bring out our groceries at Walmart are always so nice, it's a pleasure and a relief to use the service, plus it's free! I mean, you'll still pay for your groceries, but the service costs nothing. LOL!
5. Charge your phone. Honestly, charging phones should be park of packing book bags and purses the night before, but it's so important it's worth saying. I don't know about you, but I need my phone to conduct business and of course, to keep in touch with my family. I also use it with my Walmart check-in app, because you can check in when you're on your way and they'll have your order ready for you. You can call they once you're there if you don't use the app, but see, you need that phone. Charge all your stuff ahead of time.
I also like to fill my car up with gas before the week begins, which is super important for most people, but especially in Atlanta traffic. I don't have to drive very far to work, but traffic is still an issue. If you do find yourself and your family flying out the door with barely a few minutes to spare, just grab a few breakfast sandwiches on your way out and you're so much more ready to take on the day!
What are your favorite tips for making the morning easier?