How to Make a Quick & Easy Party Hat
This is a quick and easy "how to" for making a party hat. You're going to need some for New Years Eve, which is just around the corner! It's perfect for birthday's too! You can also turn it upside down and use it as a treat holder. I love multi-purpose items, don't you?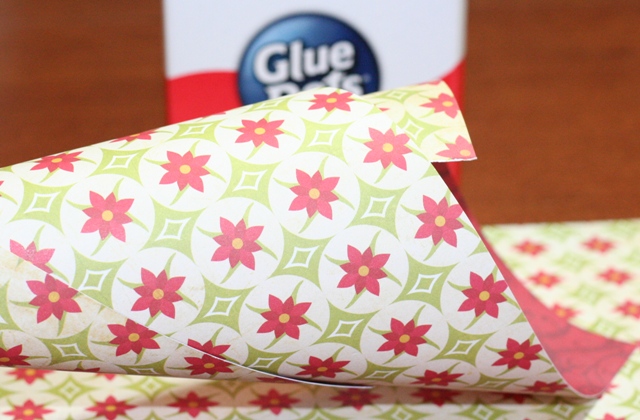 I'm using a sheet of 12×12 cardstock and rolling it into a cone shape. Once you've got it in a cone, determine the hat size for the intended head. LOL…"the intended head". After choosing said head size, cut the base of the hat until it can stand on its own. (The hat, not the head.)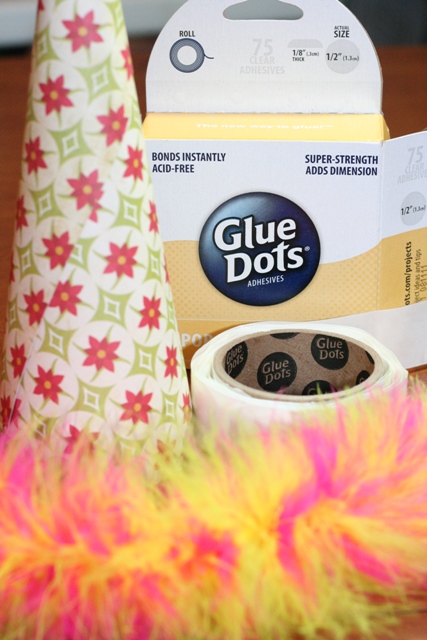 SUPPLIES – Glue Dots 1/2-Inch Craft Dots, Glue Dots 1/2-Inch Pop Up Dots, 1-12×12 sheet of cardstock, 1 feather/fuzzy craft boa (I got mine at Hobby Lobby) or other decorative trim. Not shown: Ribbon for tying on party hat.
Use Glue Dots® Craft Dots to secure the side of the hat. Use Glue Dots® Pop Up Dots to secure the craft boa or smaller Glue Dots® to adhere a thinner decorative trim.
OPTIONAL: Punch holes in the sides of the hat and add ribbon for tying on party hat. The hat can also be used as a centerpiece for any festive celebration.
I wrote this blog post while participating on the Glue Dots® design team.