Halloween Upcycle Frappuccino Bottle
 I don't know where I've been when it comes to making projects using these cool bottles but I finally did it!  It was super fun!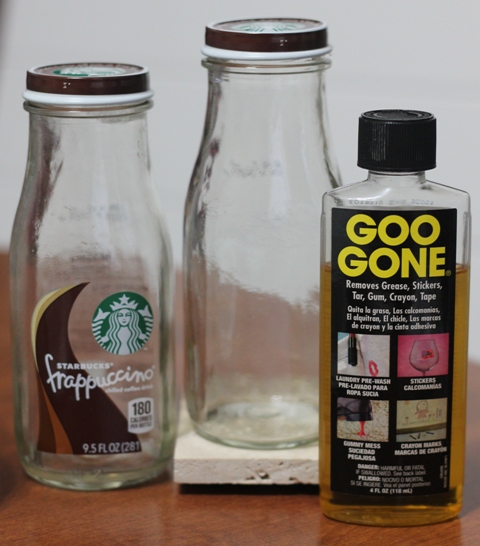 I bought these Starbucks frappuccino's at my local grocery store and my sons helped empty them…into their tummies.  I washed the bottles, peeled off the labels and used Goo Gone to take off the rest of the stickiness.
 Using the Cricut Happy Hauntings cartridge to create the skeleton, I cut him out of white vinyl.  Then I used transfer tape to move his bony little body to the bottle.  Need help with vinyl?  Check out my Cricut Vinylology DVD.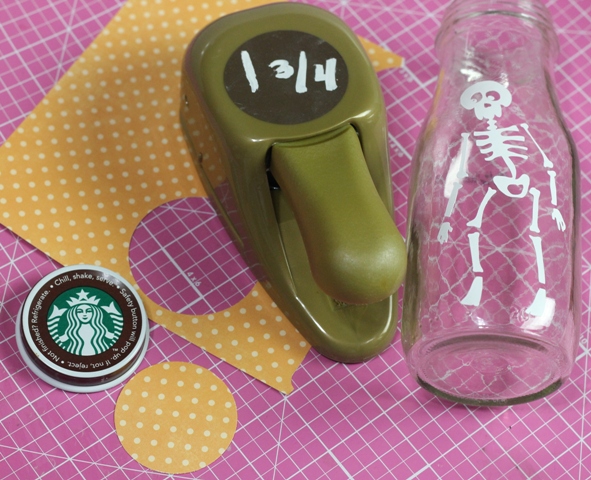 To make the lid blend in better with the overall project, I punched a little piece of paper out using this 1-3/4″ punch. Then I glued it to the lid.  It fit like a glove.  Sweet.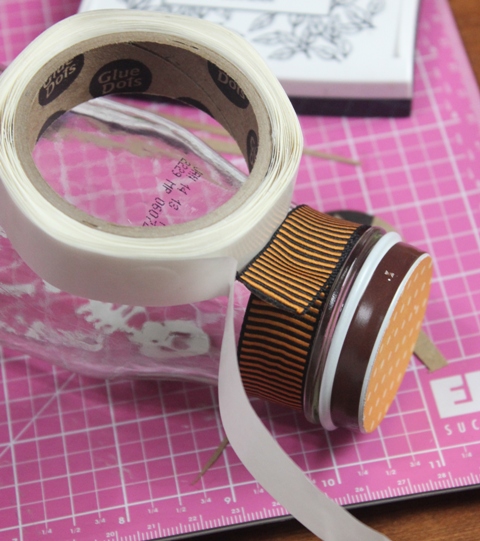 I added a piece of ribbon around the top of the bottle using craft Glue Dots.  They did a great job!
 Using Joy's Life Halloween Puns stamps, I created this little tag.  I used a standard hole punch and then threaded some raffia through it.  I love raffia!
This is a fun way to serve a themed drink at parties!
Time for a GIVEAWAY!
Leave a comment to be entered for a chance to win the Chillingsworth Manor paper kit by Echo Park. I'll list the winner on this post on October 13, 2012. Good luck!
AND THE WINNER IS:
Babe O'Mara says:
OCTOBER 7, 2012 AT 1:48 PM
What a fabulous idea. So creative. Thanks for sharing, and for the chance to win your candy.
Babe
Now go take a look at all these fun crafty ideas!
Joy: https://joyslife.com YOU ARE HERE
Patty: http://craftykitten1.blogspot.com
Amy: http://redheadedcrafter.blogspot.com
Megan: http://thoughtsoftraveling.blogspot.com
Jennie: http://earthyscrap.blogspot.com
Cyndy: http://arcyscraps.blogspot.com
Laura: http://www.laurascraftsandmore.com
Stacey: http://staceyscreativecorner.blogspot.com
Maria: http://joyfulstamper.blogspot.com
Lori: http://got2bcrafting.blogspot.com
Sarabeth: http://www.chroniclesofsarita.blogspot.com
Happy Blog Hopping!