Feathers & Swirls Pantographs E2E Designs
Feathers & Swirls pantographs are often considered more traditional, but they also look great on modern quilts. Don't be afraid to use any pattern that you like on your creation! What you make is special! Not only will you find feathers and swirls here, you'l find some flames as well. Heat up your cooking themed quilt or sports team! Swirls and feathers can also look really pretty in a sky or water theme. You might also take a look at Flowers and Leaves which can sometimes have similar shapes as Feathers and Swirls.
Pantographs are also known as Edge to Edge Designs or all over quilting. I'm always adding new designs, but if you don't see what you're looking for, reach out to me and we can work together to find a design you love!
Siren
Thistle
Scrollwork
Ribbed Scallops
Coquina
Funky Feathers Petite
Fleur Des Lys
Fern
Feathered Wisp
Hieroglyphs
Heatwave
Inkblot
Patina
Oodles of Doodles Petite
Mandolin
Lisa's Raindrops
Caliente
Peacock Feathers
Trap Swirl
Tea Leaves
Fandasia Daisy Fan
Curls and Leaves
African Safari
Wild Cherries
Corriander
Juniper
Nutmeg
Clove
Sums and Swirls
Milkyway Swirls
Great Horned
Teardrop Drip
Turning Swirled
Feathered Peak
Flourished Feathers
Feathered Fiesta
Diamond Studded Feather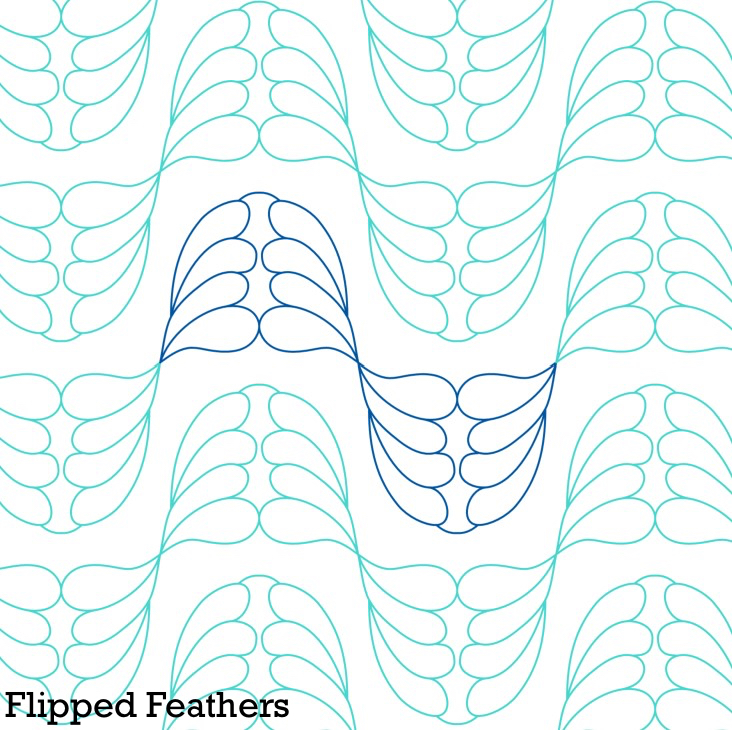 Flipped Feathers
French Addition
Feather Sum
Added Flourish
Royal Gardens
Torch Waves
Smell of Home Cookin
More Swirls
Modern Feather Chevron
Adena Edge to Edge Simple
Wheel of Love Edge to Edge Offset
Hawk Feathers
Undersea Feathers
Midsummer Dream Standard
Midsummer Dream with Pearls
Fast Feathers
Anise
Spring Damask
Abstract Feather and Spiral
Twinkle Feathers and Swirls
Twinkle Swirls and Pearls
Lunar
Medalion
Swirl
Tropical Swirl