This post was sponsored by Baskin-Robbins as part of an Influencer Activation for Influence Central and all opinions expressed in my post are my own.

The holidays are fully of tasty treats and delicious desserts. I feel like we make pretty much everything in our kitchen, but I'll admit that of all the easy holiday desserts, I never thought of ice cream! I don't know why I haven't added that as a holiday dessert option, but it's somehow escaped me, until this year. I'm going to take the Baskin-Robbins Ganache Poinsettia Cake, which you see above, to my mother-in-law's house for the Christmas dinner dessert. I think everyone's going to love it!
The Ganache Poinsettia Cake is a 9" round ice cream cake decorated with a poinsettia and topped with Winter OREO® Cookies. I am trying so hard not to cut a slice before our dinner, because that would be hard to hide, though I will continue to think of creative ways. LOL!
Our family did go ahead and eat a Peppermint & Winter OREO® Cookies Polar Pizza, and it was awesome! This is the second one that I ordered. I love that you can serve a slice and easily stick it back in the freezer. You know what else is nice? It actually fit in my narrow side by side fridge/freezer, while it was still in the box. Thank you! This is a perfect dessert for a fun occasion, or any night…or day. It's seriously good.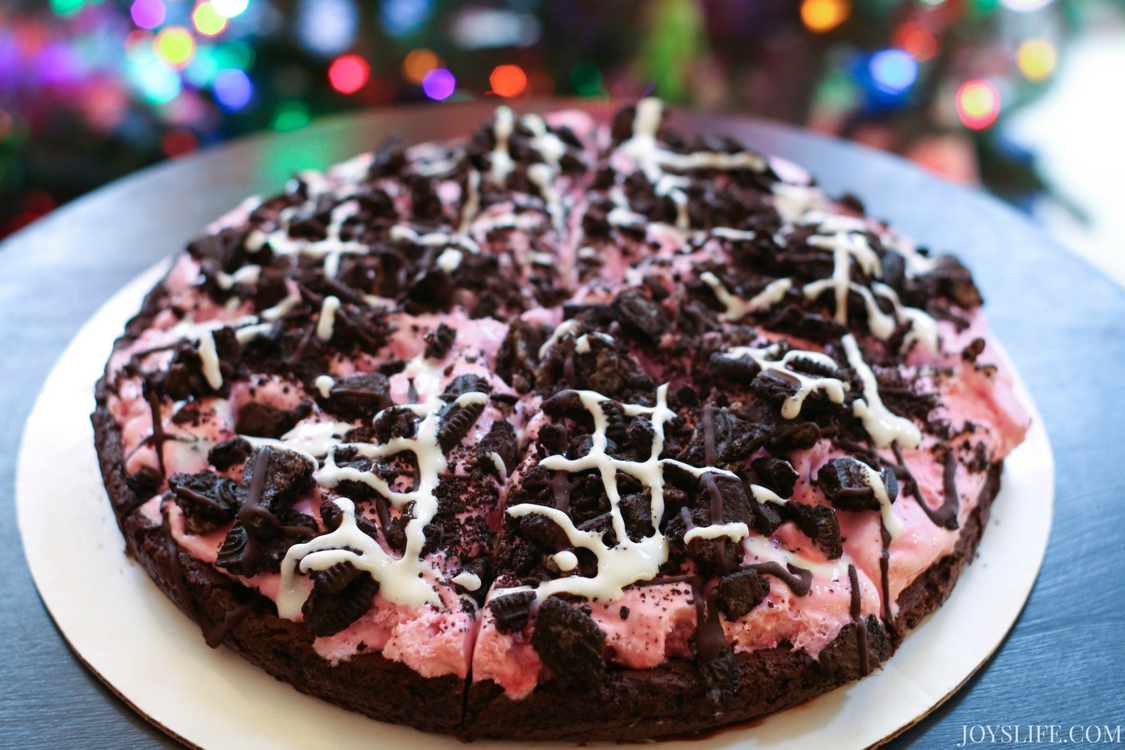 Let me tell you what the Peppermint & Winter OREO® Cookies Polar Pizza is made up of … a double fudge brownie crust with Peppermint ice cream, topped with Winter OREO® Cookie Pieces and drizzled with marshmallow and fudge topping. Are you still reading this or are you ordering yours? You'll be happy to know that Baskin-Robbins' Ganache Poinsettia Cake and Peppermint & Winter OREO® Cookies Polar Pizza are available for pre-order both in-store and online at www.baskinrobbins.com/onlineordering. It couldn't be much simpler to provide easy holiday desserts for your family and friends!
Dessert can be super simple with a bowl of ice cream! Baskin-Robbins brought back Peppermint Bark in the Dark as its December Flavor of the Month. It combines crunchy peppermint bark and chocolate ice cream all wrapped together with a peppermint candy and white chocolate flavored ribbon. YUM!
Happy Holidays my friends!