Make a DIY Cat Scratcher & New Cat Care Kit
This shop has been compensated by Collective Bias, Inc. and its advertiser. All opinions are mine alone. #yougottabekittenme #CollectiveBias
We adopted our cat, Domino, in August of 2005.  I can't believe he's almost 11 years old!  He's such a part of our family that in some ways it seems like we've always had him, which is probably why it's easy to put up with his crazy ways and various cat-tastrophe's, like the time he ate the beans that I had rinsed and left in a colander, in the sink, for a three bean salad I was making for a get together.  I didn't know he'd eat beans!  What a weirdo.  Needless to say, we did not have a three bean salad for that gathering.
Here he is pretending that he doesn't know that we're talking about him.  He knows.  I just told him to get off of the kitchen table … he definitely knows.  I admire the way he pretends he sees something to try and throw my focus off of his misbehavior.
It's hard for me to stay mad at him though.  Mostly, I think he's funny.  On this day, I was trying to paint some furniture inside and he thought it would be funny to play in the covers of my daughter's bed, knocking off my tools and accessories.
I've learned to lock doors to keep him from walking through paint, or other messy projects, because he knows how to open closed doors.  He'll jump onto the door handle until he grabs it solidly and then he'll hang there until it opens a little.  A few paw pulls later, he's opened a closed door.  He definitely lets us live in HIS house.
For a while he had some potty issues.  He started going to the bathroom in our dining room, which led to us having to throw out a super nice rug.  We'd purchased him some really expensive electronic, robotic, self cleaning cat boxes and we had them in two places in the house, but as it turned out, he didn't like them.
You know what he wanted?  A regular cat box.  #yougottabekittenme
When we got rid of those other boxes and changed to a simple box and litter, he got his good bathroom habits back!  Since then, we've enjoyed him even more.  Though, frankly, he still owes me a rug.  That being said, he's our friend.  He brings great joy to our family.  His sweet purr and gentle friendship is something that we all love and depend on.  He's a family member.  If you have a furry friend, you know how it is.  Purrfect in all of it's predictable unpredictability.
I picked up Fresh Step Total Control with the power of Febreze for Domino.  It includes Borate Technology for superior ammonia control which acts as a antimicrobial agent and inhibits the growth of odor-causing bacteria.  It's got a lemongrass citrus aroma, for a fresher smell, with the odor controlling power of Febreze.  It's only available at Sam's Club, where I shop often, and is now in a 42 lbs bag form, making it easier to move, reseal and store.  Hey, members!  You'll get $3.50 off at Sam's Club from 5/11-6/5.  The savings is already loaded onto member's cards and is offered through the Instant Savings Book.  Plus, you'll see signage at club, in a booklet mailed to members and on samsclub.com.
Giving back is important to me, so I was super excited to partner with Fresh Step Total Control with the Power of Febreze, who provided me with a $100 to give to my favorite pet charity.  I didn't have to think twice about where to donate it.  I gave it to Gwinnett Humane Society, where we adopted Domino back in 2005.
Are you or someone you know getting a new cat?  This cat care kit is perfect!
A great way to get ready for a new pet is to assemble a cat care kit.  (This also makes a great gift for a new cat owner!)  First, you'll need a litter box.  That's an extremely important part of cat ownership, plus it makes a great holder if you're turning this into a new cat gift!  Don't forget to add litter!  The bag of Fresh Step Total Control with the power of Febreze litter fit perfectly.  Get a litter scoop, a food and water bowl and a break away collar.  Break away collars are important because they will come off in case your cat gets it caught on something, that way your furry friend won't get hurt.  When it comes to toys, I say get a variety pack because you don't know what this particular cat will like.  When choosing food, start with a few cans or small bags of food.  Your cat will let you know what his or her favorite food is over time.  That's a great start!
Make a DIY Cat Scratcher…It's easy!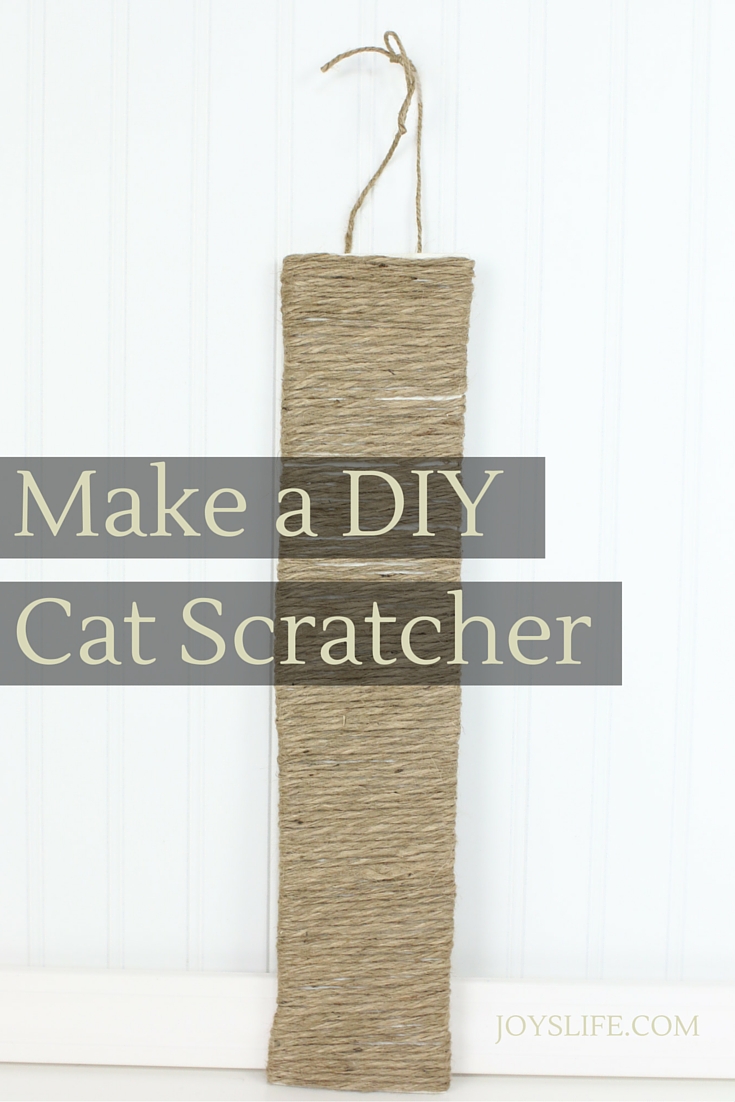 Making a DIY cat scratcher is so easy.  All you have to do is cut a piece of cardboard or foam core to a size that you like.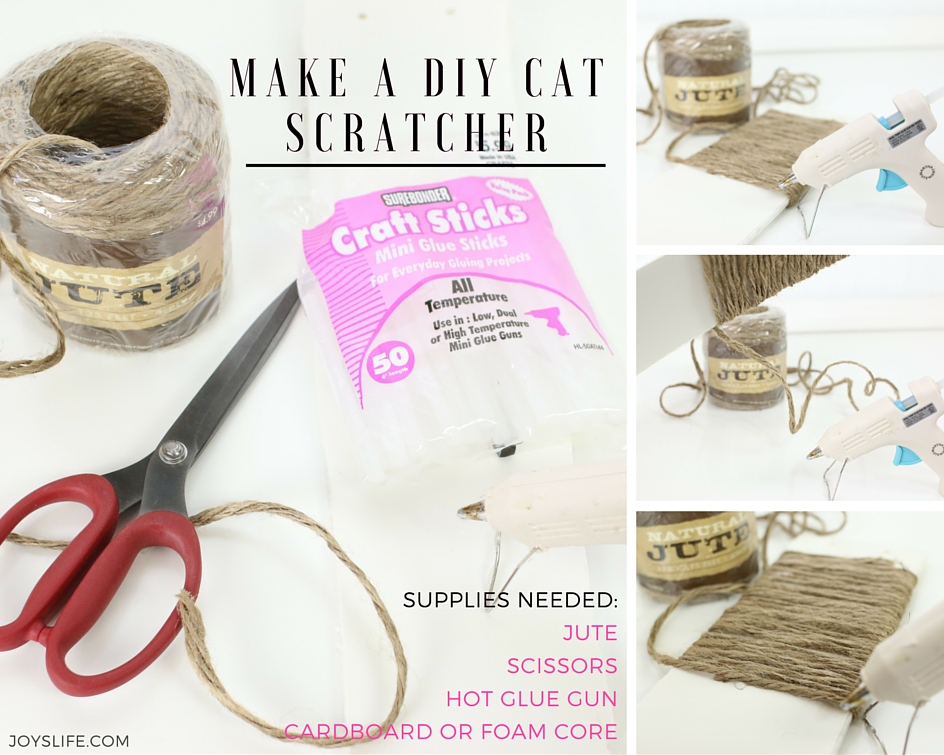 Add two holes to the top of the board and thread a piece of twine or jute through it.  Cover the cardboard or foam core with jute using hot glue to hold the jute to the backing.  Wrap and glue, wrap and glue, being careful not to burn yourself.
Once your cat scratcher is done, hang it from a door handle and watch your cat enjoy it!  This is a super affordable cat toy that you can make any size and length to meet your (and your cat's) needs.
Do you have a cat?  What kinds of toys does your cat like?