JIN
Today's card look simple but it has a secret message. I used Make-the-Cut(MTC) to cut out the Lettering Delights' Popcorn clipart (Sugar Rush) with the Cricut. The card base was made by using MTC's Shadow Layer tool. By breaking the image apart and welding the single popcorn with it's own base, I managed to stamp a secret message with Joy's Yummy Puns stamp.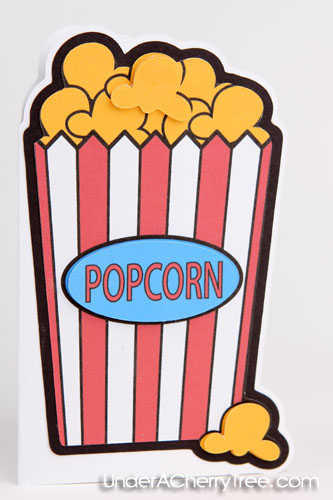 Keep the popcorn in it's place and the message is hidden. Pull the popcorn out, and the message is revealed! Simple, easy,  Super Fun! 🙂
You can visit Jin at her blog: http://www.underacherrytree.com
MELISSA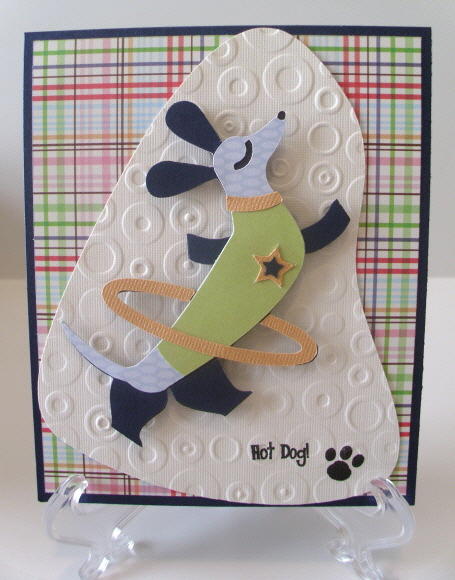 Today's card is inspired by "Hot Dog! and the paw print"  from Joy's Lots of Pun Stamps. On the Paisley cartridge, there are two cute little dogs, I chose the one with the hula hoop.The sentiment and paw fit perfectly. The card base is cut at 4.5 x 5.5, the mat is from Nifty Fifties and it is embossed with Spots and Dots by Cuttle Bug. My little dog is cut at 4.04. including all the accessories. Patterned Paper is from DCWV, blue paper is from Recollection and the rest is from my paper stash. I hope you enjoy my little dog, he's so cute to me!
Visit Melissa at her blog: http://melissa-moecreations.blogspot.com
THERESA
I used Joy's "You are Beautiful inside & out." sentiment from the Mother & Daughter stamp set.
Card is 51/2 x 4 1/4 basic white card stock, Used open stock striped background paper, M & M are cut from solid papers, PKS used for faces, Martha Stewart Punch, Ribbon $1 bin a Joann's Crafts
You can visit Theresa at her blog: http://www.thescrapbookingqueen.com
TAMMY
I made this card for my Daughter to encourage her it an endeavor she is considering, I thought it would let her know we are supporting her in her decision!  The sentiment stamp is from the Joy's Life Mother & Daughter Stamps, they stamp so clean and crisply! I love them!! With some embroidery floss, a button and a little doodling, the card was complete! The papers are all from my stash, I am trying to use up some of the huge pile of scrap paper I have amassed!
You can visit Tammy at her blog: http://tammyjennings.blogspot.com
KYLE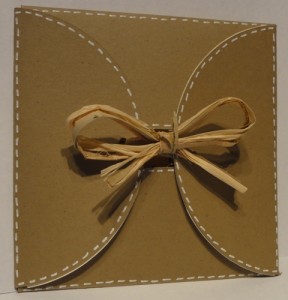 Instead of creating a traditional card, I decided to turn what looks like an envelope into a card. The "card" can be found in the Walk in my Garden Cricut cartridge.
I embellished it with a scalloped square from the Birthday Bash Cartridge and a cut chick from the simply charmed cartridge.
The sentiment is from the Joy's Life Lots of Puns stamp set, and the chicks face is from Peachy Keen Stamps. To finish off the card, I decided to do a quick stitch! Have fun crafting everyone.
You can visit Kyle at his blog: http://thegreencricut.blogspot.com
AMANDA
I created a card for this week's project.  The sentiment I used is from Joy's "All Around Sentiment Stamps" set.  To put the whole card together I used a digital image.  The pattern paper & scalloped rectangle are from the Imagine More Cards cartridge.  I did some inking, added some faux stitching, rhinestones & stickles for some bling and I finished it off with some embroidery floss.
You can visit Amanda at her blog: http://amandascraftsandmore.blogspot.com
RUTHIE
I used
Make-the-cut
and welded a shamrock to the top of the box, and then created the frame.
The shamrock tag was cut at 2 3/4″ and the sentiment is from the
All Around Sentiment stamp set
. I placed a cookie inside the box and tied the box shut with a piece of jute twine.
You can visit Ruthie at her blog: http://www.septemberninth.blogspot.com/
Thank you to all of the designers! 😀
Guess What? My friends at Cricut for Beginners are hosting a Birthday Bash Cricut cartridge giveaway to one lucky winner AND their friend!  Check out their blog post from March 4 for details on how to enter to win.  Here is the link to their post: www.cricutforbeginners.com
Don't miss my Gypsy give away!  Click here for that!