Cricut Vinyl Personalized Candle Gift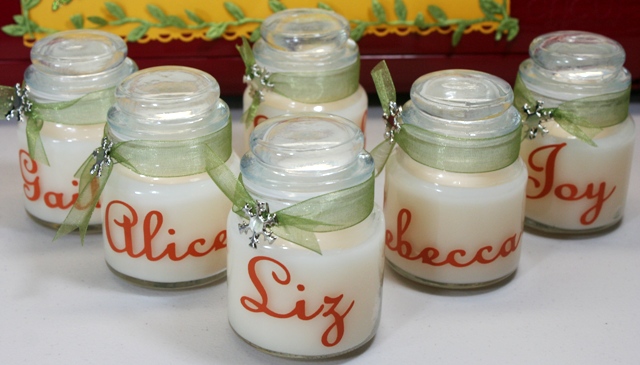 Every year DH and I host Thanksgiving at our house.  A few years ago, I started giving little gifts to all the adult women.  So sorry men.  LOL!  This year I decided to create personalized candles.
I found these great smelling little candles at WalMart for $1 EACH!!! Only $1!!! Woo hoo! When giving candles as a gift I always try to stick with very basic smells…and also smells I like (LOL)…so I give vanilla and cupcake scents. I was quick to buy these candles because of their good smell, small price AND because the tag says it's "easy peel". Guess what? They really did come off easily!
Now we have some naked candles. Time to dress them up! I used my Gypsy and the Songbird Cricut cartridge to weld and create the names.
That pretty vinyl comes from Expressions Vinyl.com. I love it!
Do you want to learn how to use vinyl with your Cricut?  Check out my Cricut Vinylology DVD.
AND NOW…We need to ribbon these babies up!
I bought that ribbon at Hobby Lobby. The snowflake brads came from Michael's. I got them last year, but they probably still sell them. (Amazon sells snowflake brads too.) All I did was tie the ribbon in a square knot and basically wrap the brad around it. Simple and Cute!
I hope the ladies like their personalized candles and I hope YOU have a Wonderful Thanksgiving!
HAPPY THANKSGIVING FRIENDS!