Cricut Art Philosophy Halloween Boo Door Hanger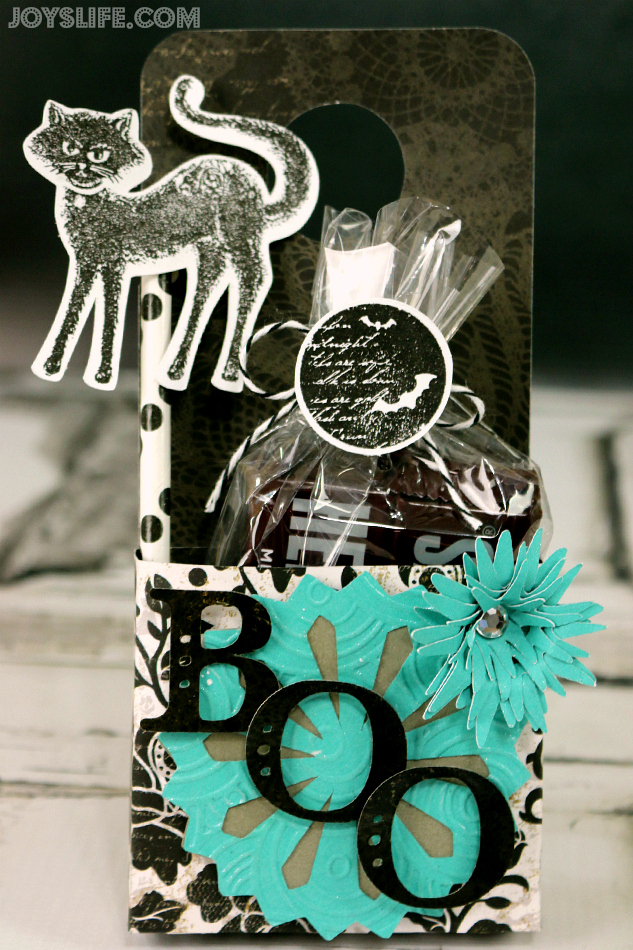 The Close to My Heart (CTMH) Cricut Art Philosophy cartridge has this super useful door hanger project that is very easy to make.  I added a few other things to mine and themed it as a candy filled "BOO" gift for Halloween but the box itself is just one cut.  YAY to that!
Everything seen here is cut from the Art Philosophy cartridge.  See, there's that one piece door hanger!
Door Hanger – pg. 25 – Cut Size = fit to cut (12×12 sheet)
BOO letters = Cut Size 1.2″
Decorative Shapes – p.61 – Cut Size 3″
Spiky Flower – p.69 – Cut Size 3.5″
That flower is easy to make and I don't like making flowers, so believe me.  LOL!  It's just one long cut.  (See the Cricut screen above.)  The hardest part is rolling it up and adhering it with a Glue Dot…and that's really not hard…usually.  LOL!
I covered the BOO letters and the decorative shapes with Versamark and heat embossed using clear embossing powder to give those pieces a shiny look.  It also made them more sturdy.  Then I used a ton of Pop Up Glue Dots to stick the shapes to the box.
After looking at the door hanger I decided it could use a little something else.  Besides the mini candy bars, I added a straw to hold a Halloween cat from the CTMH Cricut Artbooking cartridge.  I cut the cat from pg. 70 at 2-3/4″ and stamped the cat using the Eek & Shriek Holiday stamp set from CTMH.  I also cut the circle from pg. 83 at 1-1/4″ and stamped it with the moon from the same CTMH set.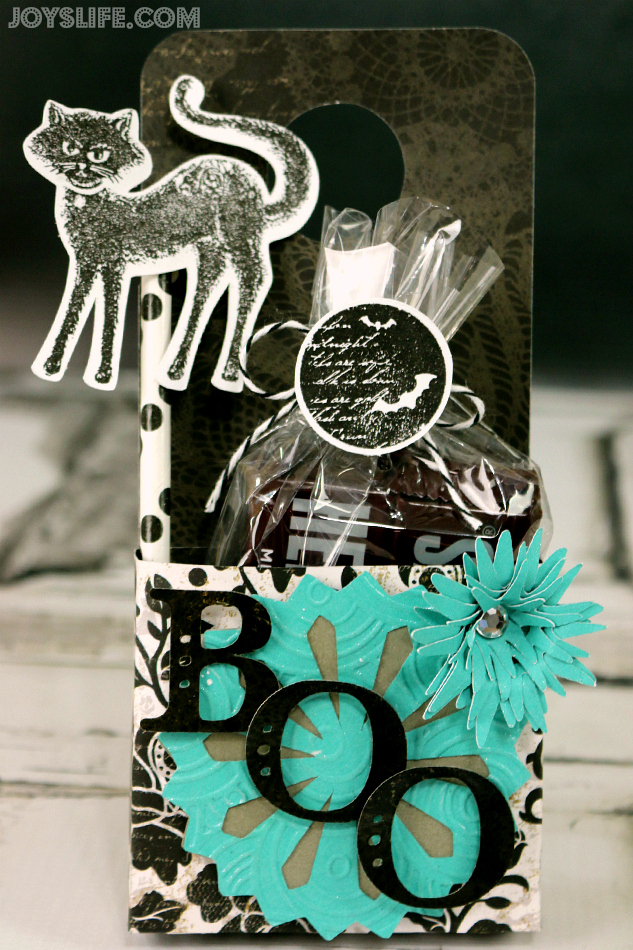 If you're going to hang this on someone's door, consider cutting at least the back of the door hanger from chipboard or cereal box.  It needs some reinforcement if you're going to put candy in it and have it hang on the doorknob.  If you're just putting something light in it, like an invitation, flier or business card it's okay without added reinforcements. 😉
Here are some other things I've made using the Cricut Art Philosophy and Cricut Artbooking cartridges.  You can find all of my Cricut posts here.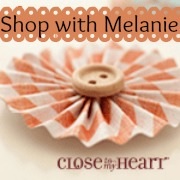 If you need Close to My Heart (CTMH) Cricut items or any CTMH items, you'll find a great seller in my friend, Melanie!