Christmas Wishes Spellbinders Card & GIVE AWAY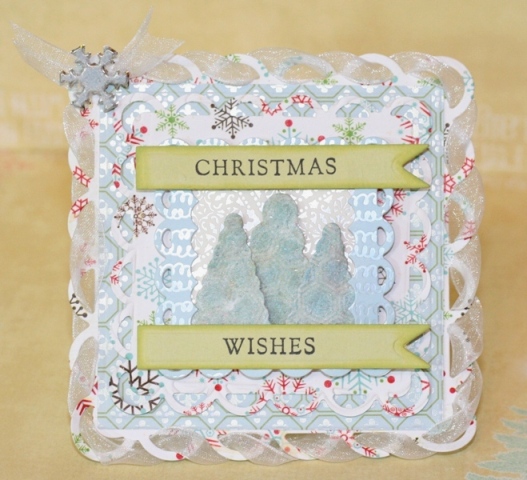 I love the way glitter looks but I hate using it. It always ends up making me look like I just stepped out of the chorus line since I usually end up with it all over me or in my eye.  Eye glitter is the worst.  Maybe I need to wear goggles when I use glitter?  Because I've yet to invest in glitter goggles, I always use Stickles instead of glitter.  (Curious about Stickles?  Here's a helpful post.)  I say all that to get to one single point…I do like Sparkly Fluff.
  It's basically flock with glitter in it.  Somehow, I don't end up covered in it and it's so soft!  I used it on the trees in the card and on that brad.  To apply it, I used something that I've never bought until recently and now LOVE: this Quickie Glue pen.
  It held the flock really well.  I was impressed!
All that flock and glitter talk and I didn't really even talk about this card.  I made it using these Spellbinder's dies: Lacey Pennants,
Large Nestabilities Squares, and Nestabilities Lacey Squares
.  I used the smaller triangles/banners as the trees.  What's cool about Spellbinder's dies is that you can also use the same die to emboss the image you cut.  You can see that a bit if you look at the part with the stamping.  I ran these dies through my Sizzix Big Shot,
a machine I truly adore.
I was working on a totally different post for today but you know what?  It took a lot longer than I anticipated!  I'll post it soon though!
And now for some more 2 Million Hits Celebrating…a GIVE AWAY!

Custom Crops.com is giving away a $25 Gift Certificate to be used in their store!  All you have to do to be eligible for a chance to win is to leave a comment on this post telling me what crafty supplies you would use to make a snowman if you had no snow.  (I'm already laughing just thinking about things to use.)
I'll use Random.org to choose a winner on Monday, December 19.
AND THE WINNER IS:
Kathleen P
Submitted on 2011/12/17 at 12:29 AM
Ivory Snowflakes!!! Remember that? Ha, ha, ha, shows how old I am!
HAVE A HAPPY DAY!