Smart Home Ideas That Give You Peace of Mind
This shop has been compensated by Collective Bias, Inc. and its advertiser Honeywell. All opinions are mine alone. #ConnectYourHome #CollectiveBias
One of the best things we've ever done for our house is to start making it smart. It might sound complicated when you hear people talking about smart home things, but it doesn't have to be. For example, it just took a few minutes to install the Lyric™ Wi-Fi Water Leak and Freeze Detector by Honeywell. It's a relief to me to know it's installed because it's going to give us peace of mind knowing that we'll get an alert when and if it detects freezing or leaks. I'm particularly concerned about that because a few years ago we had a water leak and it ruined our floors. A heads up alert about that leak would have made a ton of difference, then I would have at least had time to call a plumber, grab some towels or turn off the water!
We installed the Lyric™ Water Leak and Freeze Detector under our kitchen sink, but you can put it anywhere you have concerns. Think about places where water leaks may occur, like your water heaters, washing machine, dishwashers, toilets, sump pumps and under sinks.
That reminds me…
Last summer, when my son was in the hospital, our water heater started to leak. I walked into the garage and saw water leading from it and heading out the door. Uh, thanks so much water heater, your timing couldn't have been worse. Anyway, in the midst of all that we had going on, we had to replace the water heater. I'm glad that's not a concern now, but again, a heads up to the leak before I stepped in water on my way to the hospital, would have been nice. You know what I mean?
The Lyric™ Water Leak and Freeze Detector is a Bluetooth and Wi-Fi enabled wireless device that syncs seamlessly with the Lyric smartphone and tablet app. It will alert you when it senses potential water leaks and pending issues! I'm constantly checking my phone, and would appreciate an alert before I find it through wading in my own home or slipping through something that I might not have noticed. That's the worst way to find out about a leak. Now, I'll be notified by its early warning system whether I'm in or out of the house. It will sound a loud 100 dB siren in the house as well as issue mobile alerts. I will definitely notice that!
Setup was easy! It connects directly to Wi-Fi and does not require a hub and is battery operated. We were able to install it within minutes.
The Lyric™ Water Leak and Freeze Detector is easy to install. You can do this. You just need to put one screw where you want to hang the device. Next, attach the included four-foot water sensing cable. The cable is cool. It can be placed around objects and along floors, cracks, and other spaces and can even be extended with additional cable sensors for up to 500 feet of continuous coverage. We just have a small space here, but I have some other places I want to install them too, so extra cable sensors might come in handy in those spots.
Hang the Lyric™ Wi-Fi Water Leak and Freeze Detector on the screw. Easy. This is one of those DIY things where you're patting yourself on the back soon after you've opened the package, because you're already done. Back pat!
By the way, we actually found that we had been having a long term leak here while we were installing this. Why didn't we know about it sooner? Well, duh! We had no sensor there. LOL! All kidding aside though, we're creatures of habit. We keep dishwasher detergent there. We reach in, get it, and get out. I'm not down there doing a study or anything. Plus, I had some other junk in there that kept us from seeing problems. We did what we could for now, but we've got all kinds of needs for a plumber. In the meantime, I'm glad I'll get notified of any leaking that our little fix might not have cured.
We thought it was cool how we got information right away. It was so much more than we would have ever know by just looking under the sink. It detects conditions that can lead to freezing pipes or impending moisture issues through built-in temperature and humidity sensors. That's just not something I can know by looking, but I can look at the app!
Hey, there are some things you can do to minimize future problems. I created this checklist to help you (and me) remember to do some small things that can go a long way in maintaining a few of our large appliances.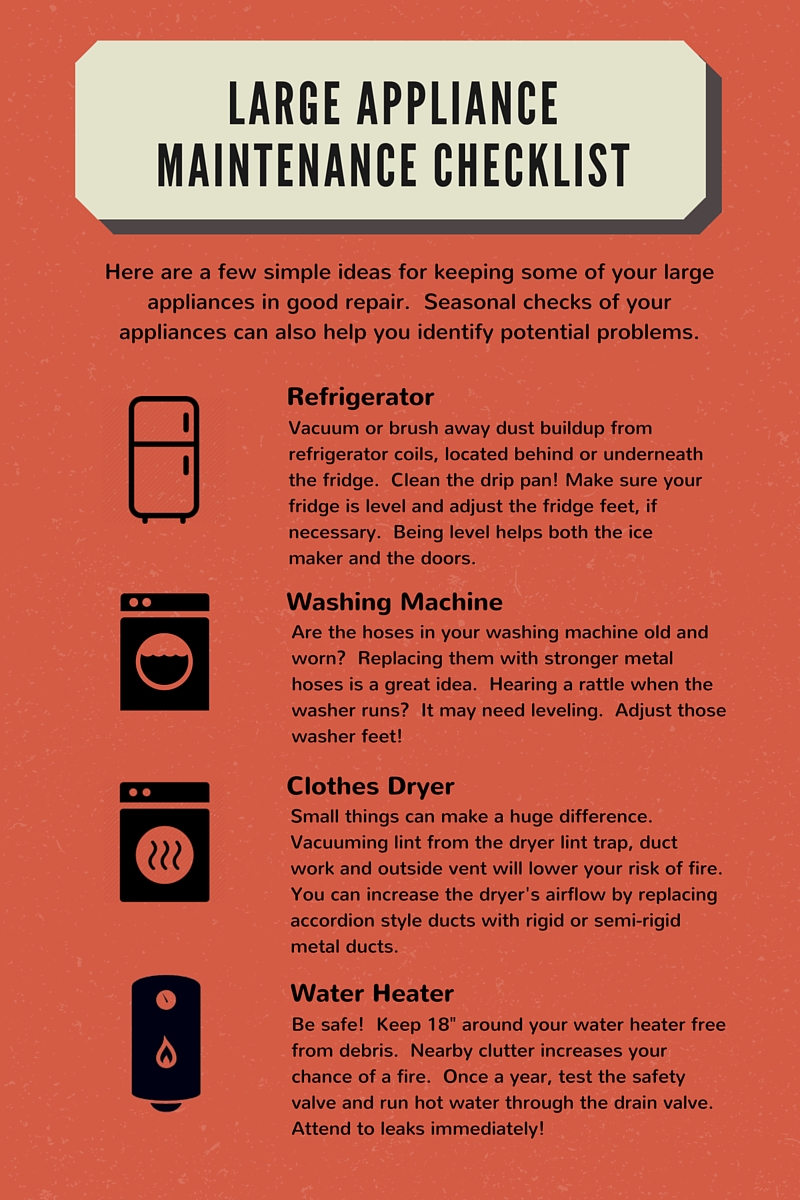 I always take care of the dryer because letting small things go with it can be very serious, very fast. That can be true of all appliances though. Sometimes your best things just wear out or fail without warning. That's what happened with our washing machine a few years ago. It had a problem and while we were in another part of the house water from it flooded the laundry room, the kitchen, and flowed under the walls and into the garage.
True. That laundry room floor was nothing to write home about to begin with, but I'd like to replace things by choosing to, not having to. The water even buckled the wood piece that separated the flooring types. Ugh. So, my husband started replacing our flooring. We'll be doing the entire downstairs, as we can get the time. Maybe before the next decade? LOL!
So, we'll be putting a Lyric™ Wi-Fi Water Leak and Freeze Detector in the laundry room too. This house is getting smart!
Lyric™ Round Wi-Fi Thermostat
Check this out! We did something else this weekend that made our house smart…and it rocks! We installed the Lyric™ Thermostat. The Lyric™ uses your smartphone location and can automatically adjust the temperature as you come and go. So, you won't be arctic cooling the house when no one is home. That's saving you money that you don't even have to think about.
Installation? Everything happens in four easy steps using the mobile app – no manual necessary. There's a Smart Cues™ feature that delivers messages to your device with alerts to change filters or with extreme temperature notifications. Plus, the Fine Tune™ feature considers both humidity and temperature so that your desired temperature always feels the same. We love that feature! It's really making the most of our HVAC unit!
Shortcut buttons on the app interface can customize quick temperature setting changes for specific purposes, allowing you to change settings with one touch. The Lyric™ is compatible with Apple® HomeKit™ and Samsung® SmartThings™ and Apple HomeKit users can also adjust settings with Siri® voice control.
We love the modern profile. It's so great to be able to easily update our previous thermostat and get such valuable information from it too. We're seriously thrilled with it! Check out this video for more information about the Lyric™ Thermostat!
You can find the Lyric™ Water Leak and Freeze Detector and Lyric™ Thermostat at Home Depot. We're big fans of these two products. They're a great start to creating a Smart Home, saving money and giving you peace of mind!