Quick Packing Tips for Travelers & a Fast Way to Fuel Up First
This is a sponsored post written by me on behalf of TruMoo Milk for IZEA. All opinions are 100% mine.
Well, I said I was doing it and I am.  I just booked another trip to Savannah, GA and I leave tomorrow.  I'm so thrilled!  So, now I need to pack again.  Don't you wish you could just zoom out the door and be on your way as fast as you were able to book your trip?  Packing is the worst!  It takes so much time, right?  Well, at least this trip we will be driving, but soon, I'm on a plane again.  Wherever you're going, here are a few helpful tips that take some of the pain out of packing!
Tip One: Make a list, Check It…Well, You Know
Putting off packing (which I do because I hate it so much) will only slow you down more.  Not only that, but it can cost you money due to forgetting things you need or paying baggage fees for excess weight!  Make a list about a week before you leave so you can buy items you might need.  Don't forget to include medications, those comfy shoes and other trip specific items.
Tip Two: Roll Your Clothes
Seasoned travelers swear that rolling clothes is better than folding.  Fold clothes in half and then roll them up.  They take up less space and get fewer wrinkles.  I'll be honest, I just haven't embraced the roll yet.  I'll get there.
Tip Three: Be Aware of Baggage Policies
Check your airlines for their baggage fees.  Those fees vary!  Measure your carry on before you leave home and then again at the airport.  It's best to know up front if you're going to have to check that bag.  If you find out at home, you still have time to rethink that packing job.
Tip Four: Bigger is Better, Personally
Ladies, when it comes to the personal item allowance, don't waste it with a tiny purse.  If you carry a tiny purse, put it inside a larger bag, if you need the packing space.  It's perfect for returning with gifts (for yourself or others). Once again, check to see what you're allowed with your airline and measure, measure, measure!  This goes for laptop bags and backpacks too.  Once again, airline charges vary, so verify those rules and charges!
Tip Five: Seriously, You Don't Need It…Unless You Do
Tons of clothes.  You feel like you need them all but if you've got access to laundry services where you're staying, that's a way to go too.  Choose clothes that can be mixed and matched for a variety of looks, rather than over packing.
Lastly, never check the things you really can't lose, like passports, IDs and medicines.  That bag can get lost (or worse) and you'll be without the things that you can't buy or replace as fast as a toothbrush or an outfit.
If you're traveling by car…I say just chuck it all into the trunk and take off.  Just kidding!  These rules work for that too but when you drive you can break a lot of them!
Excuse the grainy photo but I had to show a recent trip of rampant over packing.  My poor kid.  These are the trials that make you stronger.  LOL!
Speaking of this kid, he is the TruMoo"est" person ever.  He LOVES it!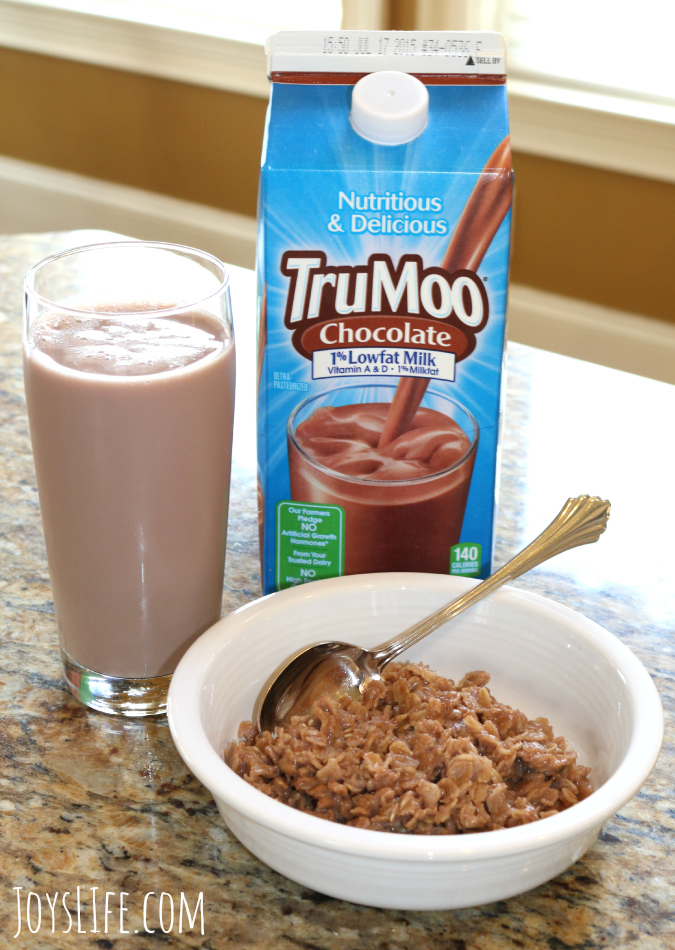 I made this TruMoo oatmeal as a way to fuel up before we left for a trip.  It was a hit!  Now he regularly requests it.
TruMoo Oatmeal
Fuel up with this yummy oatmeal, staring TruMoo chocolate milk! (Adapted from Quaker Oats recipe)
Print Recipe
Share by Email
Share on Facebook
Share on Twitter
Pin Recipe
Ingredients
1

cup

old fashioned oatmeal

3/4

cup

TruMoo Chocolate Milk

1/8

tsp.

salt

optional
Instructions
Boil TruMoo and salt (if desired) in a pot on the stove top.

Stir in oats.

Cook for about 5 minutes over medium heat, stir occasionally.
You know why I like giving it to him? TruMoo has NO artificial growth hormones, NO high fructose corn syrup and is fresh from a trusted dairy in my (and your) area. I love that!
Try replacing TruMoo milk for boring old water the next time you make oatmeal.  It's a great change, plus just one 8-ounce serving of TruMoo provides as much calcium as 5 cups of broccoli, as much potassium as a small banana, as much vitamin A as 2 baby carrots and as much vitamin D as 3.5 ounces of cooked salmon.  Plus, it's super good!
For product information and availability, visit TruMoo online.
Find TruMoo Recipe inspiration on Pinterest.
Join the TruMoo community on Facebook.
Happy travels my friends!