Easy Puff Pastry Pizza Sticks with Crystal Farms Cheese
This is a sponsored post written by me on behalf of Crystal Farms Cheese. All opinions are 100% mine.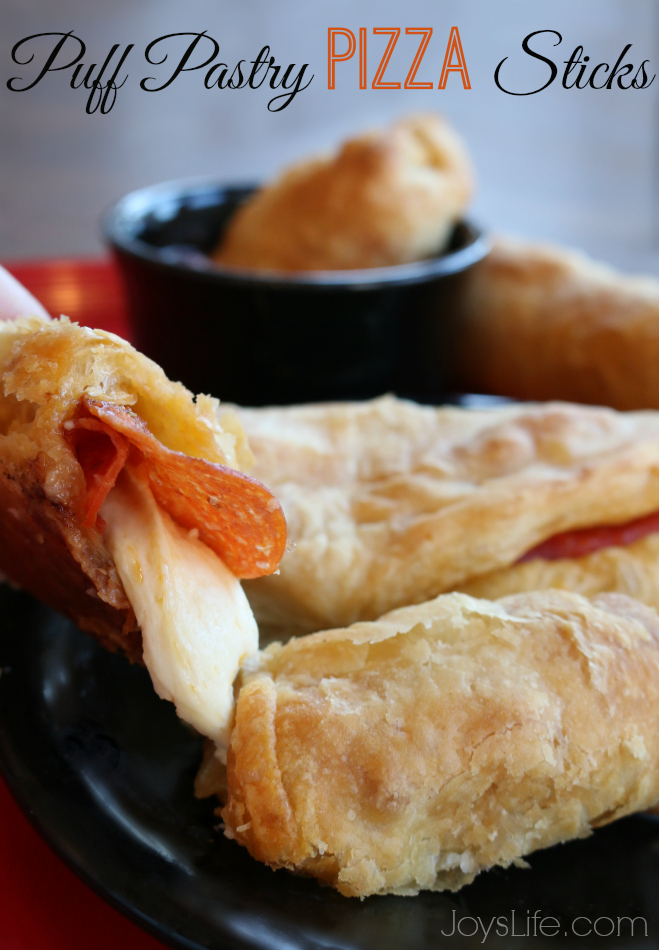 I felt like a genius when I came up with this Puff Pastry Pizza Stick recipe because it served two needs for me: #1 to feed my hungry teenage sons a quick snack and #2 it became another great appetizer that I can take to the football party I'm going to this weekend.  When the boys devoured my test run of these and declared them amazing and awesome, I knew I had a winner!
I'm using Crystal Farms Cheese sticks.  If you're not familiar with Crystal Farms, you'll be glad to know that they have been around since 1926 and are one of the largest cheese brands in the country. Lake Mills, Wisconsin has been home to Crystal Farms for the past 25 years.  Their products are a rich source of calcium and are gluten-free and lactose tolerant.  You can find them in the refrigerated dairy section.  Here you'll find more Crystal Farms Favorites.
This is such a simple but delicious snack.  It's perfect finger food!  You just need three things: Crystal Farms Cheese Sticks, pepperoni and puff pastry.  If you want to dip the finished pizza sticks into sauce, then you'll need that too.  I prefer a spaghetti sauce but certainly marinara is a good choice too…or a cheese dip!  Just sayin'.  Cheese = yum.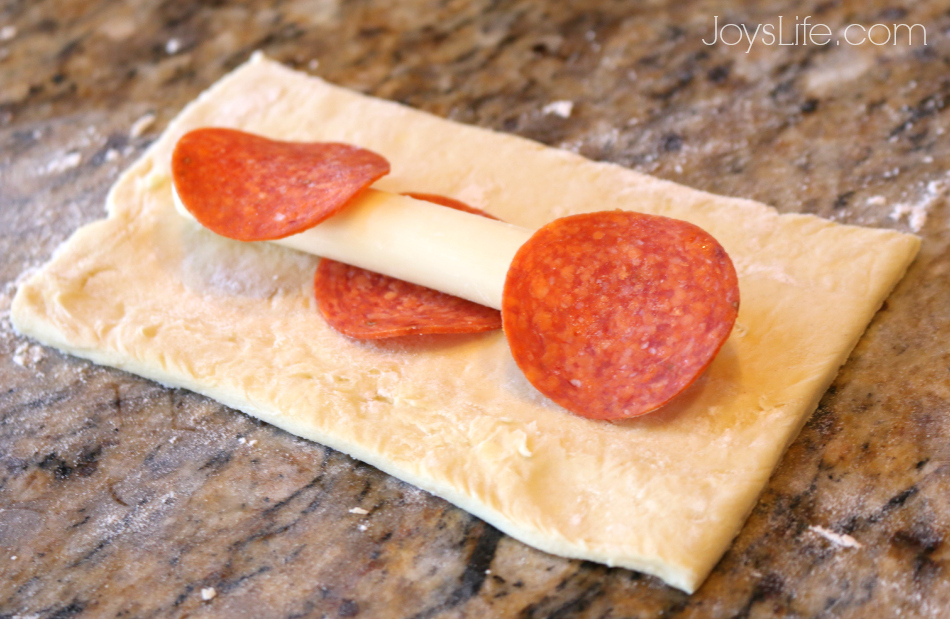 Thaw frozen puff pastry according to box directions.  I let mine sit out for 40 minutes after I took it out of the freezer.  When it was thawed but still cold, I unfolded it and then proceeded to make this barbell looking design with pepperoni and cheese until I struck a good balance.
Puff Pastry Pepperoni Pizza Sticks
Pizza in puff pastry! Great for parties!
Print Recipe
Share by Email
Share on Facebook
Share on Twitter
Pin Recipe
Ingredients
1

sheet

8 or 9 oz Frozen Puff Pastry, thawed

Pepperoni Slices

Crystal Farms® String Cheese

Optional: Spaghetti Sauce or Marinara for Dipping
Instructions
Thaw frozen puff pastry according to box directions, approximately 40 minutes.

Unfold thawed puff pastry.

Add cheese stick and pepperoni.

Roll into a stick shape and fold ends.

Bake at 400 degrees for 16-18 minutes or until golden brown.

Serve.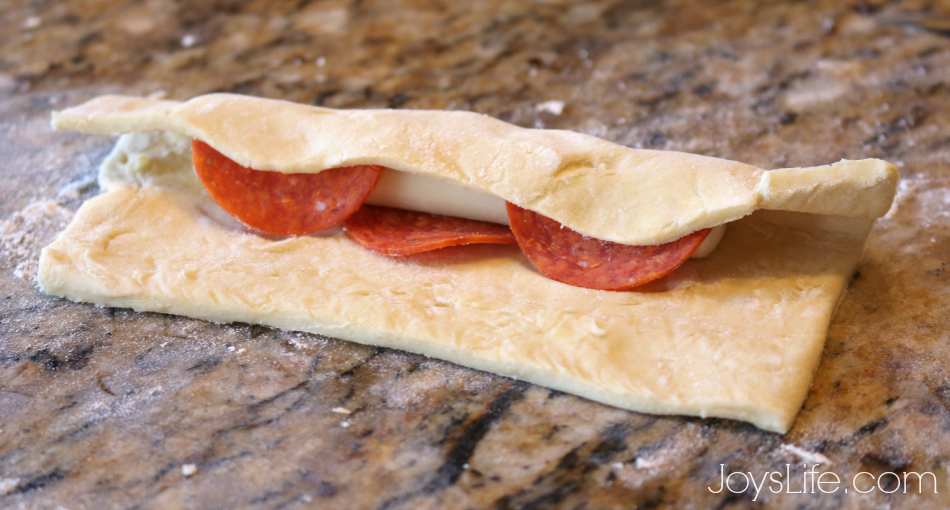 I rolled up my cheese barbell and folded the ends.  Some of my finished cheese stick and pepperoni rolls had longer ends than I wanted, so I just cut those ends off.  You can use a knife to cut the puff pastry or a pizza roller.  I couldn't find my pizza roller because my oldest son who did last night's dishes has hidden it somewhere in the kitchen.  Well, I know he thought he put it away in a logical spot, which should be the drawer where we always keep it but it's not there.  Kitchen struggles.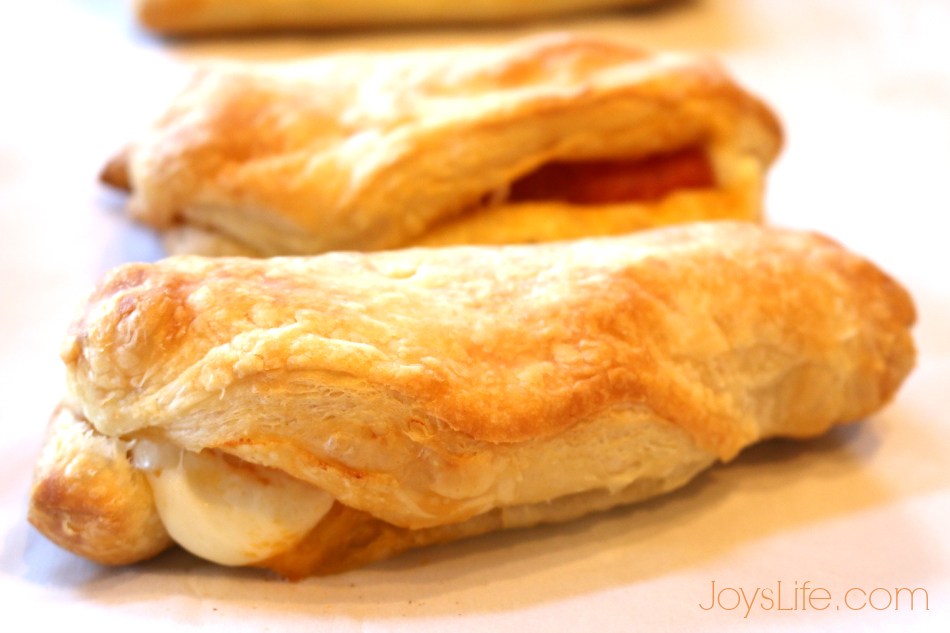 After 16-18 minutes baking at 400 degrees they're ready!  Aren't they pretty?  They taste really good too!  I should know.
Nom. Nom. Nom. Nom.  I'll be making more of these in the next few days.  I can't wait to share them with my friends!
Follow Crystal Farms on Pinterest