Longarm Quilting Fleece Fabric with Batting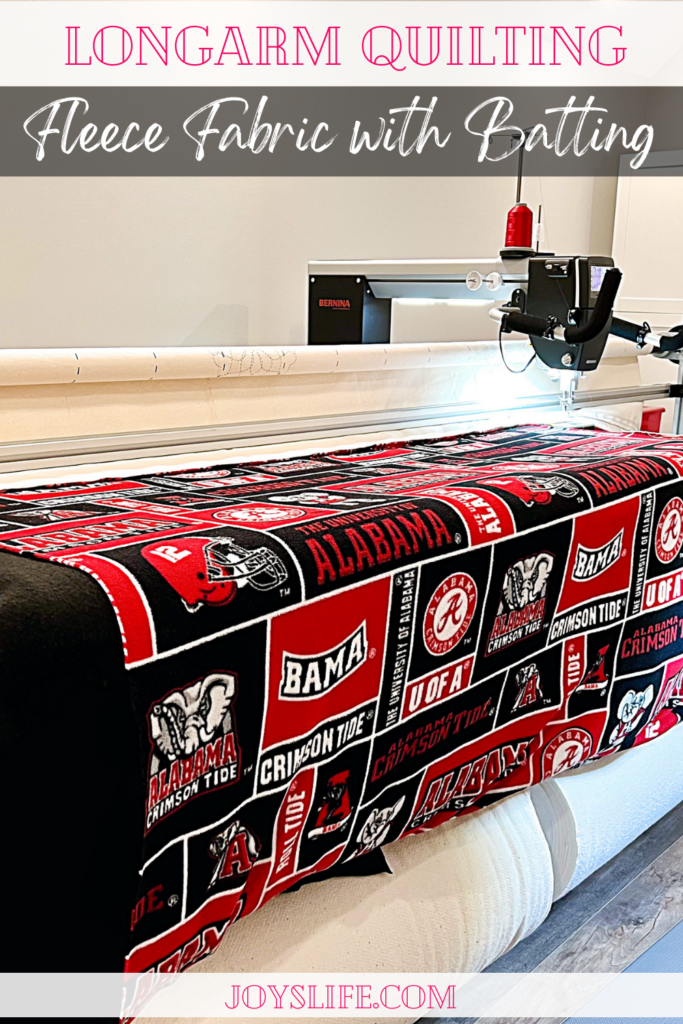 If you are thinking about longarm quilting fleece fabric with batting, you're my people. You like to be WARM! When I was getting started with quilting I wanted to make a warm, heavy quilt, but it seemed like everyone was always saying, don't use this or that…this will be too hot, too heavy, too something. I'm here to tell you…make that quilt that you have in your head! It made me so happy to make it and my son was thrilled to receive it!
This Quilt has a Story
I believe that every quilt has a story, but when you just longarm two pieces of purchased fleece and some batting together, how much of a story can there be? Well, I bought that Alabama fleece fabric many years ago with the idea and story to my son that I would make him a quilt. He was thrilled! The only problem was, I had no idea how to make a quilt and I didn't want to make a fleece tied blanket. My son loved the fleece and ended up taking the Alabama football piece of fleece and sleeping with it as it was, which, as a maker is a little embarrassing, but was also kind of sweet.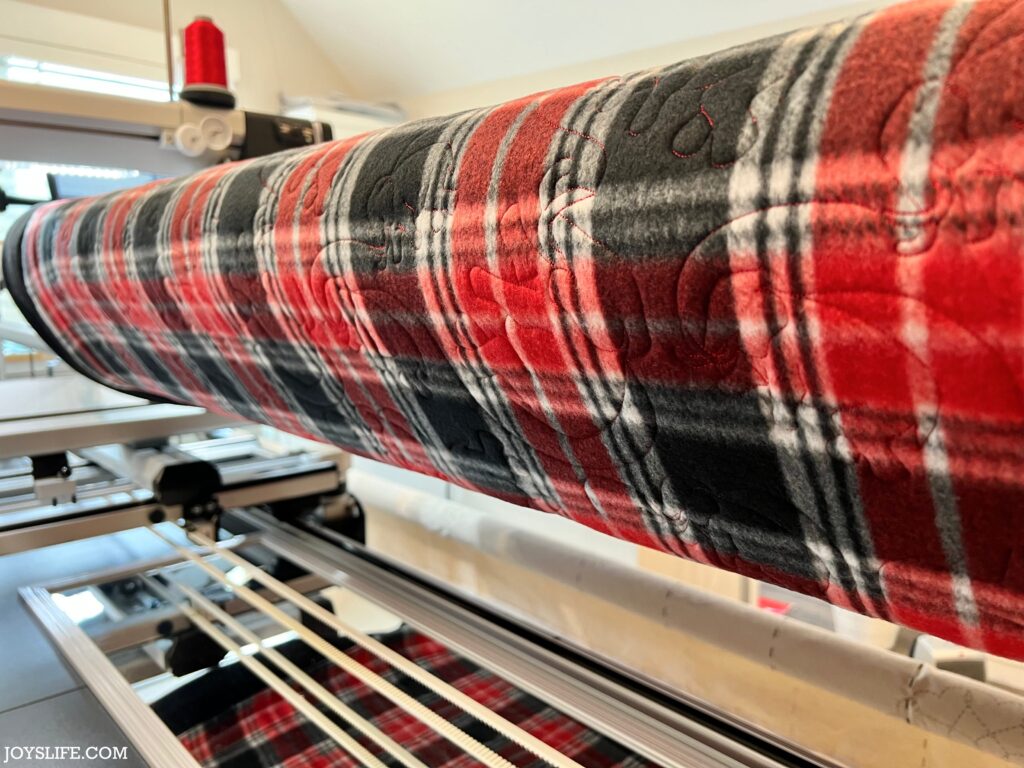 So, years passed and I learned to quilt. Not only that, but I actually bought a longarm, meaning I could finally make that basic fleece exactly what he wanted and what I had initially envisioned. Which was WARM and QUILTED.
Adding Batting Between the Fleece Fabric
After loading the plaid fleece backing, I chose Quilters Dream Poly in black for my batting. Since the fleece is also polyester, this was a perfect match. It will wash the same way, and will add the extra warmth I was looking for. I chose black instead of white, due to the overall darkness of the fleece.
Next, I Steamed those Wrinkles Out
If you are longarming your own fleece quilt, consider steaming the folded batting prior to quilting it. I did (after I took this picture). I use the Laurastar Lift steamer. It's expensive, but it's fantastic. I also added the steam cart rolling base to it. You don't have to steam the batting, but I try not to ever have wrinkles and that really helps.
Finally, the Pantograph! (or Edge to Edge design)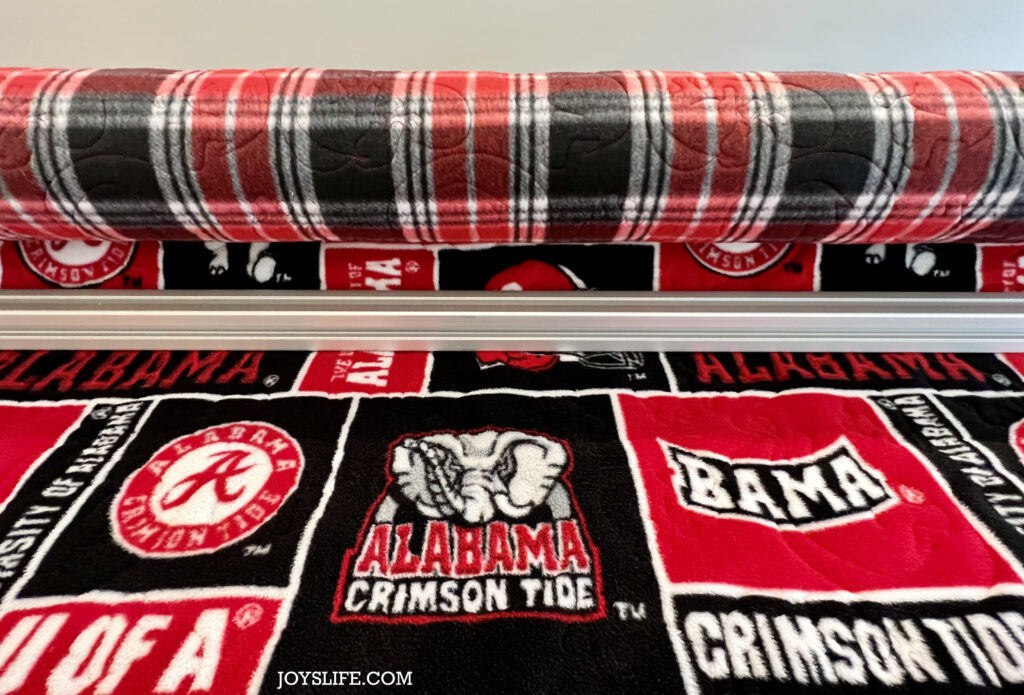 My FAVORITE thing about owning a longarm is that when I quilt for myself, (I can quilt for you too, just ask!), I can chose any design. FINALLY! I've always wanted to be able to pick the perfect pantograph, not just a design from a small selection, that's why I'm always adding new designs! Anyway, I chose Elephant Parade E2E (Edge to Edge) for this. It made all the sense in the world, because an elephant is the Alabama Crimson Tide football mascot, and our family has been Alabama fans since birth.
Although I really like the Elephant Parade E2E design, it does have some backtracking or overstitching that made a few of the stitched areas heavier, but that didn't bother me. I just mention it, in case you're thinking of using it. I used Glide Thread in Cardinal.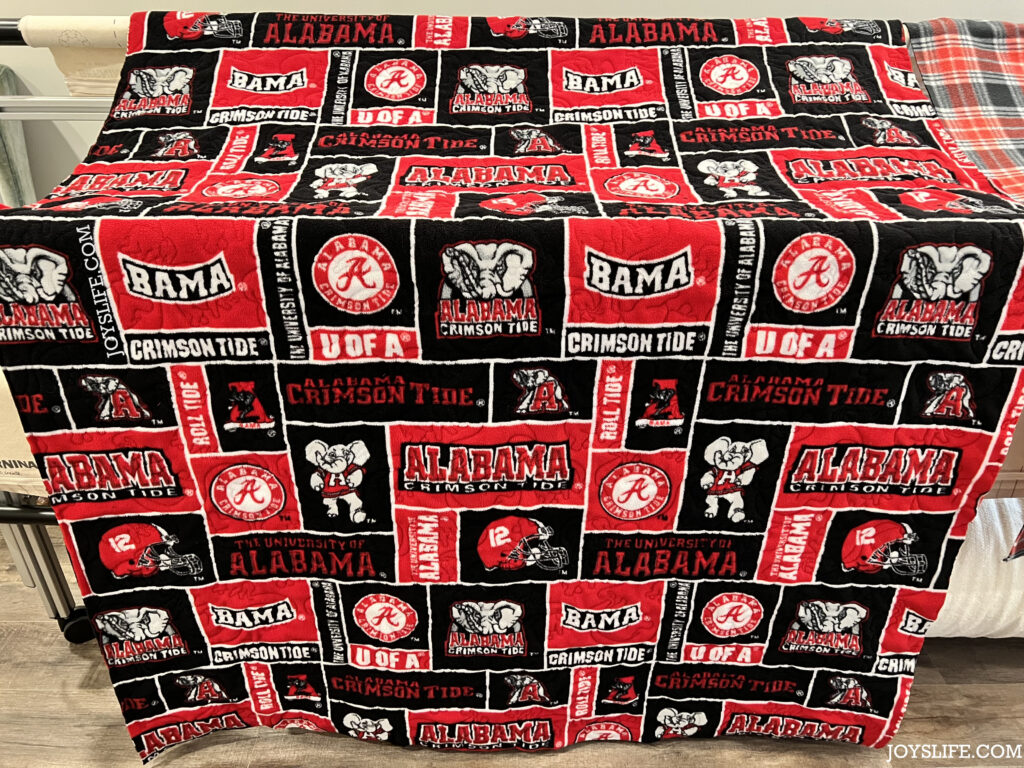 There is the quilt after I finished quilting it on my longarm. To the right is the leftover fabric that I will use for binding. The longarm that I am using is the Bernina Q24 with Qmatic on the largest Pro frame.
Binding a Fleece Quilt
You can bind a fleece quilt with fleece, but you'll appreciate a walking foot for that. I used leftover fleece for my binding and loved the final result. It was a bit of a challenge at the corners, because there is so much bulk.
I used a Bernina B480 for this, but I now have a Bernina 770 QE Plus. The 770 has a Dual Feed ability which would have been great when I was making this, because it helps feed layers of fabric though evenly, even when you have bulky things like three layers of fleece. To be fair, the B480 made it happen! That's a great little machine!
So, what about the front stitches?
Oh, the front stitches are definitely there, but are harder to see from a distance due to the busy print and the loft. The back shows better in the photos. You can see them a little better in front in person and feel them too, of course.
Gift Giving Presentation is Easy!
It's so easy to prepare a fleece quilt for gift giving. Simply roll it up and tie a bow or knot with leftover fleece! For my bow, I sewed one long piece of fleece with right sides together into a tube. I turned the tube right sides out and ta da! Ready to give! I gave it for Christmas and just put it in a decorated plastic bag.
Is Quilting Polar Fleece worth the longarming cost?
Great question! To me, yes, because I own a longarm. However, quilting costs the same whether the stitches are obvious or obscured by the loft. I think it makes the most sense if you are adding a batting for warmth, because those layers are best when all quilted together. That being said, you could make a fleece tied blanket and do some simple stitching to keep batting in place, or of course, leave batting out all together. You can also quilt fleece without a batting, I just added one for warmth and weight.
Reasons to Quilt Fleece
Quilting polar fleece makes a lovely gift and can be a little more unique with the design chosen and the edges bound. For example, it's a perfect college sports team gift, making it all the more special with a matching team mascot design.
It saves a ton of time, since you don't have to piece anything!
If the recipient of the quilt likes a good tactile experience, quilting gives that.
You just want to!
Regardless of how you decide to finish your fleece, as a quilt or blanket, I'm sure it will be appreciated. My son was so touched and surprised when I gave him the finished quilt that I had promised so many years ago. Yes, the bow is on his head.
He's under the quilt. LOL!
Go on and Make That Quilt that you have in your head! If you need it longarmed, I'm happy to do that for you!