Family Night Halloween Lights + ANNOUNCEMENT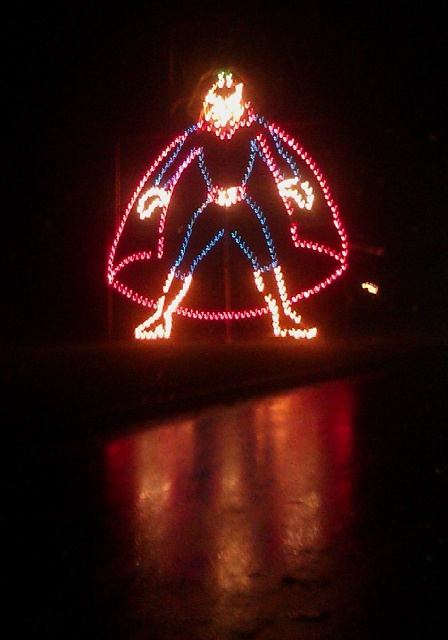 It's SuperJoy!!  (Really it's the Headless Horseman.)
Sometimes SuperJoy has to leave the SuperLair.  Last night DH, the kids and I all put on our super capes and climbed into the SuperJoy mobile.  ZOOM!! WHIZZ!!  We blasted off down the street to the light show at the lake to regions unknown.  Now, I know this isn't exactly a crafty post, but it IS Fall/Halloween based.  Also…in lieu of a specific craft I'd like to say that I worked on something else crafty that we can all use!  THREE SETS OF STAMPS!!  I'll be able to show you photos later today or tomorrow. 😀  So…that's all the crafty I had time for today. 😉  I hope you understand.
And now to distract dazzle you with photos! 😀
My favorite lights!!  "Bark at the Moon".
I'll get you my pretty!!  And your little craft supplies too.  (Ok, that was too evil.)
CREEPY GHOST TUNNEL…wooo whoooo WHOOOO!!!!
SPIDER BRIDGE WHERE ARE YOU COMING FROM NOBODY KNOWS WHO YOU ARE…
You know you're supposed to sing that to the original Spiderman song, right?  Ok…moving on.
Well, we had a really nice time eating some candy corn and enjoying a break from the rain that poured all day.  Best of all, I got to spend time with my SuperFamily and that's what makes me really happy.  I hope you have a chance to make some fun fall memories with your friends and family.  Now it's time for me to get crafty again!  I can't wait to show you the stamps!!
~~GIVE AWAYS~~
Cri-Kits Give Away: Don't forget to leave a comment on yesterday's post to be eligible for a wonderful Cri-Kits give away!
These 2 Give Aways end Saturday! Check out the awesome give away by Expressions Vinyl.  Leave a comment on that post by clicking HERE for a chance to win!  Also,  leave a comment on this previous post for a chance to win some awesome Tim Holtz Tonic scissors donated by me. 🙂

At the end of October, I will pick 5 winners who've left a comment on any non-give away post on Joy's Life during the month of October. Those 5 winners will win some crafty surprises. So, you can leave a comment on all the give away posts AND on non Give Away posts and still have a chance to win!
I hope your day ROCKS!