Don't Say I Told You So – Roll In To the Spring Event by Cooper Tires
This is a sponsored post written by me on behalf of Cooper Tires. All opinions are 100% mine.

One thing you never want to be able to say,"I told you so" about is tires.  Right?  Of course because tires are about keeping your family safe!  Plus, there's the whole aspect of increased performance for your vehicle, better gas mileage, improved traction and a better driving experience and more.  Well, I have an "I told you so" moment.  Here's what happened.  Last week, my husband and I took our sons to Gatlinburg, Tennessee to spend Spring break in the Smoky Mountains.  We had a great time!  Before we left for the trip, I told my husband that I thought I should go get new tires for my car.  He said they were fine and we skipped getting tires.  Truth be told they looked pretty good and all of their pressure was good too.  So, we took off.
We made it to the house we'd rented just fine and we drove around the small town without any trouble.
After a week of fun, it was time to drive down and out of the mountain range to head home.  That's when some of that Spring rain started.  By the end of that ride, my husband was saying I needed new tires.  Um, I told you so.
Luckily, the Cooper Tire Spring Event is going on now through April 15 and consumers are eligible to receive a prepaid Visa card worth up to $70 when purchasing a new set of four qualifying Cooper Tires through participating dealers.  Nice!  I'm thrilled to get money back on something I need to buy.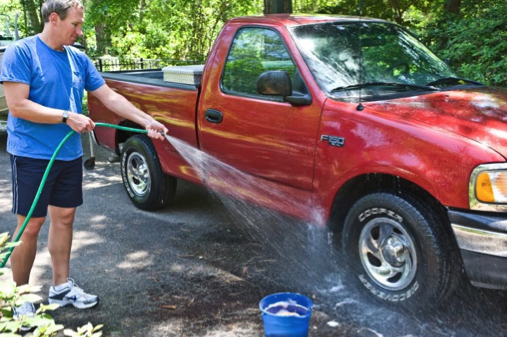 I drive an SUV, so I'm happy to learn that the Discoverer SRX is a dedicated SUV and CUV tire that is available in 30 sizes. The Discoverer SRX tires fits a wide selection of SUVs and CUVs.
If I'd rolled into spring with great offers on Cooper Tires before we left, my mind would have been at ease about my whole tire situation.  No more guessing!  Why?  Because the Discoverer SRX features Cooper's innovative Wear Square, the company's exclusive visual tread life indicator.
My husband wouldn't have had to give me his visual "best guess" of my tire's tread because there's a Wear Square located at six points of reference around the inside and outside of the tread. Throughout the tire's lifetime, the square changes shape beginning with a full square and ending with an exclamation mark when tire tread is low, allowing consumers to quickly and easily assess the approximate tread remaining on the tires.
The Wear Square can also signal uneven tire wear and possible wheel alignment issues.
The Discoverer SRX offers a premium 65,000-mile Tread Wear Protection Warranty and a 45-Day Road Test guarantee ensure a confident choice and smooth ride for SUV and CUV drivers, if you aren't satisfied with your Discoverer SRX tire purchase you may return them to your original dealer within 45 days of purchase for a FREE OF CHARGE Cooper brand replacement only, including mounting and balancing.
So, don't say, "I told you so".  Just roll in to the Spring Event by Cooper Tires!
You can find them near you using this Dealer Locator.