Cricut Joys of the Season Tag 12 Days of Christmas DAY ONE GIVE AWAY
Created with Cri-Kits gel pens & Stickles
Isn't that a pretty tag? I'm putting it on one of my daughter's gifts…if I can't finagle a way to get it on one of mine, LOL! I used the Cri-Kits gel pens to help me make a colored outline on Stampin' Up white vellum cardstock.
I used my Gypsy to help me hide and unhide different pieces of this image which is from the Joys of the Season Cricut cartridge.  With the red berries hidden, I used a green Cri-Kits gel pen to draw the leaves.  Next, I hid the leaves and showed the berries.  I then replaced the green Cri-Kits gel pen with the red one to draw the red berries.  After I was finished drawing, I replaced the gel pens with the Cricut blade.  I then cut only the outside of the ornament.  Ta Da!!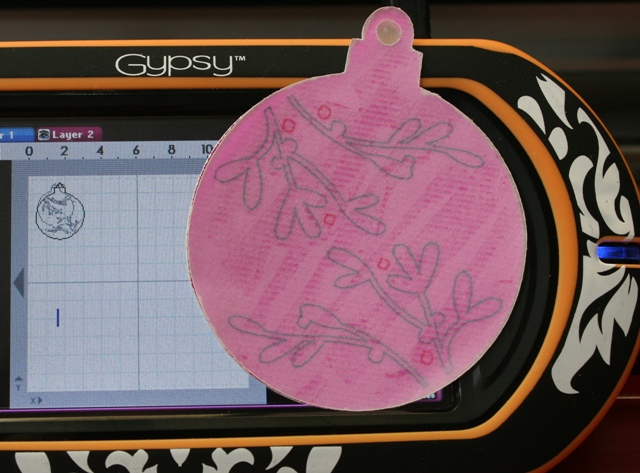 I used a vellum adhesive to attach the vellum to some textured foil paper.  The vellum adhesive I used didn't do a good job of hiding the glue.  Oh well, next time I'll use something else. 😉  I thought it would be pretty to use some Stickles glitter glue to fill in the lines I created with the Cri-Kits gel pens.  This is just another way the pens can be used.
I love that the Cri-kits gel pens can create pictures, words AND also create a color coded template for me to follow.  COOL!
Here are the things I used to create this tag.  Not shown are my Gypsy, Cricut, American Crafts foil cardstock and vellum cardstock.
On the 1st Day of Christmas Cri-Kits Gave To One Winner….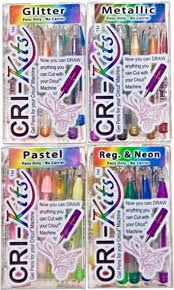 Cri-Kits has donated a GREAT prize of all four packs of Cri-Kits gel pens + 2 gel Swirl Pens AND a Cri-Kits holder to one lucky winner! To be eligible to win please leave a comment on this post.  The winner will be chosen by Random.org on December 13.