Vanilla Pound Cake & Keepin It Real
How gorgeous is that photo?  Other than adding the text to it, it's completely untouched.  I love how pretty food can turn out just shot in natural light in my kitchen.  I should have changed lenses though, since the cut area is a bit blurry.  Whatever.  This is Saturday and I'm just kicking around the house.  I'm worried about my son who isn't feeling well…he's the one who had a spontaneous lung collapse in July.  (I talked about it on Facebook and a little here.)  So…I don't want to leave the house but I also don't won't to hover over him and drive him crazy.  It's so hard.  So, I made a pound cake.  Two actually.
Here's the kitchen today.  I'm watching Buffy the Vampire Slayer (tv series) as usual.  I'm a huge, huge fan.  I watch it like it never went off the air.  I'm puttering around wearing my Crocs because my feet hurt when I stand in here for a long time.  I don't anticipate that changing with the tile we're soon adding (if we don't screw up our trial run in the laundry room), so I embrace the Crocs.  I still have these and I just bought a new pair in hot pink.  They're actually two toned with a purple bottom.  I won't leave the house in them since once I did and a man said I had on clown shoes and I agreed.  LOL!
In keeping with the reality of things, I thought I'd share how my kitchen table often looks.  Yep.  This is what happens when the laundry room is off the kitchen.  Well, maybe not in your house, but in mine.  Besides laundry on the table, there are also some notebooks, bags of vegetables, fruit that we got yesterday and a cat.  The cat's in the chair.  I love it when the laundry is all put away where it belongs but that day is not today.  I say this because often the pictures I take make the kitchen look perfect.  It's definitely not always like that.
The one thing that is perfect today is the way I prepared this recipe.  I actually SIFTED flour (SHOCKER!) and I let the eggs become room temp (as suggested) and I even let my butter get room temp without boiling the heck out of it in the microwave (my usual way).
I think it made a tangible difference to this batter.  It's light and fluffy.  Well, lighter and fluffier than my usually batters.  I also beat it for as long as it suggested, not my usual "it looks fine to me" amount of time.  LOL!  By the way, I love this mixer.  I bought it from Amazon back in 2005 and use it all the time.  Last year, I noticed that the flat beater had gotten some chips in it, which I ignored until more chips of it were missing and I started to wonder if I'd inadvertently served them to someone in a cookie or something.  Um, yuck.  Anyway, you can buy new ones and they don't cost that much, so don't eat your beaters like I did!  I bought this one with the scraper on the side and it's my favorite!  I also bought the replacement for the broken one but I don't use it as much as the scraper one.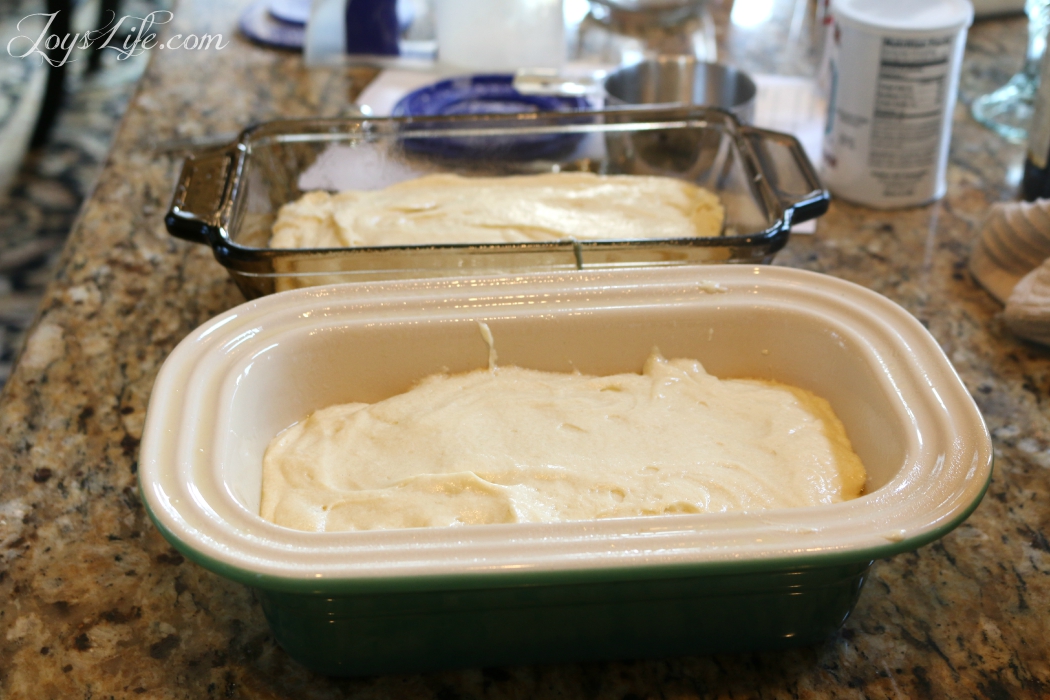 This recipe called for using a tube pan, a bundt works too, but I wanted straight squarish pieces, so I used two loaf pans at the same degree and amount of time.  I have Le Crueset loaf pans, like the one in the front, and they are nice, but my favorite loaf pan is that glass one in the back.  I wish I had another one just like it.  I've had it for about 20 years.  Sigh.  I hope nothing ever happens to it!
I actually waited the full 15 minutes that it said to wait before dumping out my cake!  (Another rare moment for me.)  The one in front is the one I emptied out.  The one my husband is dumping out is the one we're eating today.  'Cause…well…
It just seemed right.  LOL!  It sacrificed itself.
…but that didn't effect the taste.  Obviously.
Ok.  About the flavor.  It's mild.  It's a pound cake.  It's a great base for something more…which I will make and share later…using these peaches.  You know, the ones that are surrounded by laundry.  LOL!  (UPDATE: Here's what I made with the peaches & pound cake!)
Here's the recipe I used:
Vanilla Pound Cake
Vanilla Pound Cake By MizzNezz on March 02, 2003 from Food.com. http://www.food.com/recipe/vanilla-pound-cake-55407
Print Recipe
Share by Email
Share on Facebook
Share on Twitter
Pin Recipe
Ingredients
2

cups

sugar

1

cup

butter

softened

5

eggs

2

teaspoons

vanilla

3

cups

flour

1

teaspoon

baking powder

1

cup

milk
Instructions
Heat oven to 350° F.

Mix sugar, butter, eggs and vanilla in large bowl.

Beat on low to mix ingredients well.

Beat on high for 5 minutes.

On low, add flour and baking powder alternately with milk.

Beat well after each addition.

Spoon batter into greased and floured 10 inch tube pan.

Bake for 65-75 minutes, until a pick comes out clean.

Cool for 15 minutes; invert onto cake plate.
Check back later this week for another recipe that uses this pound cake.  Plus, I might even clean up the kitchen!  I'll still be wearing Crocs and watching Buffy the Vampire Slayer though.  Some things never change.