Take It Easy Candy Mason Jar with SEI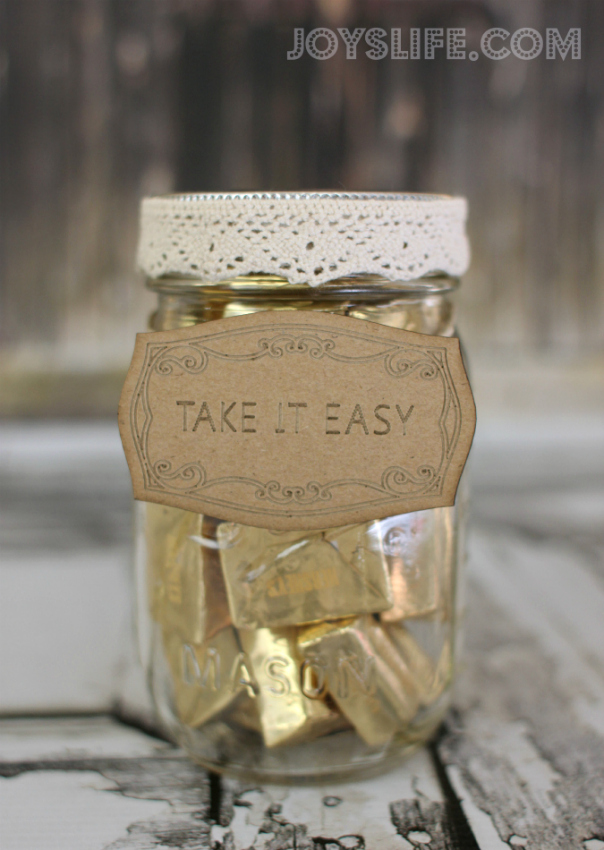 When you need a simple gift mason jars are perfect.  You can add just about anything to them and they look thoughtful and well planned.  Today I'm using Hershey's Nuggets as the filler.  I love the way the gold looks in the jar, don't you?
I used SEI's fauxbois gold and woodgrain paper to give the top a rustic look.  (I used it here in a frame.)
To make an insert, trace the lid on the back of the paper and cut it out.
I'm using the "Take It Easy" sign from SEI's Pembroke Kraft Chips and tying it onto the jar with twine from Pembroke Twill & Twine pack.  I wrapped the twill ribbon around the edge of the lid.  Ahhh…so lovely!
Quick, simple and all ready for gift giving.  YAY!  Do you like to use Mason jars?  How do you find yourself using them?
Want more mason jar craft ideas?  Follow my Mason Jar Pinterest board!
I created this while on the SEI Design Team.
Happy Crafting!