Reindeer Decor & Joyful Card with Spellbinders & Xyron
Welcome to the Spellbinders  Partner Holiday blog hop Day 3!  You'll find all of the Day 3 projects here.  Also, don't miss the Xyron 30 Days of Holiday Projects each day on the Xyron Facebook page!
I rarely use my name around the holidays.  I don't know why because I could just "Joy" everything for like a month or two.  This year I feel differently.  I'm going to joy it up.  I'm even going to make myself a "Joy" t-shirt.  You know, in case I forget my name.  LOL!  Which leads me to tell you that earlier this week I gave myself a concussion, for real.  Friends, do not, no matter how much you want that box waaaay up on the shelf, do not swat at it with a yard stick until it falls.  You might catch it but if you don't, it could whack you right in the forehead.  I should know.  #ShortPeopleProblems #CraftTestHelmet
Here's a craft that won't kill you.
I painted a wooden reindeer with this awesome FolkArt Gold paint. I love this paint so much that I even Instagrammed about it…just sayin'…obsession.  I also did something I try never to do, fussy cutting.  Yep.  I traced the deer and cut it out…by hand. Whaaaat?!  True story.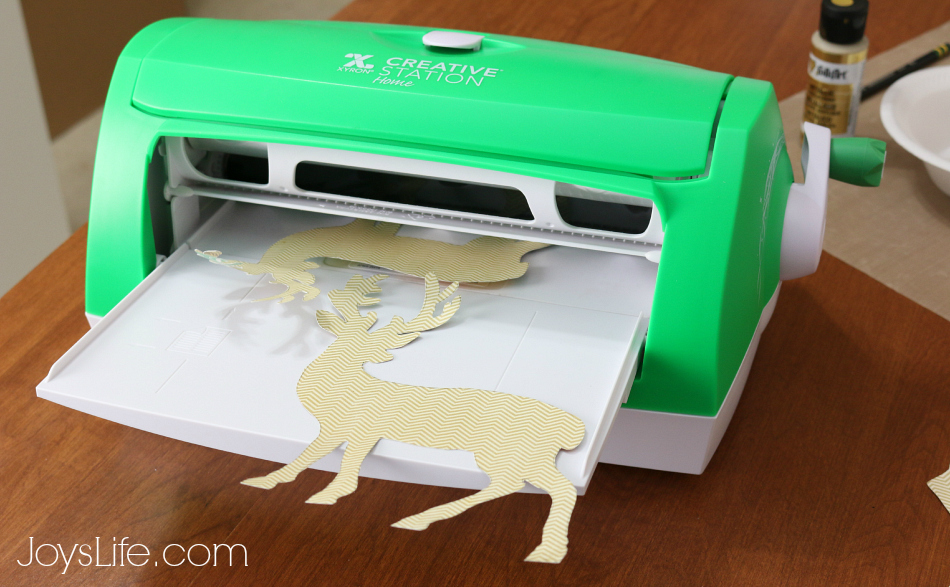 Next, I ran the deer though the Xyron 9″ Creative Station.  Look how much you can fit in there!  I'm so glad I have this large Xyron machine.  It made sticking this paper onto the deer super easy.  I dig super easy.
Speaking of super easy…because I was nursing a concussion I didn't have a lot of time to make a card but I wanted to share these beautiful Spellbinders dies with you.  So, I did something simple.  I know you're probably pressed for time during the holiday's so try this.  I folded a piece of red cardstock in half.  I put the largest square"ish" die from the Spellbinders Shapeablilities (S5-224) Victorian Medallion Three set where it was just hanging over the folded part, so it wouldn't cut the edge.  Next, I ran it through my Cut 'n' Boss machine and ta da!  I had a card.  Easy as store bought pie.  Then I cut out one of the large dies using white cardstock.  Next, I cut out 4 pieces of white cardstock using the smaller (gorgeous) die.  Finally, I cut out a piece of "Joy" paper from the Simple Stories Cozy Christmas and rounded the edges.  I stuck everything down using the Xyron Mega Runner and some liquid glue.
I also cut out an extra large square shape in red to go over the folded part of the card.  Why?  Because the folded part isn't the exact size of the large white detailed piece.  Now, no one will know.  Ah ha!  I added red rhinestones to the corners of the card and Stickles to the smaller squares.  Really, really simple.
I used the lovely Spellbinders Shapeablilties S5-226 Victorian Tassels set to decorate the reindeer.  Without the addition of those pretty pieces, the deer wouldn't be as festive.  He's very handsome and ready to party now though!
Spellbinders has some fun things to give away!  For official rules, please visit the Spellbinders Blog.  When you're ready to complete the entry form, click here.
Happy Holiday Crafting!