This is a sponsored post written by me on behalf of Brita for IZEA. All opinions are 100% mine.
It only took until her Junior year of college but I finally got a jump on back to school college shopping!  LOL!  Seriously, my daughter and I are both soooo glad that we didn't wait until the final countdown to start getting all those clothes, shoes, bedding, bath and kitchen items.  Apparently, when you're not in a mad rush, you can actually enjoy yourselves.  Who knew?  LOL!
All kidding aside, we've had a really nice time going out here and there for the last month and filling in the things that she needed.  One of the things she was so excited about was the new Brita Space Saver Pitcher.  She loves to create infused waters and likes to use Brita to filter that campus tap water for an even better taste.
So, we picked one up when we were in Target the other day.  She has a previous Brita model that is much larger and she loves that one but this one is even better because it has some new and improved features.  PLUS…it fits perfectly in a full-sized fridge or mini-fridge!  (I'm happy about that because I bought one of the big ones and it didn't fit in our fridge.)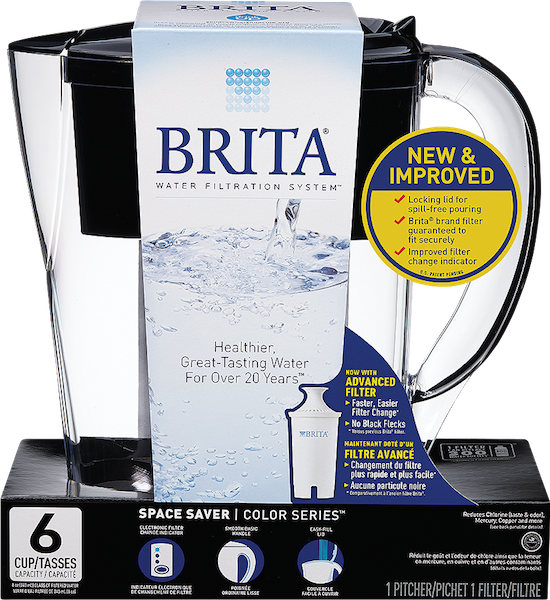 Check out these cool features!
• NEW + IMPROVED Advanced quick change filter include 2x faster to change (than previous filter) with no pre-soak or black flecks
• NEW filter indicator counts pours
• NEW + IMPROVED filter fit and locking lid for spill free pouring.
• BPA-free
• Easy-fill lid fli ps open for faster re-filling.
• Capacity 6 (8 oz. glasses)
• Fits perfectly in a full-size fridge or mini-fridge
• Filters chlorine taste and odor, zinc, and harmful contaminants copper, mercury and cadmium.*substances reduced may not be in all users' water.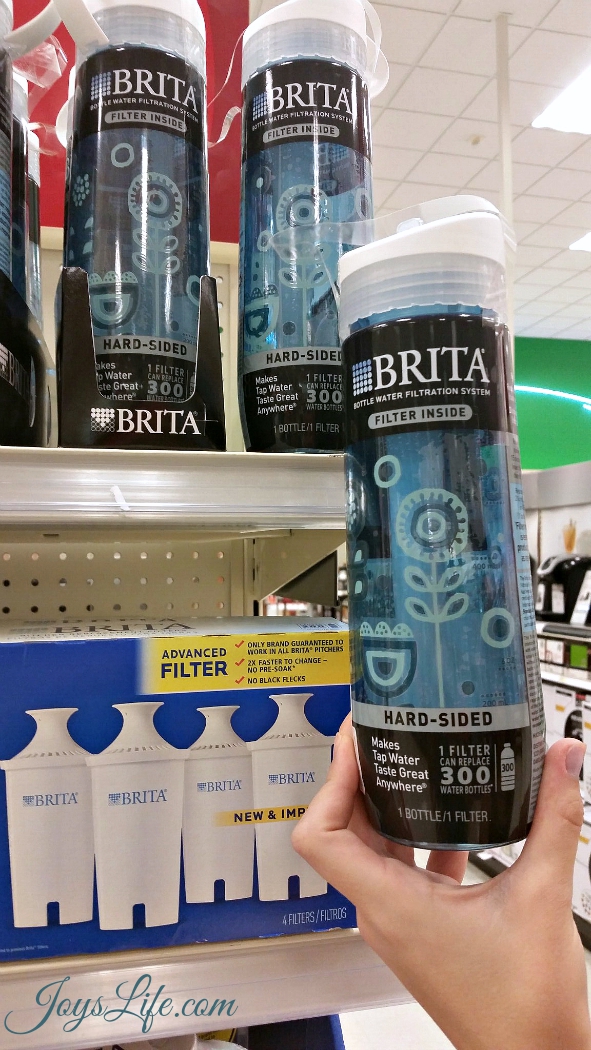 We also grabbed a hard sided water bottle so she can stay hydrated (and save money and the environment by foregoing throw away bottles) while walking all over campus.  Plus, it's super hot and humid where she goes to school so staying hydrated is essential!
I know she'll be drinking more water using Brita because when water takes better, we all like to drink more of it.  Students (and their parents) should drink 8×8: 8 ounces of Brita water, 8 times a day to help stay hydrated.  I'm soooo getting myself one of these new Brita pitchers.  I need to be drinking more water too!
You can pick out your Brita Space Saver Pitcher (they have a variety of colors, woo hoo!) and Hard Sided Brita Water Bottle at Target.  Don't forget to Save 10% with the Target Cartwheel App!
If you sign up for the Brita filters on Target subscribe & save, you save 5% and the filters can be sent directly to your student at school!  So cool!
Happy Back to Schooling!