Limited Edition Cricut Cartridges Coming Out!! Winter Tags, Snowfriends, Snowflakes – Mini Cartridges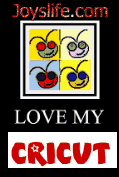 It's always a good day when I hear about new cartridges! 😀
These three new carts only have 50 images.  IDK if that is each, or combined.  Either way, they're like the Solutions cartridges, but tiny.  Like a…mini-Solution, right?  Like…a  Solutions cartridge saw it and beat it up into tiny pieces.  Like… just kidding.  I'm done.
Here's a photo of some of the image offerings:

Here's Where You Can PreOrder Them:
They are shipping in late November 09.
Also, it says "Limited Edition".  Really?  Like we weren't already scrambling to get all the carts, now we have to hurry because they're going to do Limited Editions?  Oh well.  I know I'll be getting them.  I'm such a Cricut maniac!!  😀