New Cricut Destinations Cartridge


Usually, I post a happy little I heart my Cricut blinkie that I made when I'm announcing new carts, but not today. Nope. You know why? Because I'M MAD!!  I just bought the Gypsy (you saw that post) and it came with Don Juan (which I spent $13 AND 800 points getting the week before they put the Gypsy on HSN). So, then I had 2 Don Juan carts. Grrrr. So, I sold the newest one. Now, I see that the Gypsy is now being sold on HSN with a brand new cart that hasn't even been announced yet. GRRRR!! I wish I'd gotten this one. I'm so sad. Arrrrgggg….I was in a rainy day mood anyway…this didn't help. Grrrr….
Ok…I figured out how to deal with this problem. 😀
I ordered another one. 😐
<whistle…whistle…eye avoidance…>
And now…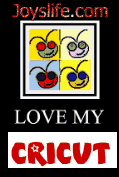 That will show them, huh?!  Right.
Keeping the cartridge…selling the rest. 😀