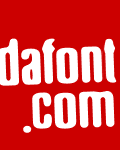 Did you know you can add fonts to your computer?  Yep.  That's one of the things that makes software like Makes the Cut so awesome!  You can use the fonts that are on your system instead of having to buy a different cartridge for every font you'd like to have.  I got a bunch from this site.  You may be surprised to know that there are a lot of images available too.
Here's the site I used:
Here's some more info on the Makes the Cut Software…plus a coupon!
P.S.  Even though I did download a bunch of fonts…I still bought the Cricut Cursive 101 cartridge for that font, just yesterday! 😀
Go have some fun downloading fonts!!