Amazon Prime is Not a Transformer, but Spending $79 for it Could Save You Money…

No, you didn't see Amazon Prime change from a robot to a truck. You are probably thinking of Optimus Prime. He's the Transformer leader of the Autobots. That's what you thought I said? That's kind of funny, but what can I say? You crack me up.
This is Optimus Prime: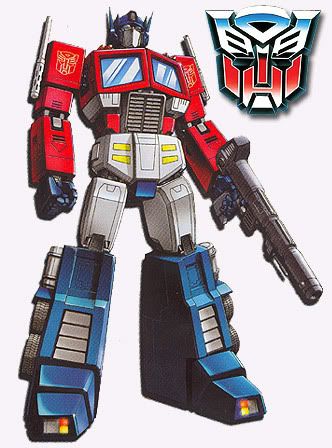 Yeah. I'm talking about Amazon Prime. No, not the female warriors either. Geeze. You're funny, but all your associations are starting to get on my nerves. Just let me explain this, ok? Fine. Here…
This is Amazon Prime:
Amazon Prime Info on Amazon
I know you're already using Amazon for things, aren't you? Well, if you're not, you should be. I've been shopping on Amazon since they opened their e-doors. I use Amazon for almost everything. I've even bought some groceries from the site, as well as the standards: books, cds, dvds. I've bought most of my small appliances, all of my pots and pans and lots of bedding and electronics through Amazon. So, I obviously love shopping with them. The drag is paying shipping, right? Or if you're doing that "Free" Super Saver shipping, the drag is finding a book mark or cake tester prong that will put you up to or over the $25 mark so you can get "free" shipping. Let me say that if you're buying extra stuff that you don't need so you can qualify for free shipping, it's not free.
Think about all the orders you've made through Amazon in the past year. Ok, now think about the time spent choosing those extra items that help qualify you for "free" shipping. Now consider the cost of all those extra items you threw in your cart in order to get it shipped "free". Before you wade through the extra "free" shipping qualifier junk you purchased this year to find your calculator with the paper in it, just let me make this suggestion to you.
Use Amazon Prime. It will save you time and money. Here's how:

When my kids come home all excited about something they learned in school, or interested in a new book, you know what I do? I click-click-clackety-clack on the ole' keyboard and buy the book or item that will help to continue to foster their learning. I don't have to spend time and money adding extra items to "qualify" for anything and I get "free" 2 day shipping. When the kiddos run in and say, "Remember you said I could go to little Johnny's b'day party? It's tomorrow." I don't freak out and run off to Walmart muttering about how irritating all this is. I just go on Amazon, pick an appropriate gift and have it shipped overnight. I do pay $3.99 for that, but I think you'll agree that at times, that's a bargain. I'm able to do all this because I have Amazon Prime.
Here's what you get with Amazon Prime:
Unlimited Express Shipping
Free Two-Day Shipping on over a million in-stock items sold by Amazon.com
Overnight Shipping for only $3.99 per item—order as late as 6:30 PM ET
Ship to any eligible address in the contiguous United States
Effortless Shopping
No minimum purchase required
No need to consolidate items to save on shipping
Convenient Sharing
Share the benefits of your Prime membership with up to four family members living in the same household
Brace yourself. It is $79. However, that is only $6.58 a month. That's less than you paid last year, isn't it? Think about all those extra things you added to your cart to qualify for "free", how long you waited for those items to arrive and how much you paid in shipping for each order you placed in the past 12 months. Don't forget Christmas. What about those times your items didn't arrive soon enough? Ugh. What about when you had to leave the house and fight crowds to pick out a single item, or even to do a bunch of shopping. Then when you got home you still had to package and ship some gifts. Awful. With Prime you can ship anywhere in the contiguous US for free. I do this all the time for gifts and never fight the crowds, search for a parking space, waste gas or get out of my pjs. $6.58 a month for your comfort and sanity? That's a bargain.
Amazon Prime info at Amazon: Amazon Prime
HAPPY SHOPPING!