3 New Mini Cricut Cartridges – for Spring!!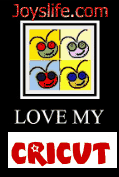 I love it when new carts are announced.  I get so excited. 😛
The 3 new ones are mini-cartridges, similar in amount of images to the ones recently released for Winter (Very Merry Tags, Snowfriends and When It's Cold Outside).
The new Cricut Mini Cartridges ARE… <drumroll…da da da da da da da, BING (that was the cymbals)>
Love Struck
Mother's Day
&
Easter
TA DA!!!
Here's a place that is selling them and has some photos of the contents.  I've never shopped at this place and get nothing from them for mentioning their site…but they do have some good photos, huh?
Fun!!
Ok, I'm off to make something on my Gypsy that I'll post tomorrow.  I think I'll decorate something in my house.  Hmmm…